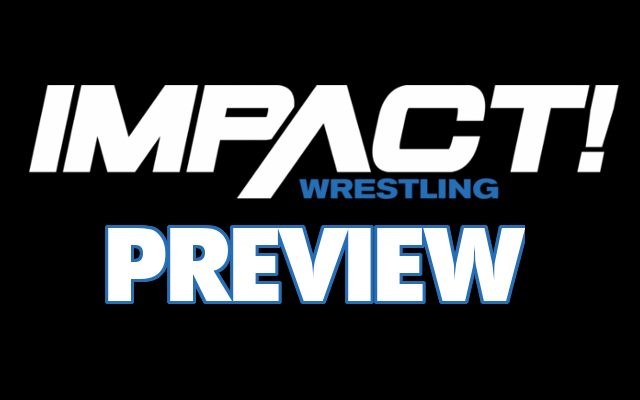 I know, I know, its four weeks to WrestleMania . . . But there's a lot more going on in the wrestling world – lets take a look at what we can expect from IMPACT Wrestling this week.
Disclaimer: Impact Wrestling, like many other wrestling shows, is taped in front of a live audience. With this in mind, results can be found online to some/all of the matches. This will however be a SPOILER FREE preview.
It's the road to Redemption, April 22nd, Austin Aries will no doubt be the talk of the town again this week, especially after showing up to the RoH 16th Anniversary show earlier in the week, but IMPACT have a lot more going on than just Austin Aries.
FEAST OR FIRED takes place this week, which is a match concept I've always been a fan of personally. An interesting twist on the popular Money in the Bank match that WWE produces each year, wrestlers are pitted against each other to retrieve one of four briefcases which are hung on a pole from the ring-posts and then leave the ring – each briefcase containing a contract of sorts. Much like Money in the Bank three of these contracts usually entitle the owner to a title match of some description, while one contains a pink slip, their exit from the company. So far we know that Caleb Konley, Moose, Petey Williams, KM, EC3, Taiji Ishimori, and Tyrus will be entering the match, make of those names what you will.
.@iPeteyWilliams is no stranger to Feast or Fired. He cashed in a Feast or Fired case to capture the X-Division Championship in 2008. He looks to repeat history on Thursday.

MORE: https://t.co/Af5gZlQrOk pic.twitter.com/37aVRTy9JB

— IMPACT (@IMPACTWRESTLING) March 12, 2018
It has also been advertised that Matt Sydal (Evan Bourne to those who remember his WWE run) will be revealing who his 'Spiritual Advisor' is, the person who has apparently helped lead him to his recent success in IMPACT becoming both the Impact Grand Champion and the Impact X Division Champion.
https://www.youtube.com/watch?v=ofBFgBTlcoI
IMPACT Wrestling are certainly doing something right, a video package released on Tuesday got me hyped for something I didn't know I cared about. It's a war that started nearly six months ago, and this week we get another instalment. Who will come out on top? only time will tell.
Fate has brought them together again. Lucha Royalty vs. The Demon Assassin. Road to Valhalla vs. The Red Wedding.

This Thursday its @WeAreRosemary vs. @TheTayaValkyrie. #IMPACTonPOP pic.twitter.com/DYgQOamGLt

— IMPACT (@IMPACTWRESTLING) March 12, 2018
In a more recent announcement, Sami Callihan is returning to face Fallah Bahh after being called out by the locker room for his vicious baseball bat attack on Eddie Edwards just a few weeks ago. His actions have definitely caused some genuine debate in the wrestling community.
Now, we promised that Austin Aries would be the talk of the town, so I better not forget about him. All we know is that we are getting an 'exclusive interview' with the champion this week – I can always look forward to him cutting a promo.
All-in (no pun intended) the show is looking to be packed, especially considering the shorter time IMPACT has to work with compared to Raw. Lets hope it can pull off another great week…
Let us know what you think in the comments below, and keep an eye out for our review of the show tomorrow.