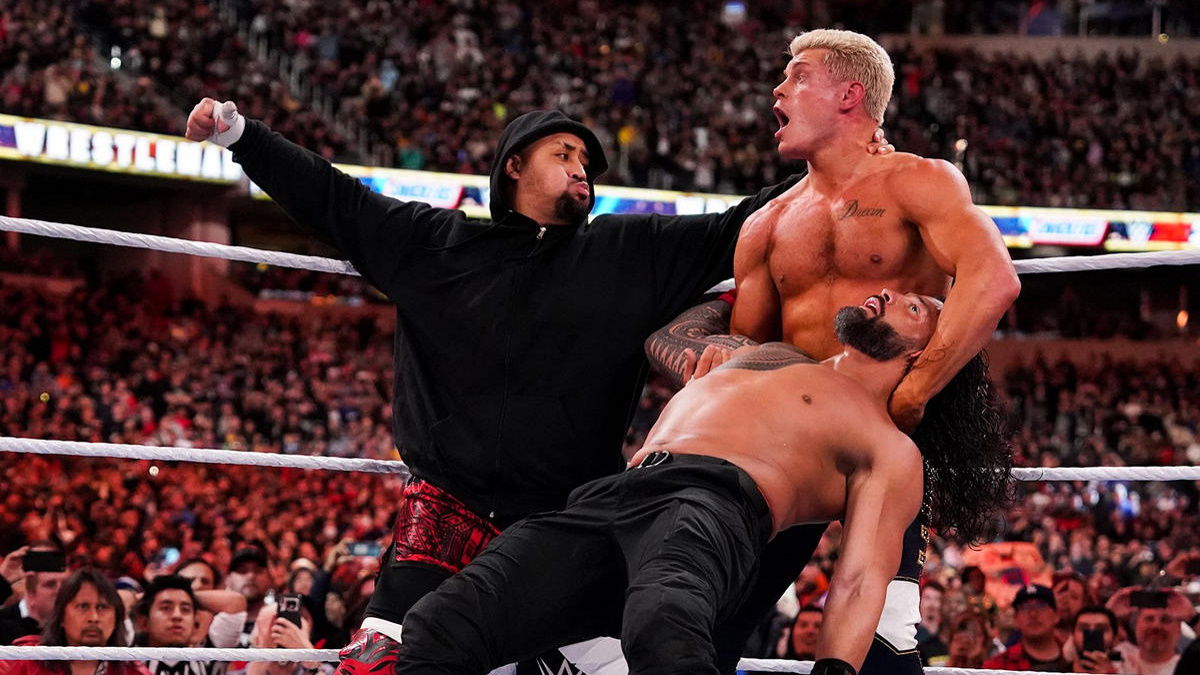 An AEW star believes WWE "missed the opportunity" with Cody Rhodes' loss at WrestleMania 39.
The wrestling world is still recovering from WWE's decision to have Roman Reigns defeat Cody Rhodes to retain the Undisputed WWE Universal Championship at WrestleMania 39.
After building Rhodes to be a babyface that the fans were behind to watch "finish the story" at the show, his loss left many disappointed with Reigns holding onto the gold to extend his reign on top to over 950 days.
Speaking on his My World with Jeff Jarrett podcast, the AEW star and WWE Hall of Famer was asked to share his thoughts on Roman's victory over Cody.
Noting his belief that it is possible the news of WWE being in advanced talks regarding a deal with Endeavor may have influenced the outcome, Jarrett answered:
"The fact that I don't know what I really don't know, and that is the big CNBC news break that started happening about six hours before bell time."
"Had that not been a real thing, so kind of unplug the sale, which at the end of the day, all the news comes out, and look, Dana White and UFC basically stayed as is, and Ari and Endeavor just kind of lifted the whole business, but Dana kept running it, and that's the word coming out, that it's Vince's baby and his business, and he's gonna keep running it."
"But at the end of the day, the words Endeavor are before UFC, and the words Endeavor will be in front of WWE."
"So there's a new sheriff in town. I have no idea, and there's obviously the talk and rumors that the finish, was it put in place a month or however long before, so I took all those variables in and look at it, and we just talked about $20 million on sponsorship, so super, super successful."
"So don't fix what's not broke. I completely lean into all of that, and there is so many sides to that argument. That's the one side."
Jarrett continued on to question if Rhodes and WWE will be able to recreate the groundswell of support behind "The American Nightmare" heading into WrestleMania, saying:
"On the other side is, will Cody and the WWE Universe be able to recreate that groundswell of 'Finish the story,' and the story being he left, charted his way, went out, all the independent promotions, all the groundswell,"
"and he came back, and it's no secret that the touring champion or the lead singer of a rock band or however we wan to slice it, yes, there's an evolution of it, the fact that we're talking about it as super successful means there was no right or wrong call. It's totally subjective.
Describing how he believes in the importance of a gut feeling as a booker and feeling like Rhodes winning might have been the right call, Double J said:
"This is something that Jerry Lawler, my dad, Jackie Fargo, 'Handsome' Jimmy Valiant, one time sat me down and kind of gave me this kind of mindset. There's something about a gut feeling, and sometimes promoters go with their gut."
"My gut still told me it would have been the right move. I don't think it would have hurt Roman, I don't think it would have hurt The Bloodline."
"I don't think, if we wait a year, I don't think, because we waited a year, there's gonna be that many more eyeballs, there's gonna be that much exponentially grown business."
"All the, 'He didn't do it this year, and we're gonna do it next year because of X,Y, and Z,' that's still TBD. I think my gut tells me they missed the opportunity. I may be wrong, but I may be right."
"We will see. It was a hell of a match, a hell of a finish, and it's funny how, a lot of the audiences will say, 'Oh, this run in there and that run in there, oh they would never do that in the world title match.'"
"This match had been built and it's the WrestleMania main event of night two, and they had five people run in. You talk about the layer upon layer upon layer, the Screwjob of all Screwjobs." 
Jarrett continued on to share his belief that the rewards of having Cody win would pay off more than the decision to have Reigns retain, saying:
"The creative's subjective. The business metrics of Cody going out and yeah, they do big business where Roman's on his live events, and maybe that's just kind of the live event promoter in me."
"But Roman doesn't make all the shows, Cody will, and so what would those numbers be if you had Cody going to Wichita, Kansas, [or] even an A and B market."
"Roman's schedule is, and god bless him, he's worked his butt off to arrive at that point. Hat's off to him in do many ways, but the business metrics. Would Cody set a record year in merchandise sales?"
As previously reported, another AEW star has commented on the "adversity" argument against Cody Rhodes.
Transcription via Fightful
If you want to stay fully updated on all the latest wrestling news, click the red bell in the bottom right of your screen to receive notifications from WrestleTalk.com straight to your device!