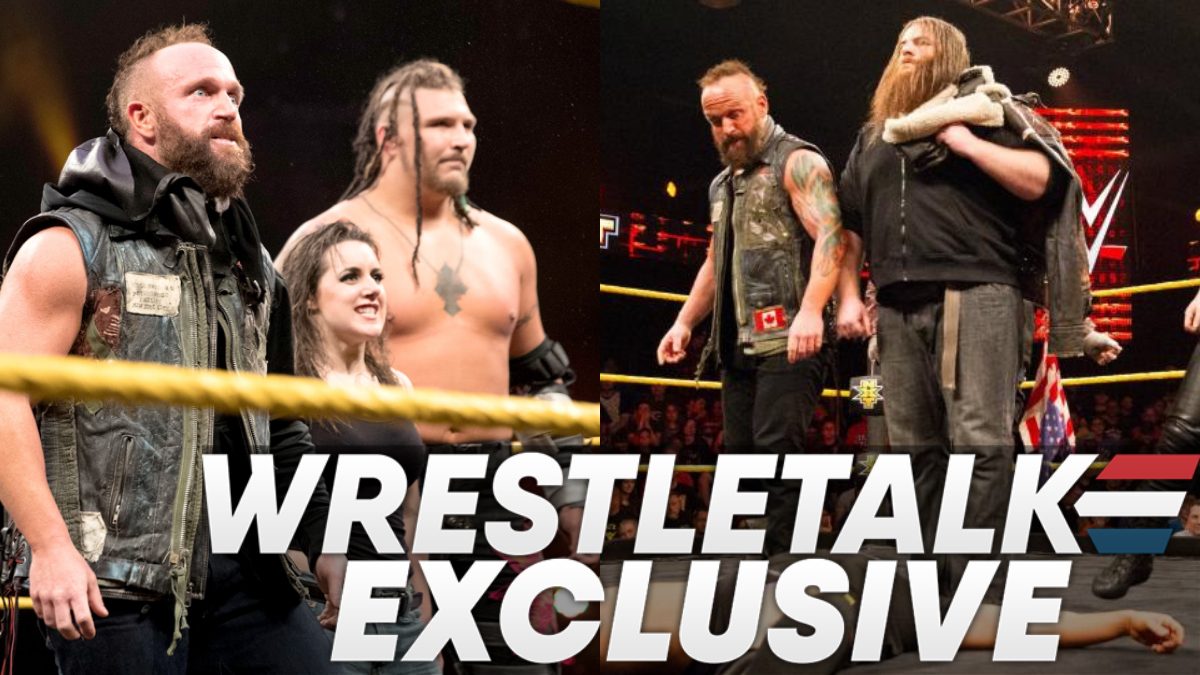 In an exclusive interview with WrestleTalk, Big Damo (Killian Dain) recalled being added to SAnitY to replace Sawyer Fulton.
Fulton was originally the 'big man' of the group but suffered a torn pectoral muscle and was taken out of action, so the decision was made to replace him with Killian Dain.
Speaking about the emotions of replacing someone else in the group in a spot that wasn't originally planned for him and it seemingly coming out of nowhere, Damo said:
"Honestly, I went to work one day, I think Terry Taylor came up to me, and said, 'You're in SAnitY', or something like that, and I was like, 'What?'. So the injury to Sawyer Fulton was obviously massively unexpected, he tore his pec off, or something like that, so it was a terrible injury and it was really bad timing, and I had just been in NXT for about a month or so, maybe less, I can't even remember, and I wasn't expecting to be used on television until maybe January or something like that – I think this was November.

"And they decided, 'No, you're joining SAnitY', and it was the best and worst day of my life. Because Sawyer is a great fella, Jake (Fulton's real name) is a lovely man, and I genuinely hated that I was replacing him and there's a part of you that hates it from a professional point of view because you're second choice, it wasn't designed with you in mind and things like that. But there's the other part of you that's like, 'Grow up, this is what life is'. And it's everything I ever wanted, was to wrestle on WWE television and that's exactly what I was about to do, so I was really (having) mixed emotions. I think that was one of the hardest days of my life, because I think I went home afterwards more gutted than anything else, because I felt terrible. But it's worked out for Jake long term and he's a great talent as it is, and I can only wish him the best. He's done really well to reinvent himself and he'll do fine.

"But for me, it was working with Eric (Young), who I worked with in TNA and I just immediately jammed with, he was a great lad, I really liked him. Axel (Alexander Wolfe), who I'd met not long before he left, he went about a year ahead of Nikki, I met him a few times at wXw, he gave me great advice for tryouts, so I immediately knew he was a decent fella then. And then I heard when Nikki got there a few months before I did, he was looking after her when they were at the Download festival, him and Jake were looking after Nikki, and it's just a testament to how good people they were. And this is before SAnitY was even being talked about as an actual stable. When I joined that group and all these people that I really like already, you're just like, 'It could be a lot worse than this I can tell you!'.

"As far as the creative process, no, I wasn't involved at all at the beginning, because honestly if they had an idea to put me in there, they never told me. As far as I knew, I was going to be debuting in the UK tournament that was coming in January/February. That was what I knew about how I was going to be starting. There might have been something else thrown around but I wasn't really privvy to it. All I knew, was, yeah, I'll be representing Northern Ireland in the UK tournament. And then I joined SAnitY instead and the idea of then going to represent Northern Ireland while also being crazy in America, it didn't really pay off. But I was gutted, because I was – 'I'll happily do both!', but it didn't really work out.

"But honestly the way it worked out was great, because I'd never really done much tag teaming, so myself and Wolfe started teaming, then we'd be doing six-men tags with Eric as well. So that was a lot of fun because I love watching tag team wrestling, just never tagged for years, at least four years or something, I'd only done the occasional one-off or whatever else. I'd been almost exclusively a singles wrestler, so it was great to get in and try something new. The stuff you can create in tag wrestling and six-man tag wrestling, and all the multi-men matches we did, there were almost unlimited concepts and ideas you could have.

"And a lot of the guys we were working were incredible at that point, so SAnitY ended up being so much fun for all of us, and for us to be under EY's wing, who had so many years on television, was brilliant, because for the three of us (Dain, Cross & Wolfe), with limited TV, little bits here and there obviously, we'd all done a little bit, but EY's extensive television experience just meant he was able to guide us where we needed, and it was almost flawless for us."

If you use this exclusive quote or any portion of it please credit WrestleTalk.com and link to this page
During the same interview, Killian Dain also discussed how a "comedy of errors" including Shinsuke Nakamura being bitten by a police dog led to SAnitY's main roster debut changing, and also that plans for Nikki Cross' new Nikki ASH gimmick were changed too.
You can watch/listen to the full Killian Dain interview with Adam Blampied on the WrestleTalk Podcast channel at this link, and we'll continue to post stories throughout the coming days so keep an eye on our exclusives page.
To make sure you stay updated with all the latest wrestling news, add WrestleTalk.com to your Google Discover feed and follow us on Twitter!