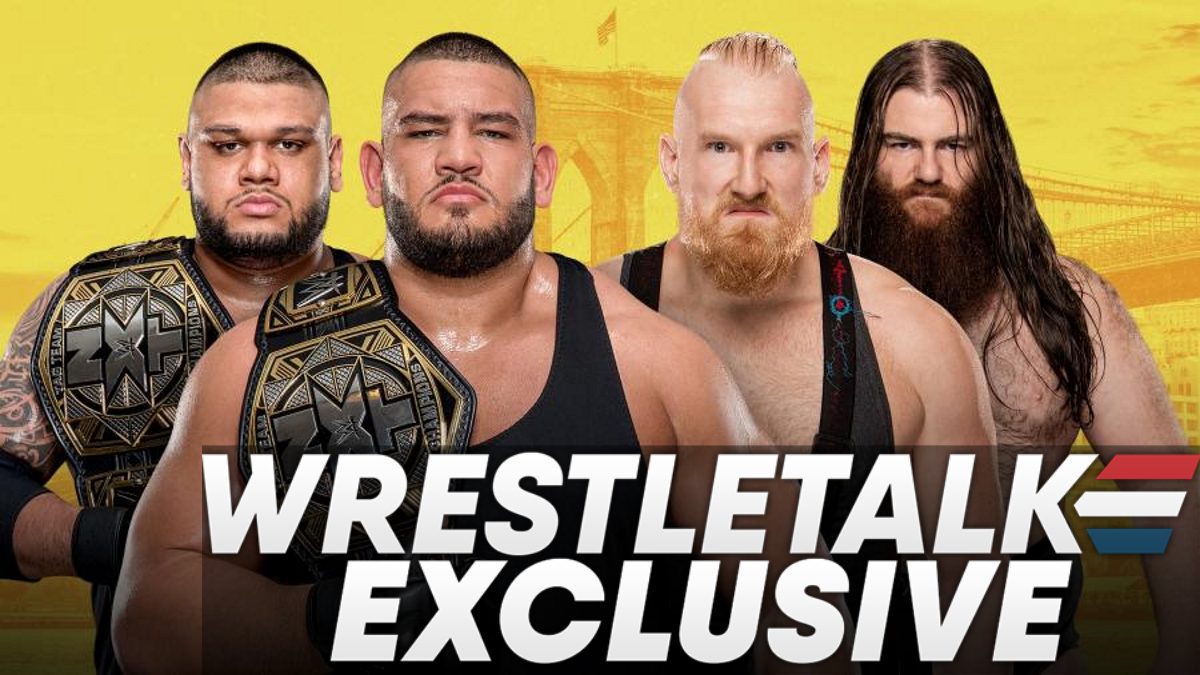 In an exclusive interview with WrestleTalk, Big Damo (Killian Dain) had some very interesting things to say regarding SAnitY's feud with AOP.
Damo spoke about how AOP were initially going to be pushed as the babyfaces in the rivalry, but the crowd was organically attracted to SAnitY due to the alternative nature of the characters and the passion that went into them from the group's members.
He said:
"I think they were trying to push Authors of Pain as the babyfaces to be honest, which we were kind of surprised with because we'd noticed that we were starting to get more and more following and stuff like that on the house shows and whatever else. But I think maybe they had an idea, 'Why don't we try it with Authors of Pain, they can go and be these two badass LOD style wrestlers', which they were, they were both huge boys who could potentially do whatever.

"But leading up to that match, us vs them, it was really noticeable in –  we did these tapings leading up to the match with AOP and the crowd was totally behind us, and we knew then, yeah, we were gonna be the babyfaces. But at one point, they (AOP) were definitely gonna be the babies, and I think that was the concept going into WarGames where we would have been maybe the tweeners and they would have been the faces with Roddy. But it didn't really work out that way, it was quite organic, it's a big production entrance, Axel and Nikki committed so much to the psychotic part. It was a lot easier for me, they wanted me to be stoic, I was like, 'Sweet, no problem, I will stand here doing (pulls angry face and laughs)!', and then EY with the raspy voice – he was trying to replicate a little bit of, I don't know if you remember Iron Man 3, the Mandarin, had these really cool promos before he was exposed as being Trevor Slattery or whatever. He (Young) was just edging on that kinda style, I loved that because it just really played into the mastermind of these crazy people, these angry people.

"But I think the main two, Wolfe and Nikki, I think they really sold the gimmick, because they really lost themselves in the act, and if you'd seen Wolfe before this, this was not who he was as a wrestler. He was a very serious wrestler, he's this incredible catch wrestler with all this ability, and suddenly he's going nuts, he's mosh-pit fighting himself. And then Nikki just really took it to the next level and good for her, because Nikki was always this gargbage heel on the independents leading up to this, whether she was in Japan, America, SHIMMER, or if she was in Britain, all across Europe, she was the larger than life Nikki Storm, this awful person, I used to be cringing so much when I'm watching her, because I'm like, 'You're terrible, you are!'.

"And that's the funniest thing, she goes in, she's playing a completely different role in SAnitY, and I have mad respect for the two of them because they were sweating buckets every night because they were putting a serious shift in, and that was just for the entrance! Whereas I just need to go (pulls angry face), and EY is like (mimicks raspy voice) pretty much the entire time – I don't think he was saying any words, but it looked like he was saying stuff to the camera. But honestly it was a brilliant experience for all of us and I think their commitment was what really took us over the line and the crowd really responded.

"I think it helped that we were all foreign in a way as well, because EY was Canadian, Wolfe's German, Nikki's Scottish and I'm Irish, so maybe for people who were a little bit alternative with different backgrounds and stuff like that, they could resonate with us. Wolfe was the first German on WWE television so that was pretty momentous in itself, and we never really celebrated it, it was one of those crazy things that we didn't really make a big deal of because we weren't really meant to be nationalistic in any specific way.

"One of the things I noticed a few years before that was everybody was wearing trunks and boots across the board, and then the Shield and the Wyatt Family came in at the same time, all six of them not wearing wrestling gear at all. And that kinda set the precedent a little bit and you could start experimenting a little, and for us that was great. I was wearing this mad leather beat-up kilt and stuff like that, Wolfe's wearing this bizarre costume, Nikki's completely changed her gear, she's wearing a corset – weirdest things that you can think of. And we tried to make it work, even all the jackets, we got them made by a tattoo artist in Seattle or something. We tried to keep everything away from basic wrestling, like the girl who made my kilt was based in Finland, she worked on movies and stuff like that or TV shows. It's funny now, she does stuff for Natalya and for the Viking Raiders and stuff like that, so it's very cool how it worked out. But at the time she was completely new, I found her on Etsy or something like that, and it was really cool because it just made us that little bit different to everybody else around us, and it was a lot of fun to do, and the response we got from fans and stuff was really cool because we're in the bubble, so we don't really realise the importance of what we're trying to do.

"Nikki even was making her hair wet before she was going out, and there'd been no female who'd ever done that before because she wore no makeup and just splashed water in her hair, which was very rare for female wrestlers, especially in WWE. So we were just trying these different things and it was cool because they allowed us to experiment with this stuff. I remember I finally got my own jacket and Hunter said, 'Show me it… love it', and that was it. I mean if he said he didn't like it I'd have been like (pretends to cry), but thankfully he let us just do what we felt was right for the characters. Obviously they give us ideas for promos and all these kinds of things but there was a lot of freedom with that initial build. At one point one of the coaches wanted Nikki wearing gothic makeup, and Hunter was like, 'No, take it all off, you can pop the eyes, just because it's television, but everything else as natural as possible'. Because they really wanted Nikki to look like she'd been pulled out an an insane asylum I think, and she was more than willing to make that work (laughs).

"So yeah, when I think back to, even doing the entrance for the first time was goosebumps for me. Because they'd been doing the entrance, so first time I do it I'm like… the cameras are on, the crowd 's going nuts, the whole thing was incredible to be a part of – the production, the pizazz, it was a little bit like Kane or Undertaker, when you're watching as a fan and the lights go off, you're like, 'Oh this is different than anybody else'. So it was really cool. For us, the lights go off, the search lights go across, the helicopter noise – it was all very different and it was really cool to be a part of.

"I'll always look back on the whole time with SAnitY with serious fondness because we had some brilliant matches on top of all that nonsense, and that's a testament to the people I was wrestling against, and a testament to the people I was teaming with because those two lads will be a part of my life for a long, long time, they'll be friends for as long as I can use the internet I guess. And EY was the first person that texted me when I got released, and Axel had literally just left for Germany a few days beforehand, we brought him to the airport and it was quite an emotional day. They'll be guys who I'll forever talk to, I was talking to Axel today and that's one of the coolest parts about how that all worked out, even when we're on the main roster, we're always travelling together and just having six-hour journeys talking absolute nonsense. And I don't know how you do it without – we never once wanted to kill each other, and I think that's a good sign (laughs)! I can go about 30 minutes with Drake Maverick and I want to throw him out a window (laughs)."

If you use this exclusive quote or any portion of it please credit WrestleTalk.com and link to this page
During the same interview, Killian Dain also discussed how a "comedy of errors" including Shinsuke Nakamura being bitten by a police dog led to SAnitY's main roster debut changing, and also that plans for Nikki Cross' new Nikki ASH gimmick were changed too.
He also opened up about the "mixed emotions" of originally joining SAnitY in NXT as a replacement for the injured Sawyer Fulton, and plans that were cancelled for his tag team with Drake Maverick due to COVID-19.
Another thing he mentioned was a potential change in NXT's mindset towards 'big man' wrestling.
You can watch/listen to the full Killian Dain interview with Adam Blampied on the WrestleTalk Podcast channel at this link, and we'll continue to post stories throughout the coming days so keep an eye on our exclusives page.
To make sure you stay updated with all the latest wrestling news, add WrestleTalk.com to your Google Discover feed and follow us on Twitter!