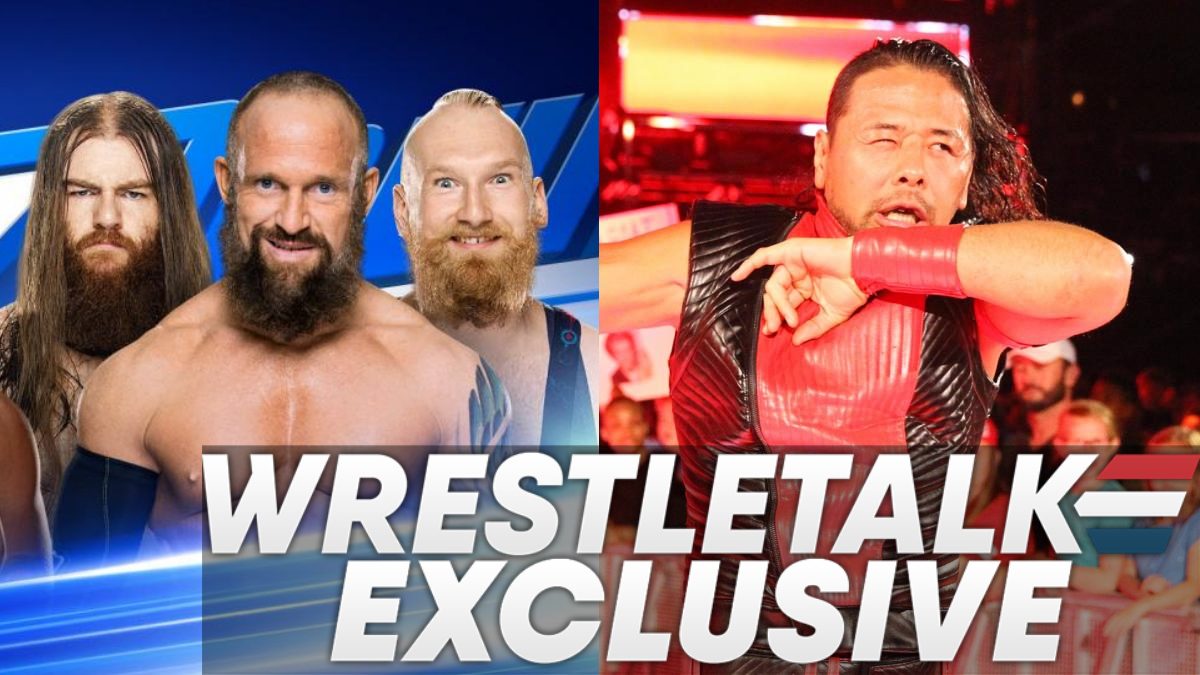 In an exclusive interview with WrestleTalk, former WWE star Killian Dain has recalled the "comedy of errors" that caused plans for SAnitY to change.
SAnitY debuted on SmackDown in June 2018, attacking The Usos. According to Killian Dain, plans for the group's debut were changed when when a previous show overran.
Dain also recalled the incident when Shinsuke Nakamura was bitten by a police dog. Explaining how the incident impacted SmackDown plans, Dain said:
"The story started weirder than that. Shinsuke Nakamura got bitten by a bomb dog, like a bomb police dog, at one of the venues we were doing a house show in – I think it was in California or something. Crazy, freak accident, like never in your life would you expect something like that to happen. He was meant to go against Jeff Hardy on SmackDown. So everybody's in a panic because Shinsuke's been bitten by the police dog, has to go to hospital, whatever else. It's the most bizarre thing that happened. I think it became a big issue, I don't remember the full ins and outs, but it meant then that they needed to do something with Jeff Hardy. Somebody said, 'Let's put Eric Young in there'. Jeff Hardy can't lose, so SAnitY's first appearance was a loss.

"And I'll go even further back than that – the week we were meant to debut, we're all ready to go, there's this mad match, I think it was New Day and Miz and all these people are in it, and we're ready to debut right at the end of the show, it would have been a cool 'they're here' kind of thing. And right as we're about to debut, they run out of time. So we're literally standing in Gorilla all in gear ready to go, they've done the walkthrough and we did this in practice, but it was live television and Michael Hayes just said, 'Guys it's live television, this happens, we overran'.

"So then Shinsuke gets bitten by the police dog. We were there, we were at the show, and you're like, 'What the f**k just happened?'. And we get to TV and they have to put EY on with Jeff and then we do something with the Usos as well, we end up losing – that starts us on a bad path. And then we go into something with New Day, which I think was always gonna be the case, was us and New Day, but we go over them on Extreme Rules, and major fair play to Xavier Woods and to Kofi because they pitched for us to go over, because I think we weren't meant to win. So I think New Day were so hot they were unsure they even wanted New Day to be losing, so I think the boys really made a play and tried to get it that we would go over. And next thing after that, I think literally two weeks after that, we lose to New Day and it was done.

"And honestly, timing is everything, you can get really lucky and you can get really unlucky. We then came back, we did a thing it was Daniel Bryan and Kane and stuff like that, and then I think we were gone again for a good while, but we popped up again at Christmas, did a couple of shows over the Christmas period, and then the next time we came back, we were three-on-one against The Miz. I've missed a few things here and there, but generally we just kind of came in at the worst possible time, Bludgeon Brothers were on top, they were heels, we were heels, so they were never gonna do something with us and them. New Day, the Usos, they brought Sheamus and Cesaro in as well. And they went through a period where they were off TV for like 13 weeks or something, Sheamus and Cesaro, it was crazy. So there were just so many guys who couldn't get TV time at the time for whatever reason.

"And I couldn't even tell you what the ins and outs were, and we went through like 11 weeks or something where we didn't do anything at all. We were doing the dark matches before the shows and we were getting great feedback – that's one of the hardest parts of it was they were really happy with us, and you're like, 'Well okay prove it then (laughs)!' Timing is everything and it just wasn't on our side.

"You heard how it started – the two weeks, the first week didn't happen because of time restraints, the second week, the bomb dog bites Shinsuke Nakamura. And you're just like, 'What the f**k? This is just a comedy of errors'."

If you use this exclusive quote or any portion of it please credit WrestleTalk.com and link to this page
Dain returned to NXT in July 2019. He was released by WWE last month.
To make sure you stay updated with all the latest wrestling news, add WrestleTalk.com to your Google Discover feed and follow us on Twitter!