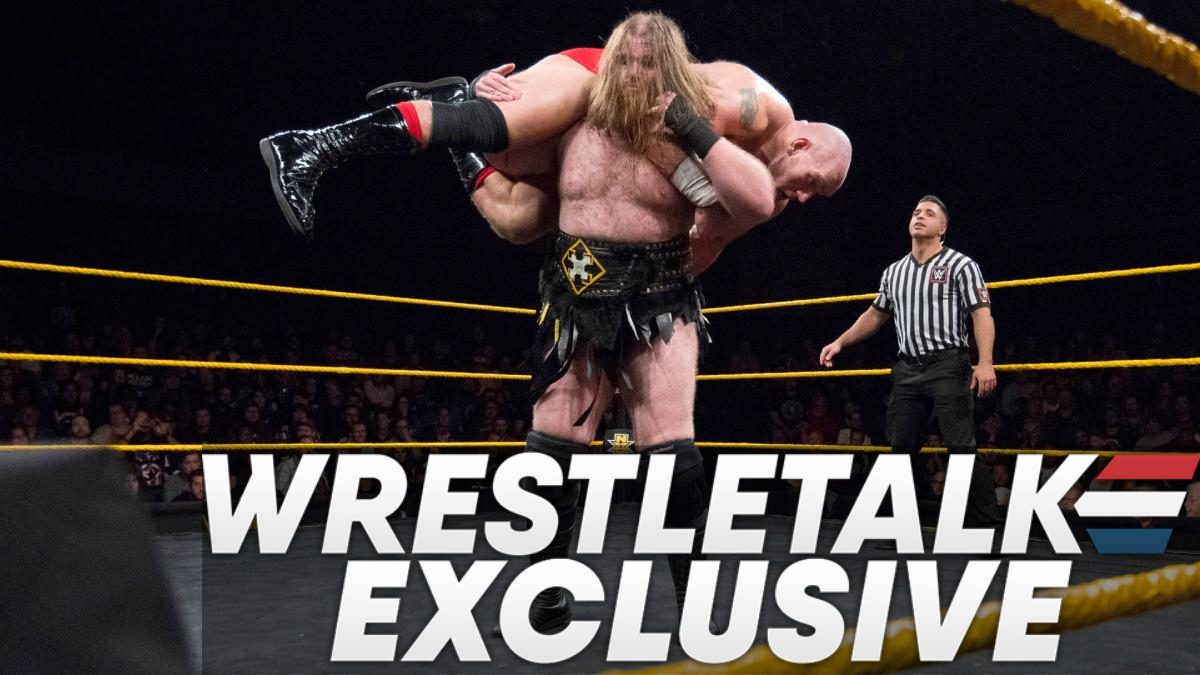 In an exclusive interview with WrestleTalk, Big Damo (Killian Dain) has revealed NXT's mindset towards 'big man' wrestling.
Damo had two separate stints in NXT – 2016-2018 and 2019-2021 – and noted that the first time was stricter when it came to what big men were allowed to do in the ring.
He specifically mentioned Shawn Michaels coming in as a turning point which allowed big men to be more creative in their offence, but did make a point of saying he'd heard that management may be asking bigger talent to dial it back going forward.
He said:
"Right now it's very relaxed, but when I first started it was the opposite. Not necessarily right at the top, but it took Shawn Michaels becoming more involved, when he started taking classes and working with us, and he started watching all of our indie stuff which is one of the weirdest things. I'd send him indie matches and he's like, 'This is awesome, why aren't you doing this?', and I'm like, 'Well, they want me to be a stoic heel so I can't really come off the top rope very often, or dive'. Then suddenly, when we started becoming tweeners and into faces, I was allowed to dive, I was allowed to do more. It's not that they were specifically against me doing these things, but it was like if I'm diving and I'm doing cool stuff off the top rope, then what is the babyface going to do to make that better?

"So at first I fully understood why they wanted me to be a bit more plodding and a bit more generic big guy, but as we became the tweeners then the babies, the gloves came off and I was able to start putting more stuff in. And it was good because I started coming up against AOP and Lars and stuff like that who are as big as me if not bigger, so the character then has to come up with ways to beat these people or hurt these people. Against Lars, we had a four-way dance, where I managed to do this big mad dash off the stage through a table and I did the dive on him and stuff like that. So I was able to showcase a little bit there – that's one of the matches that I really enjoyed actually, it was a fatal four-way, the two of us with Johnny (Gargano) and Aleister Black, and it's one of the ones I completely forgot about until the other day, someone was telling me, sent me the link, and I was like, 'Oh yeah, that was fun'.

"And that came almost off the back of WarGames, as you were saying I did have a little bit of a breakout, but at the time it was – I can't even remember who the champion was, maybe it was Andrade, it just wasn't my time to go and be the top guy or whatever else. So I was kind of unfortunate timing-wise, but I had so much fun throughout that whole run. I was meant to go into a feud with Lars leading up for the Royal Rumble show but that got, I can't even remember why, but it ended up getting moved to three months later, so I was kind of in limbo a little bit for a bit, and then we went back and finished the feud with Undisputed ERA. That six-month period was incredible, maybe it was eight months or nine months, whatever it was, was an incredible run for us because as I say, heel, tweener, babyface, all within a short time.

"And then the gloves came off, and we're working with Shawn at that time, and there is a lot more trust from the office that we can do these things. There was definitely a period there where anything goes. I think they're gonna be dialling it back a little bit on that as we go forward from what I've heard. I'm not there anymore so I can say what I want. But I know that when I first went in it was very strict. Even when I would do the Wasteland senton, one of the producers was like, 'Why would you do that boom and then boom? You do the first one, then make a big moment, hit the ropes, hit the senton', and I kind of argued I was like, 'No, I'm just gonna go boom boom, because that's kinda being different than everybody else'. But that's part of the learning process is the give and take – you're trying to marry what you like with what works on American television and it did take me a few months to really get my head around it but it got easier as we got popular and there was a bit more trust from the office.

"Especially working with Shawn and stuff like that because, first of all, working with him was outrageous anyway, but to then him trusting us and watching our indie stuff. I think it was him who said why hadn't I done the coast-to-coast. And I was like, 'It's pretty sore! Very stiff ring!' (laughs). I think I only ever did it twice on TV, and the second time they completely missed it, which is one of the most bizarre parts of – for such a slick operation, whoever our producer was that day missed it. And I literally took this bump for no reason (laughs). I don't even think they got a replay of it from what I remember. The only evidence I have of it was a fan who was in building took a video of it, that's the only evidence I have that it actually happened. But for everything else, generally they're so slick and they capture everything, so I can't really give anybody any heat for that.

"The first time doing it in the middle of WarGames, all eyes were on me and the crowd went nuts. Kyle O'Reilly was being very friendly, he was trying to edge towards me, and I was like, 'Right, I can get there, you can move back', but fair play, Kyle's great, I'm a huge fan of Kyle O'Reilly, he's an incredible wrestler, but he was being very friendly to me there. I think I hit him so hard that he got nailed into the corner, I was like, 'Well that's what I was trying to say to you, I can make it!'.

"I remember one of the first times I ever did it was to Joe Hendry and it was in a really small ring, it was like a 15-foot ring or whatever, and I f**king launched him out of the ring. I was like 'Jesus Christ', and I get on great with Joe, great lad, but I f**king launched him out of the ring, I had to go and get him, I was lik, 'Oh Jesus' (laughs). That was a very small ring, but in WWE it's a 20-foot ring, but I was still really confident especially because the cage is there so balance wasn't an issue. But I managed to absolutely nail Kyle and I'm like 'Oh Jesus, it's happened again' (laughs). But yeah I imagine going forward I'll do some ring testing to see if it's possible to do it again!"

If you use this exclusive quote or any portion of it please credit WrestleTalk.com and link to this page
During the same interview, Killian Dain also discussed how a "comedy of errors" including Shinsuke Nakamura being bitten by a police dog led to SAnitY's main roster debut changing, and also that plans for Nikki Cross' new Nikki ASH gimmick were changed too.
He also opened up about the "mixed emotions" of originally joining SAnitY in NXT as a replacement for the injured Sawyer Fulton, and plans that were cancelled for his tag team with Drake Maverick due to COVID-19.
You can watch/listen to the full Killian Dain interview with Adam Blampied on the WrestleTalk Podcast channel at this link, and we'll continue to post stories throughout the coming days so keep an eye on our exclusives page.
To make sure you stay updated with all the latest wrestling news, add WrestleTalk.com to your Google Discover feed and follow us on Twitter!