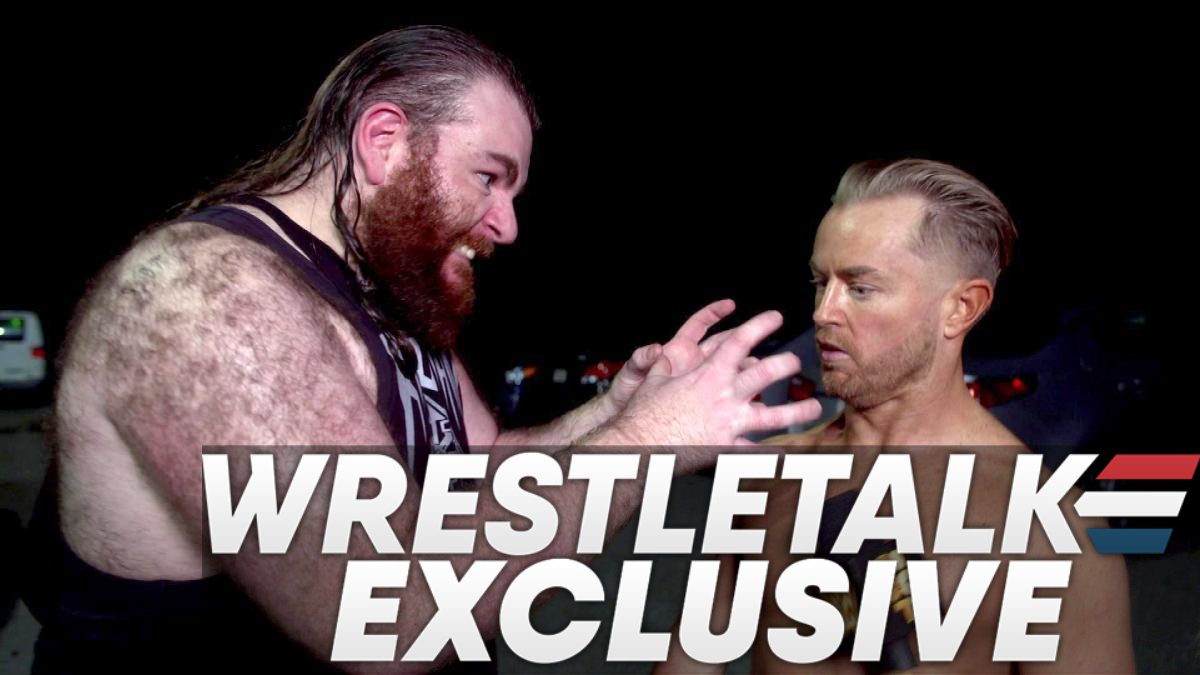 In an interview with WrestleTalk, Big Damo (Killian Dain) revealed plans for him and Drake Maverick that were scrapped due to COVID-19.
Damo unfortunately tested positive for COVID-19 at the end of last year, which put a halt to some fun plans that NXT had for the loveable duo, and then another NXT talent also tested positive which impacted plans too.
He explained that there was some fan interaction in the works, as well as other ideas that never came to be, saying:
"At one point, literally before I got Covid at the end of last year, we had so much lined up and ready to go. They were gonna run a whole fan-related thing where the fans chose what our name was gonna be, and you can imagine how Drake would have led all this, so there would have been a lot of sighing and 'ugh' from me (laughs). There was a bunch of things that we were literally about to start but then we couldn't.

"This'll sound crazy, I had been very lucky the entire time, I isolated really hard last year, the only place I went to was the supermarket or I went to work. And I happened to go into work, for the first time I went to the PC, I met nobody except for Drake. We just were rolling around, doing whatever, and the next day I tested positive. So I didn't even integrate with anybody else other than him, and he didn't even get Covid!

"So we couldn't figure out where it came from, I was lucky I didn't get sick though, I was asymptomatic at the time. I got sick about six months later, I got flu which is even more crazy, but I was very lucky when I did have it (Covid) being asymptomatic so I couldn't spread it and everything else. I was off TV for two weeks, three weeks, whatever way it worked out, and then I think whoever we were meant to be feuding with, I think one of them ended up having it and they were off TV. So everything kind of got slightly derailed and we were a month behind, and then we kinda started again on a different path.

"In a perfect world, if we'd have been in front of crowds, I think people would have really appreciated it (the team), because Drake's an unbelievable babyface and I think it would have been a lot more fun doing this whole story with the crowd there to enjoy it properly. As it was, the 30, 40, 50 people gave us everything they had and we really appreciated that. But I think we would have got a fairer indication of how people felt about us.

"We started to notice they started to really like us, we wrestled Breezango and MSK – we just assumed we would play the villain role against them because I'm technically a villain stuck with a babyface who I hate. But it turned out they were really behind us and that's all credit to Drake Maverick because he's an incredible babyface and I think he's almost out of time in a way because you could have slotted him in 10 years ago, 20 years ago, 30 years ago, whereas now people expect the babyface to be a little bit grittier and everything else. The fact that he is that little bit cheesier, camp, or whatever way you wanna put it, I think it kinda sets him apart. Fingers crossed for him going forward, I think he could help anybody and slot in anybody – he was great guy to play with and have fun with.

"All of the stuff you saw on-screen was literally us in real life, because my entire existence around Spud (Maverick), is like, 'Oh Jesus, he won't shut up, keeps talking, what's he saying he's buying this week, or whatever (laughs)'. But that's literally our actual life, we found that a few times recently because England's been playing in Euro 2020 and stuff like that, I went over to his house a couple of weeks ago and stuff. For Drake it's been very funny because when we do hang out outside of this it's very similar to what we were doing on screen (laughs), so it was very easy to settle into that team I can tell you that."

If you use this exclusive quote or any portion of it please credit WrestleTalk.com and link to this page
During the same interview, Killian Dain also discussed how a "comedy of errors" including Shinsuke Nakamura being bitten by a police dog led to SAnitY's main roster debut changing, and also that plans for Nikki Cross' new Nikki ASH gimmick were changed too.
He also opened up about the "mixed emotions" of originally joining SAnitY in NXT as a replacement for the injured Sawyer Fulton.
You can watch/listen to the full Killian Dain interview with Adam Blampied on the WrestleTalk Podcast channel at this link, and we'll continue to post stories throughout the coming days so keep an eye on our exclusives page.
To make sure you stay updated with all the latest wrestling news, add WrestleTalk.com to your Google Discover feed and follow us on Twitter!