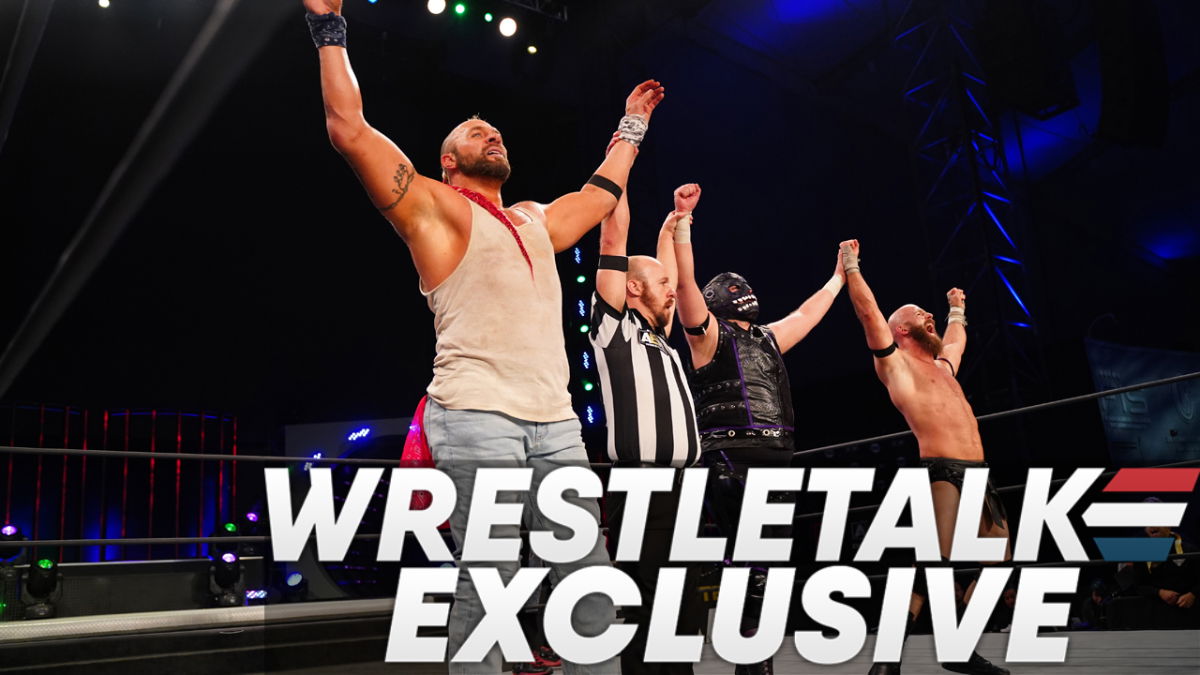 Lance Archer has opened up about his memories of Brodie Lee, and spoke about wearing the tribute gear he wore on the Brodie Lee Celebration of Life special episode of AEW Dynamite on December 30 last year.
In an exclusive interview with WrestleTalk, Lance Archer spoke about how having Brodie Lee Jr at AEW Dynamite shows has actually helped other members of the roster, as well as Brodie's family. He said:
"It's obviously a horrible, sad situation that has been turned as positive as it can be. You guys, on a fairly regular basis, see Negative One, his boy Brodie Jr, joining us on the shows and whatnot. And I think just seeing him smile, I think has helped everyone, from his mom to us, everyone. Just seeing that boy come and have such a blast every time has made this horrible situation as positive as it could possibly be."

If you use this quote or any portion of it please link to this page and embed the video interview
Archer spoke about how his friend suggested that he wore gear inspired by Brodie Lee for the tribute show, and also opened up about Amanda Huber's reaction to his touching tribute:
"As far as wearing what I wore, I didn't consider it his WWE gimmick because he was wearing that before he ever joined WWE, when he was doing Brodie Lee in Japan and around the independents and places like that. And a friend of mine suggested it. We were getting ready for the show, and that whole card was put together on a last-minute thing, there was supposed to be a whole different show and then that was decided on and graciously and honorably put into that match.

"It was one of those things, a friend of mine was like, 'Hey man', and this was like two hours before the show, he was like, 'Hey, why don't you dress like his old Brodie Lee in his independent gear?'. And I was like, 'Oh man, what did he wear?', and he sent me a picture with the tank top and the jeans and the bandanas and all that stuff. So I scooted off and ran to the store and bought all the stuff.

"I kinda let a couple people know what I was planning on doing, but I really didn't tell a lot of people, and in fact I had everything on. And I'd walked by Amanda a couple of times, and she was just focused on staying strong for the day because she had her boys there, she was obviously so new to the whole situation, she was beyond emotional, and she's as strong of a human being as anyone could possibly be, so nothing but love to her for being able to hold it together in that crazy moment.

"And she didn't notice (what I was wearing), she told me this, because it wasn't until, because she was out watching us live, and this was one of the bigger fanbases we had at that point because we were allowing limited fanbase back into Daily's Place at that point, and this was one of the largest groups that we'd had watching a live event. When I walked out, she said she saw me, because she told me this afterwards.

"So we did the match, I'm in his gear and everything's going on, and then we get to the back and I remember she walked up to me and just kind of gave me a big hug, and she goes, 'I had no idea what you were planning on doing'. And I was like, 'I walked by you like two or three times'. She was like, 'I had my head down, I was just trying to stay focused and not break down', and I was like, 'I completely understand. Were you okay with it?' She was like, 'Beyond okay'. She was taken back in the best way, it was a really good tribute in her opinion, and that made it worth it in every sense to me, the fact that she was good with it, that she liked it, that she was happy with what we did.

If you use this quote or any portion of it please link to this page and embed the video interview
The tribute episode was heavily praised for being a very well done show, albeit a very difficult one to watch. Lance Archer noted that he doesn't think the show could have been done any better, saying:
"I don't think (the tribute show) could have been done any better. I said this once on an interview knowing what Tony Khan has done for his (Brodie's) family, going forward in the future, forever basically. I can't help but be proud to work for Tony Khan and work for AEW. It's a match and show you'd wish you'd never had to see, but glad you got to witness because of what it represented in the end."

If you use this quote or any portion of it please link to this page and embed the video interview
Lance Archer concluded by saying that although he didn't have a particularly close relationship with Brodie, he thought that the former TNT Champion had an "infectious" smile that would rub off on whoever he was with:
"Brodie and I, we didn't have a really close relationship. I got to talk to him a couple of times. The history of our time in the business, he and I were in passing every time. We were both in Japan at different times, but he was with different companies. When I was in WWE, he was doing his thing here, there and everywhere, and then obviously he was over there in WWE doing his thing and then I was in Japan, and then (I) came back here, then he came back here.

"Again, we had a couple of opportunities to sit down and talk, and it was good to be able to talk to him and hear the man that he is. But the thing that I can say, and I think the reason there were so many people that were so positive and supportive of the show and him in general and everything, the New Day boys making the tribute gear and auctioning it off and everything of that nature. Every time I saw him near someone, they were smiling. I never saw near someone near him and talking to him that wasn't smiling. And I think if you just saw that, you couldn't help but smile.

"Smiles are infectious. I think it's a sad thing today when people go, 'You should smile more', because smiles are infectious, I think smiles can help change this world, and I saw him time after time after time having conversations with different people in the back, and him, just his big beautiful smile and other people around him just enthralled by him and smiling with him. And you couldn't help, wherever you were, whenever you saw that, but smile. And I think that's the influence he had on everyone, anywhere at any time, was he was able to make somebody somewhere smile, and that's invaluable in this world, especially in this day and age."

If you use this quote or any portion of it please link to this page and embed the video interview
Keep an eye on our exclusives page as we'll be posting more stories from the interview in the coming days.
Lance Archer challenges Miro for the TNT Championship on at Double Or Nothing on May 30, which is available on pay-per-view in the US and FITE internationally.
Check out the full interview below:
What are your thoughts on the above story? Let us know in the comments on Twitter or Facebook.