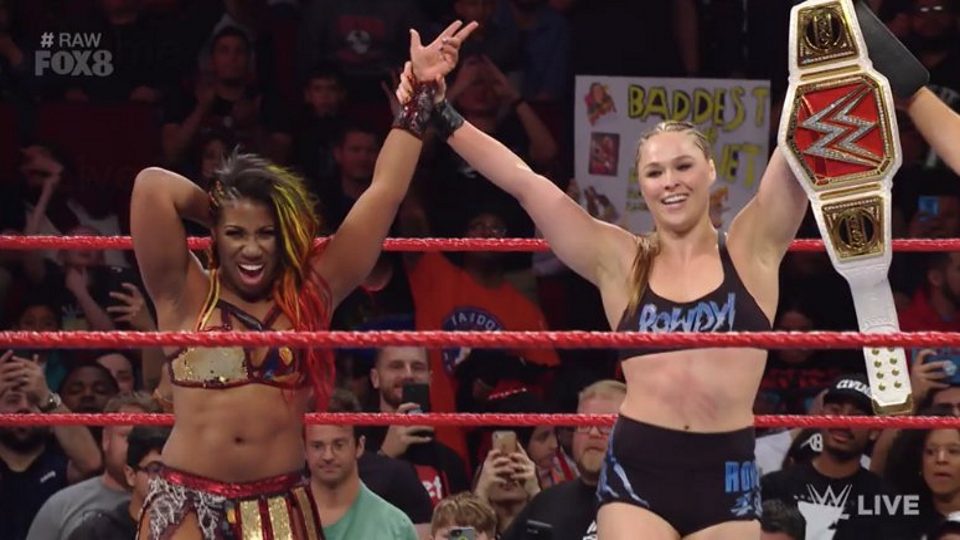 04:10am
Ronda makes Tamina tap out in the main event, as she and Ember Moon pick up the win against Snuka and Ronda's TLC challenger, Nia Jax.
That was an absolutely baffling show.
We had LHP (babyfaces) defeat Scott Dawson (heel) in a 3-on-1 handicap match
Dolph Ziggler handed Drew McIntyre his first pinfall loss in over a year
Dean Ambrose wore a gas mask
Drake Maverick pinned Bobby Roode
Rhyno got fired
I guess what makes this show better than last week is that, basically, stuff actually happened!
BYE-BYE, @TaminaSnuka…

@WWEEmberMoon's #Eclipse leads to @RondaRousey getting the submission victory in #RAW's main event! pic.twitter.com/iCfmozxL0r

— WWE Universe (@WWEUniverse) December 4, 2018
We end tonight's coverage with a final fun stat from our pal Linus, who points out that that every single woman on the Raw roster, including commentary, ring announcers and interviewers, had screen time on this episode. Except… Stephanie McMahon.
Thanks for joining us tonight! Feel free to check back here for SmackDown Live tomorrow, which will probably have less of the insanity, but more Byron Saxton. So, swings and roundabouts.
(I love you really, Byron).
03:51am
Nia and Tamina try to get the jump on their opponents to open the match, as they ambush Ronda before Ember even makes her entrance.
However, Ember sprints to the ring, and eventually her and Rousey recover and head into the break with the upper hand.
Things have broken down in a HURRY as @WWEEmberMoon comes to the aid of @RondaRousey! #RAW pic.twitter.com/4gkZMG0xGi

— WWE (@WWE) December 4, 2018
03:45am
Charly Caruso is set to interview Finn Bálor about his pretty busy night, but the Irishman is ambushed from behind by a rather angry Drew McIntyre.
WOW. @FinnBalor's night just came CRASHING down at the hands of the #ScottishPsychopath @DMcIntyreWWE. #RAW pic.twitter.com/4om12JUXRp

— WWE (@WWE) December 4, 2018
03:41am
So, the Singh Brothers tried to get involved in the match and distract Finn, but – for some reason or another – Apollo Crews ran out to the ring to batter them.
Jinder then flattened Apollo, allowing Finn to recover and get the win.
Up next, Nia and Tamina vs. Ronda and Ember.
What a mental three hours this has been, eh?
.@FinnBalor is having himself an ALL-STAR-worthy night, because he just defeated @JinderMahal on #RAW! pic.twitter.com/P8l9pOq4aO

— WWE (@WWE) December 4, 2018
03:32am
Corbin says well done to Slater, but then tells him he's actually a referee now.
Oh.
Up next, Jinder vs. Finn Bálor.
The great Linus has us covered again: Including Royal Rumbles and non-televised house shows, Jinder Mahal is 0-11 against Finn Bálor ahead of their match tonight. Bálor of course didn't win the Rumble, but did outlast Jinder.
"I think you could have a long and successful career…as a referee."#GeneralManagerElect @BaronCorbinWWE is at it again. #RAW pic.twitter.com/CDmemkjQbm

— WWE Universe (@WWEUniverse) December 4, 2018
03:27am
Slater wins in about 30 seconds with a neckbreaker… and Rhyno is fired from Raw.
No send off, no moment with the fans, nothing. Straight to the ad break.
How very odd.
Fact time courtesy of Linus: Rhyno has only one singles televised win since returning to WWE. That was his first match on August 9, 2016. His opponent… Heath Slater.
Poetry.
???

@HeathSlaterOMRB gets the win to REMAIN on #RAW…

As for @Rhyno313, he's FIRED. pic.twitter.com/qHhBPmM3bq

— WWE (@WWE) December 4, 2018
03:24am
Slater vs. Rhyno up next, loser loses his job on Raw.
Bit random.
WAIT A MINUTE, @Rhyno313…

HE'S GOT KIDS! #RAW @HeathSlaterOMRB pic.twitter.com/nW0AuiDbt3

— WWE Universe (@WWEUniverse) December 4, 2018
03:18am
What a shocker.
BREAKING NEWS: @WWEEmberMoon will be @RondaRousey's partner in the main event of #Raw! #WWE pic.twitter.com/vMVEFRSKwS

— WWE (@WWE) December 4, 2018
03:11am
Ambrose insults Houston, who actually begin chanting "we want Roman!"
The germophobe calls himself the "moral compass" of WWE, and continues to verbally run down Seth Rollins, until the 'Architect' jumps out the crowd and ambushes Dean.
This leads to a massive brawl throughout the arena between the two, and it's Ambrose who ends up with the upper hand as he uses his gas mask to strike Seth down. He continues to use the mask to assault Seth's face, before landing a Dirty Deeds on the outside, and then another in the middle of the ring.
#DirtyDeeds have been done once again…#RAW @TheDeanAmbrose pic.twitter.com/SmuIGCJU4p

— WWE (@WWE) December 4, 2018
03:04am
Dean Ambrose is a germophobe.
I have no idea why this is happening. Sums this show up, really.
Heeeeeeeeeeeeere's @TheDeanAmbrose! #RAW pic.twitter.com/tDYATIhKj3

— WWE (@WWE) December 4, 2018
02:53am
Roode starts by dominating Drake, but the titantron shows AoP battering Gable backstage.
Corbin then decides this is now a 3-on-2 Handicap match, and AoP make their way to the ring.
After Akam and Rezar dominate Roode for a bit, Gable joins them in the ring, and after a little flurry, he can't quite do enough to get the upper hand on AoP.
They hit the Super Collider, and then tag Drake in so he gets the pinfall win.
Yes, @WWEMaverick really just picked up the VICTORY to crush the title hopes of @REALBobbyRoode & @WWEGable on #RAW… #AOP @Akam_WWE @Rezar_WWE pic.twitter.com/f3ZuEelcNH

— WWE (@WWE) December 4, 2018
02:42am
Elias is in the ring doing his usual shtick, but is cut off by Lio and Lashley, who, as always, show everyone Lashley's backside.
Elias has enough and storms to the top of the stage to shut them up… and he does so.
Bálor helps him break his guitar over Rush's back. It looks like these matches will be merging as was previously reported.
And Baron Corbin has just made a couple of matches for later – Jinder vs. Finn and… Slater vs. Rhyno, and the loser gets fired from Raw. Oh.
Up next, it's Bobby Roode against Drake Maverick. AoP and Gable are all banned from ringside, and if Roode wins, he and Chad get a Tag Title rematch.
UP NEXT: @REALBobbyRoode looks to earn another opportunity at the #RAW #TagTeamTitles for himself and @WWEGable…

All he has to do is defeat @WWEMaverick! pic.twitter.com/k4eLvc3r8l

— WWE (@WWE) December 4, 2018
02:30am
Well why on earth have they done that?
Dolph tries to launch a little comeback, but it's thwarted on the outside by Drew. The Scot then throws Dolph back into the ring, but Ziggler knocks over the ref in the process.
With the ref down, Bálor strikes Drew with a Shotgun Dropkick, but he just gets in the ring at the count of nine… and is then immediately struck by a Superkick and picks up his first pinfall loss on the main roster, and first since he was pinned by Andrade Almas at TakeOver: WarGames on November 18, 2017. That's over a year.
I am completely baffled by that.
The #ShowOff @HEELZiggler just picked up the VICTORY over @DMcIntyreWWE on #RAW…and @FinnBalor LOVES IT! pic.twitter.com/PJdSmmn2uf

— WWE (@WWE) December 4, 2018
02:17am
Drew is absolutely dominating this one, and he even grabbed a mic at one point and said he's just going to pretend Ziggler is Finn Bálor.
This however prompted the real Finn Bálor to come out to ringside for a closer look at his TLC opponent.
"I'm going to pretend you're somebody I don't like! I'm going to pretend you're @FinnBalor!" – @DMcIntyreWWE is about to take things to the next level against @HEELZiggler on #RAW. pic.twitter.com/BcKgAhUc8V

— WWE (@WWE) December 4, 2018
02:09am
Dolph questions why Drew has seemingly forgotten about him and their alliance, and Drew essentially just says that he was always superior to Dolph and used him to climb up the ranks on Raw.
Dolph has enough, and strikes McIntyre and hits him with a ZigZag, and leaves up the ramp.
However, Corbin stops him, and instead sanctions a match between Ziggler and McIntyre… next.
Quicker than you can say #ZigZag, the partnership between @HEELZiggler and @DMcIntyreWWE is OVER…and they're going one-on-one NEXT on #RAW! pic.twitter.com/9JoVBc35xO

— WWE (@WWE) December 4, 2018
02:03am
Corbin thanks McIntyre for protecting him over the past few weeks, and awards him the Raw Gold Medal of Excellence.
Drew starts bemoaning his TLC opponent Finn Bálor before he is cut off by… the man who introduced him to Raw back in April, Dolph Ziggler.
Interesting.
Here to celebrate @DMcIntyreWWE Appreciation Night, @HEELZiggler?! #RAW pic.twitter.com/CVewh8jT1E

— WWE (@WWE) December 4, 2018
02:01am
Baron Corbin comes out and brags about how he's going to beat Braun Strowman by forfeit at TLC, and the plays a Drew McIntyre vignette, before welcoming the Scot to the ring to celebrate Drew McIntyre Appreciation Night.
There's no room for weakness anywhere in this picture.#RAW @DMcIntyreWWE pic.twitter.com/vY4zbSHdNi

— WWE (@WWE) December 4, 2018
01:53am
Up next, it's Drew McIntyre Appreciation Night.
I appreciate Drew McIntyre. There we go. Done.
UP NEXT: We celebrate the greatness of the #ScottishPsychopath, because it's @DMcIntyreWWE Appreciation Night! #RAW pic.twitter.com/PsDXBluUtI

— WWE (@WWE) December 4, 2018
01:51am
LHP win because, y'know, it was 3-on-1.
When it's #LuchaHouseRules, the victory is all but GUARANTEED.#RAW @KalistoWWE @WWEGranMetalik @LuchadorLD pic.twitter.com/tfWPgvL2OI

— WWE (@WWE) December 4, 2018
01:49am
Lucha House Party are against the Revival again.
The Revival are (rightfully) moaning about the luchas disrespecting tag team wrestling through their Stupid House Rules.
Dawson switches M.O. and asks for a one-on-one match… but doesn't get it and it's a 3-on-1 handicap in which Dawson is for some reason supposed to be the heel.
Guess @ScottDawsonWWE didn't know this 1-on-1 match could be competed under #LuchaHouseRules! #RAW pic.twitter.com/3kec6f7XVv

— WWE (@WWE) December 4, 2018
01:41am
Bobby Roode and Chad Gable confront Baron Corbin backstage, and Corbin says they can have a Tag Title rematch with AoP, if Roode can beat Drake Maverick tonight.
Up next, it's the Cheater House Party.
Tonight, @REALBobbyRoode & @WWEGable can earn another opportunity at the #RAW #TagTeamTitles IF the #GloriousOne can defeat @WWEMaverick! pic.twitter.com/S73C0XJoq6

— WWE (@WWE) December 4, 2018
01:38am
Ronda Rousey confronts Alexa Bliss about the Riott Squad's actions earlier.
Bliss says she's sent the Riotts home, and Ronda can find a new tag partner (bet it's Ember) to take on Nia and Tamina later tonight.
#RAW #WomensChampion @RondaRousey is going to find her OWN tag team partner to take on @NiaJaxWWE and @TaminaSnuka tonight! pic.twitter.com/4UzCW0OUgt

— WWE Universe (@WWEUniverse) December 4, 2018
01:32am
So, by the looks of it, we're gonna get a video package highlighting Baron Corbin's rise to becoming Raw General Manager next.
I couldn't think of anything I could possibly want less at this point in time… apart from pulling a Bounty out of a tub of Celebrations.
UP NEXT: We'll take an "inspirational" look at #GeneralManagerElect @BaronCorbinWWE's RISE to POWER on Monday nights. #RAW pic.twitter.com/KnRzxLmB0d

— WWE (@WWE) December 4, 2018
01:29am
Bayley picks up the win for her team with the greatest finisher in pro wrestling history the Bayley to Belly in a short, standard tag match.
It seems @SashaBanksWWE & @itsBayleyWWE just impressed the boss!#RAW @AlexaBliss_WWE pic.twitter.com/MGkSyid2OQ

— WWE (@WWE) December 4, 2018
01:25am
After some really awkward pre-rehearsed questions and answers, with (via our pal Linus) the first ever mention of WWE Women's Tag Team Championships on TV, Dana Brooke, Alicia Fox and Mickie James come to the ring.
Bliss makes a tag match, Bayley and Sasha vs. Alicia and Mickie.
"We want to be the first-EVER @WWE Women's #TagTeamChampions!" – @itsBayleyWWE #RAW pic.twitter.com/lLsrOqU1Js

— WWE Universe (@WWEUniverse) December 4, 2018
01:18am
Overseer of the women's division Alexa Bliss comes to the ring after the break, and she introduces Sasha and Bayley for… a repeat of last week's 'Open Forum' segment.
This one's for all the BEST BUDS out there!#RAW @itsBayleyWWE @SashaBanksWWE pic.twitter.com/U5XzK3K0Tt

— WWE Universe (@WWEUniverse) December 4, 2018
01:10am
Guess what!
The Riott Squad are here before the match can even start. Nia and Tamina attack Ronda and the Riott Squad ambush Nattie and put her through a table.
The match never got underway. WHAT A START!
The #RiottSquad just STRUCK. #RAW pic.twitter.com/Ebelsn7NTN

— WWE Universe (@WWEUniverse) December 4, 2018
01:06am
Raw opens with a 10-bell salute to the late George Bush, as the show is hosted in Houston, Texas tonight.
On that note, Linus from our Discord server provided us with this interesting stat: Tonight's Raw is from Houston, Texas. The last Raw to be held in Texas was September 17 in Dallas, with the main event being Baron Corbin v Roman Reigns for the Universal Championship.
The first action of the night is set to get underway, as Ronda Rousey and Natalya take on everyone's favorite wrestlers, Nia Jax and Tamina.
We're getting ROWDY right off the bat tonight with #RAW #WomensChampion @RondaRousey LIVE on @USA_Network! pic.twitter.com/Lnrg8Oj0tC

— WWE (@WWE) December 4, 2018
It's that time of the week once again that we all sit through three hours of Raw and contemplate why on earth we spend our lives watching the wrestling.
Well, that's because the wrestling is often dead good. But Raw recently has been… it's been bad. Really bad. So much so that last week's episode was only about 100,000 viewers away from being watched by less people than SmackDown, which is absolute madness.
However, a negative mindset never got anyone anywhere, so, let's go into tonight's show with happy thoughts, and maybe we'll be pleasantly surprised…
Oh. Never mind then.
The two greatest professional wrestlers in the history of ever taunted Ronda Rousey last week ahead of Nia Jax's Raw Women's Title match at TLC in two weeks' time, and it looked as if they were about to launch a 2-on-1 beatdown on the 'Baddest Woman on the Planet.'
No bother though, because Natalya came to the rescue! Almost. She was ambushed by the Mild Inconvenience Squad halfway down the ramp… so expect Riott, Morgan and Logan to get involved in this here tag match tonight.
*Positive thoughts*
They're not making this easy are they?
Last week, Dean Ambrose got a needle stuck up his bottom and accused everyone in the crowd of carrying ebola. He'll be at the show tonight to likely discuss his Intercontinental Title match against Seth Rollins at TLC.
This match doesn't need the title, and it's holding both men back. I would sooner see Ambrose cost Seth the title – which was actually the original plan for his heel turn – and go from there. But what do I know? I just watch a minimum of five hours of WWE content every single week.
Two new matches were made for TLC over the weekend on the Raw side of things, with those being Finn Bálor vs. Drew McIntyre and Elias vs. Bobby Lashley. After Baron Corbin, McIntyre and Lashley wrote an injured Braun Strowman off TV a couple of weeks ago, the trio decimated Bálor and Elias last week.
The tagline for this week's Raw is "You're either with Baron Corbin or against him", so Baron Corbin is the Nexus confirmed, I guess.
Other stuff that might happen
Piss
More piss
No Way Jose
Alexa Bliss abusing her new role overseeing the Raw women's division
Even more piss, because piss is absolutely hilarious
Feel free to follow us on Twitter and join the discussion in our Discord server as we all hold a collective three-hour-long breath that Raw isn't as bad as last week.
It can't be, can it?
Probably. But hopefully not – be positive, remember!