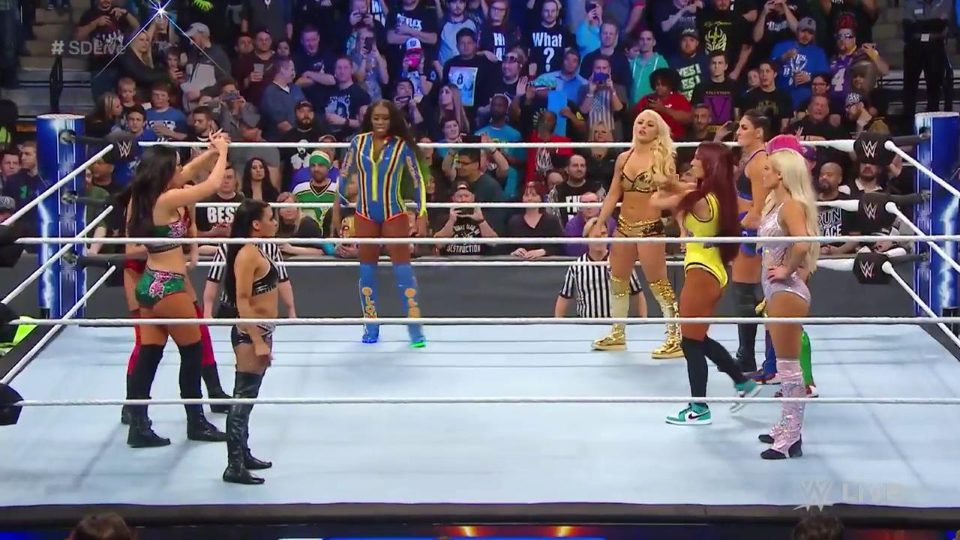 03:02am
Becky Lynch.
Charlotte Flair.
Asuka.
Tables, Ladders and Chairs.
Yes please. Yes please a lot.
Asuka wins a really fun Battle Royal to close the show, and yes, that TLC match sounds very, very good indeed.
Not a groundbreaking episode of SmackDown, but after last night, it was absolutely sound.
.@WWEAsuka is GOING to #WWETLC!!! The #EmpressOfTomorrow WINS the Women's #BattleRoyal! #SDLive pic.twitter.com/auOdP6wTZU

— WWE (@WWE) November 28, 2018
02:42am
Orton says that when he took Mysterio's mask, he didn't do it to disrespect lucha culture, he did it to embarrass Rey.
Mysterio comes out to confront Orton, donning a neckbrace, and after a brawl between the two, nails two 619s, and grabs a chair.
However, he takes too long getting the chair and the 'Viper' recuperates, and he uses the steps to drive the chair into Rey's throat before Jamie Noble and his pals come out to stop the assault.
Man down.
Viper up.#SDLive @RandyOrton @reymysterio pic.twitter.com/V5K50TeZUC

— WWE (@WWE) November 28, 2018
02:35am
Randy Orton making his way to the ring now, and he's carrying Rey's mask that he stole last week.
Maybe he's been watching TJP on 205 Live?
He still has the mask. #SDLive @RandyOrton pic.twitter.com/WN7P3E9CvM

— WWE (@WWE) November 28, 2018
02:28am
Despite some attempted shenanigans from Miz, it's Kofi who picks up the win with the Trouble in Paradise.
I was more interesting in Corey vs. Byron, but it is what it is.
F is for friends who do stuff together
U is for you and me
N is for anywhere and anytime at all
Down here in the deep blue BRAND! ?#SDLive @TrueKofi @XavierWoodsPhD @WWEBigE pic.twitter.com/KKlZZ4HzHS

— WWE (@WWE) November 28, 2018
02:23am
We're in the midst of a Kofi Kingston vs. Miz match because New Day said The Marine 6 sucks or something.
Fact time:
This is the 21st time @TrueKofi and @mikethemiz are going 1-on-1 in a televised match in a @WWE ring, and first time it has happened since #WWETLC 2013.

The Miz has 8 wins over Kofi, while Kingston has defeated Miz 12 times. This is their 3rd time going head-to-head on #SDLive.

— Wrestling Stats & Info (@WWEStats) November 28, 2018
02:14am
The entire SmackDown locker room unites on the stage for this celebration.
Except one man – Samoa Joe.
Joe says "he would have had a toast to Jeff, but "maybe having a bottle of champagne around you isn't the best idea". Blimey, calm down Joseph pal.
Jeff can't take Joe's insult-throwing any more, and challenges him to a match, but Joe refuses and simply walks away.
Someone's not too thrilled about celebrating @JEFFHARDYBRAND… #SDLive @SamoaJoe #JeffHardy pic.twitter.com/MpK4pwaGv7

— WWE (@WWE) November 28, 2018
02:03am
Despite the fact that Jeff Hardy debuted in WWE in 1994, tonight we celebrate 20 years since his WWE debut!
He joins Michael Cole in the ring for what I assume will be an interview of sorts.
Who do we think is ambushing him, then?
Give a round of ?? for the one, the only, @JEFFHARDYBRAND! #SDLive #JeffHardy pic.twitter.com/7wAkZex6iz

— WWE (@WWE) November 28, 2018
01:55am
Shinsuke Nakamura was set for a match (can you believe that?!) against Rusev, but assaulted him before the bell rang.
Nakamura, the US Champion, hasn't had a match on SmackDown in all of November.
#USChampion @ShinsukeN wasn't in the mood to give @RusevBUL a fair opportunity tonight… #SDLive pic.twitter.com/noSwR2hXjv

— WWE (@WWE) November 28, 2018
01:50am
AJ calls out Bryan for not being at the show, or at any recent house shows, and basically accuses him of being Brock Lesnar and doing the fans a disservice.
That wasn't much of a segment, but it was alright.
It wasn't piss.
This is #SDLive, the house that @AJStylesOrg BUILT…and he plans to reclaim its top spot when he meets @WWEDanielBryan for the #WWEChampionship at #WWETLC! pic.twitter.com/tzlD0yBmAb

— WWE (@WWE) November 28, 2018
01:43am
AJ Styles is now in the ring and will presumably address the Daniel Bryan heel turn a couple of weeks ago.
Side note – They appear to be having some titantron issues tonight for some reason…
Championship or no championship, #SDLive is STILL the HOUSE that @AJStylesOrg BUILT! pic.twitter.com/uaMIsueiHl

— WWE (@WWE) November 28, 2018
01:38am
Miz keeps calling Shane his "bestie" and it's absolutely fantastic.
INSULT the #Marine6, FACE the CONSEQUENCES!@mikethemiz wants to team with his bestie @shanemcmahon against #TheNewDay TONIGHT! #SDLive @WWEBigE @TrueKofi @XavierWoodsPhD pic.twitter.com/k8jG8yXtht

— WWE (@WWE) November 28, 2018
01:33am
In a very good little match, the Usos pick up a CLEAN win over SmackDown Tag Champions, the Bar.
It's not PARANOIA, it's THE USOS, and they just DEFEATED the #SDLive #TagTeamChampions @WWECesaro & @WWESheamus! @WWEUsos pic.twitter.com/r3uIM7ZJg5

— WWE (@WWE) November 28, 2018
01:23am
Up next, the Usos take on the Bar in non-title action! And there's no Big Show today, either, because they got in an argument backstage over last week's loss in a stupid food gimmick match against New Day.
#TruTagTeam #SDLive ? @WWEUsos pic.twitter.com/cvByqDGaDv

— WWE (@WWE) November 28, 2018
01:14am
The heels are joined on the stage by Naomi, Asuka, Lana and Carmella.
Now, Mandy, Peyton, Billie, Sonya, Zelina, Naomi, Asuka, Lana and Carmella will compete in a Battle Royal tonight, with the winner being added to the TLC match for the Women's Title.
??????

A Women's #BattleRoyal will take place TONIGHT, and the winner of that match will be ADDED to the Women's #TLCMatch between @BeckyLynchWWE & @MsCharlotteWWE! #SDLive @RealPaigeWWE pic.twitter.com/j73JHfgCj2

— WWE (@WWE) November 28, 2018
01:11am
'The Man' accuses Charlotte of being a "bootleg Becky", in that she channeled her inner Lynch to batter Ronda.
Flair then turns the tables and says that Becky is just an imitation of her father Ric, which is a silly statement, and Paige announces that Charlotte will face Becky for the SmackDown Women's Title at TLC in a TLC match.
And now Mandy Rose, the IIconics, Sonya Deville and Zelina Vega are here…
.@BeckyLynchWWE defending her #SDLive #WomensTitle against @MsCharlotteWWE in #TLCMatch!!! @RealPaigeWWE

TLC time> T-time #WWETLC pic.twitter.com/tHv9WWJtI7

— WWE (@WWE) November 28, 2018
01:06am
Becky says she's done sitting on the sidelines and is back to fight, and immediately calls Charlotte Flair out to join her in the ring!
"I'm DONE watching. #TheMan is putting herself BACK in the game!" – @BeckyLynchWWE #SDLive pic.twitter.com/QTjA4Aif9k

— WWE (@WWE) November 28, 2018
01:03am
SmackDown opens with General Manager Paige welcoming Becky Lynch back to the show for the first time since Survivor Series.
Which means this show is already better than last night.
But what will the SmackDown Women's Champion have to say?
"There's a man goin' 'round takin' names
And he decides who to free and who to blame
Everybody won't be treated all the same
There'll be a golden ladder reachin' down
When the man comes around."#TheMan #SDLive @BeckyLynchWWE pic.twitter.com/FNM7h71CDI

— WWE Universe (@WWEUniverse) November 28, 2018
Please be better than Raw.
Please be better than Raw.
Please be better than Raw.
Please be better than Raw.
Please be better than Raw.
Well, Becky's back, which means it will probably be infinitely better than Raw, so that's good.
SDLive tonight, The Man is coming round. pic.twitter.com/0wwQYGuatp

— The Man (@BeckyLynchWWE) November 27, 2018
I must admit, I wasn't a fan of her choosing Charlotte to face Ronda at Survivor Series and then hugging her afterwards, because it made literally no sense, but hopefully tonight goes a little smoother.
We don't know exactly what she's going to be doing, but probably addressing Charlotte's new attitude, which is basically that she is Becky Lynch.
Also tonight, we've got a non-title bout between the Bar and the Usos, which could be dead good, but will probably end with a roll-up or something else shenanigan-based to build to a match for the titles at TLC, or maybe a three-way including New Day.
Tonight also marks 20 years since Jeff Hardy debuted in WWE, and there appears to be some sort of celebration lined up for tonight. We might get a fun video package of mental moments, and then he'll beat Almas again or something.
And last but not least, the 'Phenomenal' AJ Styles will appear tonight to discuss Daniel Bryan's heel turn two weeks ago that assisted him in defeating Styles for the WWE Championship. AJ's rematch is set for TLC, so it will be interesting to see what he has in store tonight.
What are your thoughts heading into SmackDown Live? Let us know in the comments, follow us on Twitter, and join the discussion on Discord!