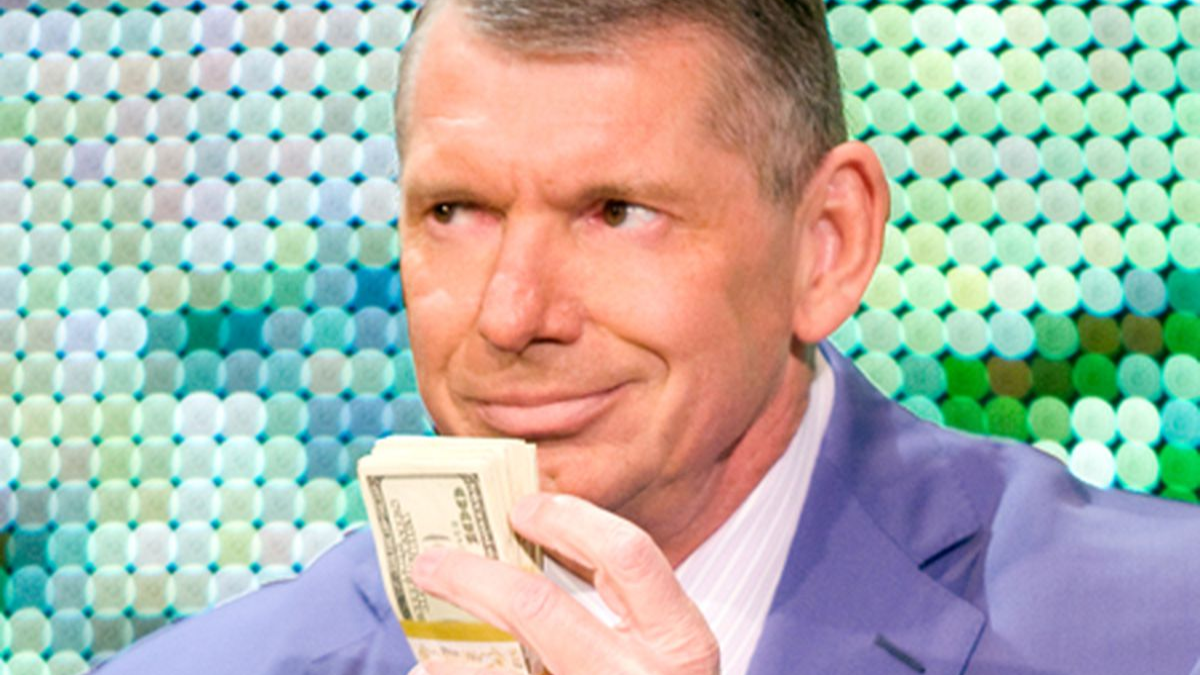 Follow along below for all the updates on the WWE Q1 2022 earnings call taking place from 5pm ET, which will include comments from Vince McMahon.
WWE majority owner Vince McMahon, chief brand officer Stephanie McMahon, company president and chief revenue officer Nick Khan, and chief financial and administrative officer Frank Riddick are all set to take part in the call.
WWE published its official earnings report ahead of the call, which you can read at this link.
Live updates and notes from the call itself, which often include some notable announcements, will be provided below:
Vince McMahon makes the first comments in his trademark grizzly mumbling fashion. He celebrates the record results that were announced earlier, saying notable achievements include a "stupendous" WrestleMania (yes he said "stupendous") and other Premium Live Events. He also mentioned the partnership with A&E for more documentaries going forward
Vince passes over to Nick Khan, who says WWE is happy with the success so far this year. He says WrestleMania was the most-watched event in WWE history both domestically and globally. WrestleMania 38 had a 61% viewership increase on Peacock compared to WrestleMania 37. He also added that WWE viewership doubled in total on Peacock over the past WrestleMania weekend compared to last year
He adds that nearly one third of all Peacock accounts viewed WWE content during WrestleMania weekend, with WrestleMania 38 being the second-most watched event in the history of Peacock, behind only the 2022 Superbowl
Moving outside the US, Khan says that 56 million viewers watched WrestleMania in India through Sony Sports Network. In total there was a 54% global viewership increase over 2021. He credits this to the content itself, and to the distribution deals that WWE has signed in recent times
He adds that WrestleMania 38 was also the most attended and highest grossing live event in WWE history, drawing 156,000 fans from all 50 states and 53 different countries
Khan says the goal is to top the strong 2022 numbers for WrestleMania next year with the two-night event at So-Fi Stadium
He adds that WWE invested in WrestleMania Axxess this year including some interactive areas and increasing it to five days. WrestleMania 38 had the highest merchandise sales in WWE history, which Khan credits to the expansion of WrestleMania Axxess
Khan says WWE is continuing to identify new revenue streams, including signing a new deal with the NBC group to make it the new home of WWE in the Middle East/North Africa region
The NBC deal came off the back of Elimination Chamber in Saudi Arabia. The show saw a 41% increase domestically and a 42% increase internationally over the last show in Saudi Arabia
Khan then talks about the stadium event in Cardiff this coming September, touting that the 85,000 pre-registrations for tickets actually surpassed WWE's expectations
He then talks about the announcement of On Location as WWE's first ever third party hospitality provider for premium live events, calling On Location the premier live event hospitality business. He says they will design unique experiences around all of WWE's domestic premium live events, starting with Hell in a Cell in June
Another partnership he mentions is that with Fanatics, which manages all of WWE's online merch sales coming off the record setting merch sales on WrestleMania weekend. The partnership launches this summer
Khan talks about the importance of more "original content" and following up on the likes of the A&E documentaries. There will also be a new show called WWE Rivals, which will tell the story behind the biggest rivalries in WWE history both in and out of the ring. A&E has ordered over 20 episodes of that
He then brings up the topic of the next rights negotiations – he says there will be more buyers looking for live programming than ever before. Khan claims that Netflix's recent adjustments to its business strategy suggests that it's only a matter of time before Netflix starts looking for live content
There's also Apple TV+, which just landed a deal with MLB games so they're interested in live too. Amazon tested live in the UK with tennis and then got NFL thursday night game rights in the US starting this September, as well as an MMA deal announced this past week, which WWE found "interesting"
Other services he brings up that could be looking for live content in sports and entertainment are Disney+ and Hulu. He says WWE is the perfect fit for all of these services because it's both sports and entertainment so fulfills both of those needs
That's it from Nick Khan and it's time to hear from Stephanie McMahon next
Steph celebrates that WrestleMania beat the Superbowl in terms of social media and digital reach, with 2.2 billion impressions, 1.1 billion video views, 87 million engagements, and 13.1 million hours of video watch time
WrestleMania also hit a new sponsorship revenue record at more than 10 million, which is a 50% year-over-year increase and a 47% increase on the previous record, which was 2020
WWE increased sales and sponsorship revenue 44% year-over-year in Q1. WWE has brought on nine new partners in that period, including Toyota, DoorDash, Fenty Beauty and Rocket Mortgage
She talks about the integration and interaction WWE has portrayed with these sponsors – The likes of the Toyota commercials with Rick Boogs and Shinsuke Nakmura, and Fenty Beauty utilising Bianca Belair's social reach to launch a new lipstick line across YouTube and Instagram
Steph says WWE was very happy with the relaunch of WWE 2K, touting both the commerical and critical success of WWE 2K22
She also says WWE continues to see good things in its mobile game partnerships, and says there'll be an announcement of a new 'roleplaying game' soon
Steph adds that gaming is a priority for WWE because 80% of its audience identify as gamers, and nearly 60% of the gaming audience in general are 34 years old or younger
She then shifts focus to finding the next generation of "WWE Superstar", talking about the first ever all-college tryouts with over 50 student athletes from over 40 universities, with 15 of them being hired. Eight men and seven women with an average age of 23. This is in addition to the NIL programme. She says the second NIL class will be announced soon
Stephanie then brings up Logan Paul's appearance at WrestleMania garnering over 143 million impressions, 119 million video views and 15 million engagements
She then talks about all the various appearances in pop-culture media that WWE stars have made recently, such as Sasha Banks and Xavier Woods on Nickelodeon, and four WWE stars announcing NFL draft picks a few days ago
That's it from Steph, as she passes over to Frank Riddick
Riddick is the financial guy, so here's a link to the numbers that WWE reported earlier, because that's all he really seems to be going through. If he says anything different or more interesting I'll let you know
Well, he didn't, so that's it from Frank. It's now time for the Q&A portion of the call
Nick Khan says it's possible that WWE could look for a "bundle" deal when it comes to streaming rights and Raw and SmackDown rights, and they'll talk to FOX and NBC about that
Khan is then asked specifically about India and the growth in that region. He brings up the Superstar Spectacle show from last year which had Indian talent involved at the SuperDome (the one with Guru Raaj vs Finn Balor, etc). He says that did 25 million viewers in India. Khan admits that even in India, the Indian Superstars aren't big names yet, so the viewership was impressive when you take that into consideration. Khan also says that everyone is waiting to see how cricket rights do in India as an indicator on potential in the region
Khan says WWE is "always" looking at doing global live events, so it's possible that there could be a stadium show in India, but he didn't specifically say there will be, or that there's anything planned. Just that WWE is always looking at potentially doing that kind of thing anywhere and everywhere in the world
Nick Khan says WWE was ahead of the game when it launched its own network in 2014, and is now ahead of the game once again with the Peacock deal. He says a "robust international rights marketplace" for WWE is opening up, and the company is in "deep talks" in many territories
Nick Khan says that there were over 11,000 people in attendance at the tour show in Paris, France a few days ago, and there was success "across the board" in each city they went to on the European tour. He says there will likely be more televised big international shows next year, and that there's another one in Saudi planned for later this year
Frank Riddick says WWE is looking at expanding and improving its Performance Center system, but there are no details or decisions made yet
They were asked about weekly TV ratings trending "flat to down" and whether there's been a rebound off the back of the success of WrestleMania. Nick Khan says if you look at the past quarter, ratings were up on Raw and SmackDown, and two or three weeks ago, SmackDown beat the NBA playoff game on ABC head-to-head in both overall viewers and the demo. Khan says a lot of linear ratings are down significantly, especially high-end original scripted content. Khan says that, outside of the Olympics, WWE is pleased with its TV ratings
That wraps up the call! The most interesting bits were probably the announcement of the new WWE Rivals series with A&E, and an upcoming 'roleplaying' mobile game. Thanks for following along!
To make sure you stay updated with all the latest wrestling news, add WrestleTalk.com to your Google Discover feed and follow us on Twitter!