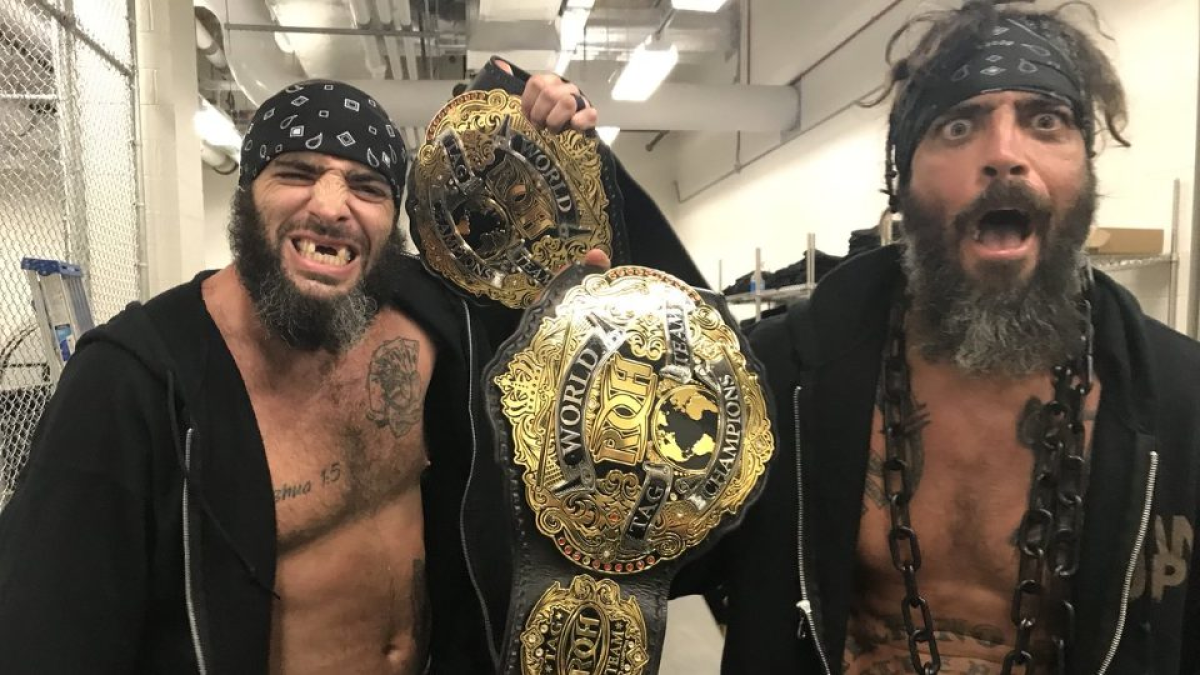 The wrestling world is still reeling from the tragic death of ROH Tag Team Champion Jay Briscoe, real name Jamin Pugh, who was killed in a car accident on January 17, 2023.
Updates regarding the incident have been understandably limited, but positive news continues to be shared regarding the condition of Jay's daughters, Gracie and Jayleigh.
Gracie and Jayleigh were both passengers in Jay's car when the accident took place, and suffered serious injuries as a result.
Family friend Josh Wharton has shared the below update during a Facebook live stream, and also shared a statement from Mark Briscoe, Jay's brother and tag team partner.
Josh said:
"Gracie, 12, has worked with physical and occupational therapy over the last several days and continues to work towards her goals. Her therapist says her strength is improving and she is able to assist with some knee bends and in and outs with her legs. Today, she assisted with her transfer into the wheel chair using a slide board. Her pain has been much more under control. She was able to be up for awhile and play some games and watch movies throughout the day. She is making huge improvements, has regained feeling below her knees, but has not moved anything below her knees.
"Jayleigh, 9, Saturday night her NG tube was removed and Sunday morning she was able to eat and drink as much as she pleases. She is so much happier. Today, she worked with physical and occupational therapy and did her first stand transfer into her wheelchair. The girls were able to spend a little quality time together today. After getting in her bed, her wound vac on her abdominal incision was removed. She now only has to worry about her braces and external fixation on her leg. She was about to work with an art therapist.
"I called Mark just about a half hour ago and we talked. I told him the community cares about him and we wanted to make sure he was alright and if there was anything we could. He answered the phone, just the most chipper I've ever heard him. That's an upbeat family in this time of tragedy. The one thing that stuck out to me, he said, 'I can't imagine going through this not being a believer.' He realizes that our time here on Earth is a small glimpse in existence. He realizes that we're going to see him again and he's hoping to use that as a tool to motivate people to get into heaven with us. Use Jamin's untimely death as a witness almost to get people into heaven with him. He sent a text that says, 'GOD IS ON THE THRONE. That's all I got bro.' The man has been through a lot and he still has his faith. He's going to carry on the Pugh and Briscoe name proudly.
"I've not talked to anyone in AEW, but according to the family, they've been nothing but top notch and supportive."
If you would like to support Jamin's family following this tragedy, a donation page has been set up, and you can donate here.
While the tragedy of his passing is still very raw, it's great to see that Gracie and Jayleigh are continuing to improve, so everyone at WrestleTalk sends their best wishes to the entire Pugh family, and to the doctors who have worked so hard to help the family.
Thank you to Fightful for their transcription of Josh's message.