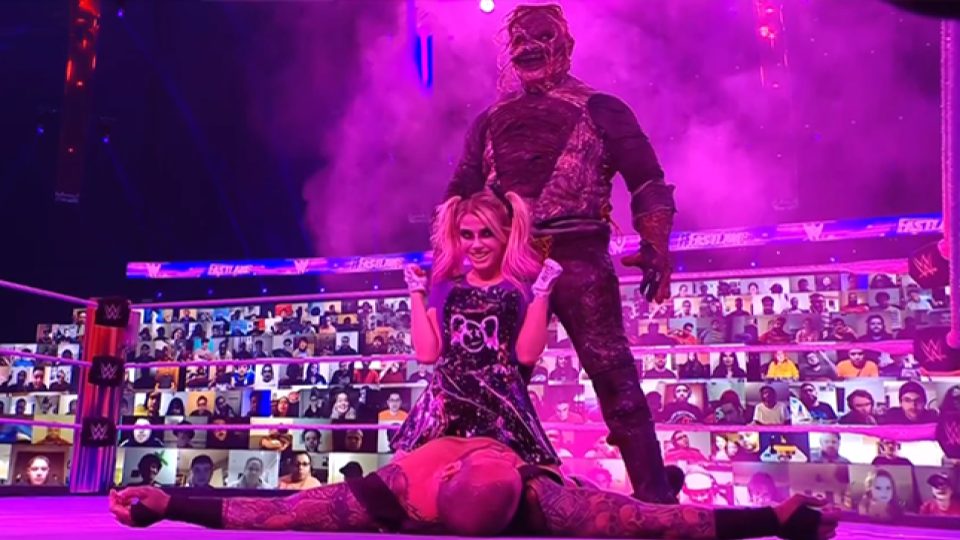 More has been revealed surrounding the new look of The Fiend, including who was involved in the creation of the new mask.
After being set on fire at TLC 2020, The Fiend returned to WWE at Fastlane, helping Alexa Bliss defeat Randy Orton. The Fiend looked different, noticeably more charred than when he last wrestled.
SFX makeup artist Jason Baker has revealed the various artists that helped to create this new look. Taking to Twitter, Barker confirmed that legendary artist Tom Savini supervised the project.
Baker named the artists responsible for designing the leather attire and molding the mask, pointing out that he helped to sculpt and paint the head.
Here is the tweet:
New @WWEBrayWyatt look created at @callosumstudios. Sculpted by brianmcguire & @bakingjason. Molds by @rnzofx74 & @kendraxleighh. Painted by @bakingjason. Soft goods & leather by @sandymimpson. Project supervisor @thetomsavini pic.twitter.com/aFyxfmYOhB

— Jason Baker (@bakingjason) March 22, 2021
Project Supervisor Tom Savini and his team were key players in the creation of The Fiend's original look. Designing the "head" lantern and Firefly Fun House puppets, Savini is responsible for bringing The Fiend's horror-inspired aesthetic to life.
The Fiend vs. Randy Orton has been made official for WrestleMania 37 Night 2. To read about the matches chosen for each night of WrestleMania 37, click here.
What are your thoughts on the above story? Let us know in the comments on Twitter or Facebook.