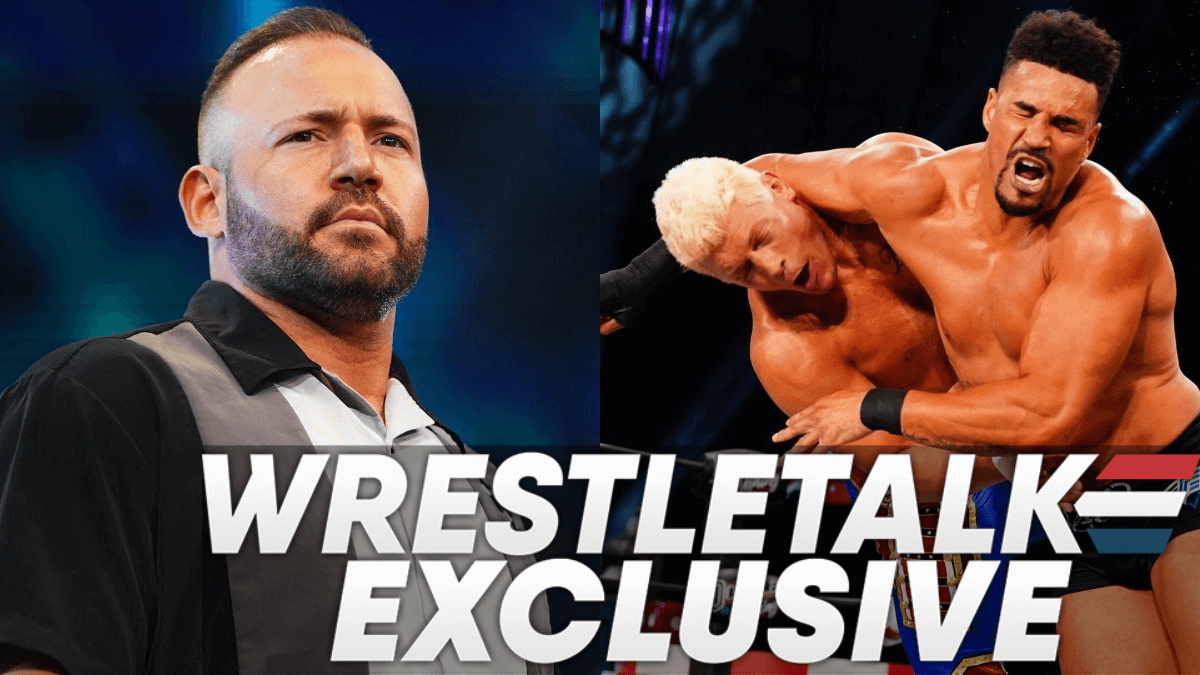 The Cody Rhodes vs. Anthony Ogogo feud received plenty of criticism, which QT Marshall feels was unwarranted for the most part.
Speaking on the WrestleTalk Podcast, AEW star QT Marshall addressed the complaints about the Cody Rhodes vs. Anthony Ogogo rivalry and revealed how their Double Or Nothing 2021 match was cut short.
Marshall said:
"You mention how there are a lot of people that didn't really love the storyline or angle that Anthony was in with Cody, and again, listen to the live audience. I don't care what Twitter says. Twitter can talk all they want but the actual people that are watching the show live making the noise, those are the people that really matter. And I think during the pandemic, we gave a little too much power to the people behind the keyboard. 80 people tweeting when there's a million watching – that doesn't really matter to me. And I know that's not the popular opinion and everyone loves going on Twitter. I don't go on Twitter unless I have to tweet something for AEW. I try to stay off of it, there's way too much negativity.

"Cody got a lot of blame for the storyline – for what, I don't know. I'm sure, the promo, whatever, it's controversial, however you guys wanna perceive it, I thought he was cutting a passionate promo about his life and Anthony being this guy who hated America because of what it stood for. I thought it was a pretty easy, simple storyline. (Imitating fans:) 'It's 2022, we can't go back and…' Okay, whatever guys. Sure. Whatever."

If you use this exclusive quote or any portion of it please credit WrestleTalk.com and link to this page.
QT continued on to give his perspective on how Ogogo did during the match and how it was cut for time on the fly, saying:
"I think Anthony held his own, his first big match was on pay-per-view. They did a great job. Time was really restricted on that show because of people running long. They cut six minutes on the fly, so again, no-one knows these things because we're not gonna promote them. The people that are home saying that match wasn't as good as it could have been and blah blah blah – yeah you're right, it probably coulda went an extra six minutes. They didn't because Cody really thought about the whole show, and it wasn't about Cody.


"So this is where my friendship with Cody – I would never say it publicly until now – just because of my friendship people are gonna say, 'Well of course he's gonna say that, he's friends with him'. No I'm gonna say it because he did the right thing. I was ringside and helping coach Anthony as the match was going on because I realised they were cutting down their entire match to make the show hit our times.

"Again, I thought (Ogogo) did a great job, and I think he'll continue to do a great job. He's just a storyline away from really getting out there and becoming the successful professional wrestler that we hired."

If you use this exclusive quote or any portion of it please credit WrestleTalk.com and link to this page.
As previously mentioned, Marshall also addressed his ongoing rivalry with Hook and how he will respond to his disrespect.
To make sure you stay updated with all the latest wrestling news, add WrestleTalk.com to your Google Discover feed and follow us on Twitter!