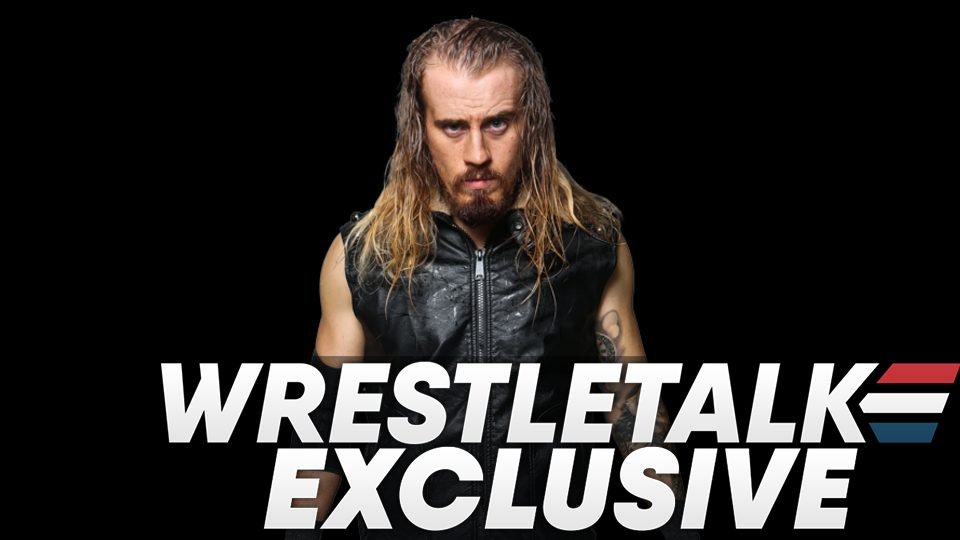 WrestleTalk.com had the chance to catch up with Mark Haskins of Ring of Honor.  We discussed ROH, The Honor United Tour, The U.K. Fanbase, who he'd like to wrestle, and much more.  You can read some of the interview below or listen to the full interview here:
https://t.co/r6O8bZvo75's @NobodyaskedNate sat down with @ThisIsHaskins to talk about ROH's upcoming Honor United tour, and his ongoing feud with @bullyray5150. A feud he hopes ends with @VickyHaskins powerbombing Bully Ray through a table…

?️https://t.co/i1eiOo6h2x pic.twitter.com/36Vpe2w3e2

— WrestleTalk (@WrestleTalk_TV) October 21, 2019
We know Ring of Honor is headed back to England at the end of the month for the Honor United Tour. Tell us a little bit about what it means to be headed back to your home country to wrestle in front of your home fans as part of Ring of Honor.
"I'm super excited because for the first time in about a year or so now, like, I won't have to jump on two or three flights to fly halfway around the world just to go to work. So, I'm super hyped about just having a single car ride…It's super exciting. It's cool. It's the first time that I would have been on the show as a Ring of Honor contracted talent…Cause it kind of feels like a little bit of a homecoming to some extent and I'm super excited about these shows coming up."
Here lately, it seems like Ring of Honor has really developed an international feel…Even now on this tour bringing in some of those folks like Mike Bailey, Aussie Open, Joe Hendry; guys that are going to be more familiar on the UK scene. Is this something ROH is really trying to do or is that just sort of how it's worked out? 
"Definitely, I mean I mean as long as I can remember Ring of Honor has always been a collection of some of the best talents, like, from across the globe. You know, it's I don't think this is something that's been necessarily new. It's some of the best wrestlers you know from multiple different areas coming together and applying their trade for the same company. 

I remember back in the day when used to have all these Japanese talents come over and have their excursions with ROH and you have people from, literally, everywhere and it's just kind of, I guess, it's just following that path. I'm super fortunate. I get to be a part of it and get to represent the UK along with guys like Marty Scurll, Joe Hendry and now, Session moth Martina. You know that's a yeah quite the collection of guys…I think of Ring of Honor is just, you know, they're looking for the best talent so they can find to put on the best product that they can."
If you haven't been watching ROH as of Late, Mark Haskins describes what you might see in their product and why you should buy your ticket.
"It's awesome. It feels like there's a lot less restraint with Ring of Honor compared to certain other companies. So, there's a lot more stuff, like freedom, for your things you can do and go out there. It's about competition. It's about putting on the very best show you can. There's some of the best wrestlers in the world doing that. So who wouldn't want to go?  If you like wrestling and you like having a good time then you know then Ring of Honor is your ticket. Come on down and yeah, get involved."
Recently, Haskins has caught the eye of Bully Ray.  Bully Ray has been attacking Haskins and even getting in the face of his wife.  Is there any chance we might be seeing Haskins and Bully Ray on an upcoming show? 
"Bully Ray only turns up when I'm like beaten up and down. So I guess like I'd have to go into the situation being flat on my back to start with. Yeah, he generally doesn't like it when you're up and ready, you know. Hopefully, hopefully we get to do this sooner rather than later because I'm getting real fed up of these like silly games  andI just want to get stuck in, you know what I mean. So, I'm definitely waiting for the day that comes. "
#WCW My Boo ? She's funny, clever, my best mate, my soul mate and I hope she's read enough nice things about herself that now she'll hurry the fuck up and make us food as she don't trust me in the kitchen, ahhh I'm starving
New Tee's/Deals/8x10s/Site – https://t.co/4XZTDAs6V1 pic.twitter.com/5f1ZypXxSu

— Mark Haskins (@ThisIsHaskins) July 31, 2019
Will his wife be sticking around to help out?
"Yeah, yeah. Well you know the plan for me is definitely to give Bully a taste of his own medicine.Get my wife to sit on the top rope. I'll pick him up and load him up to her and she can power bomb him through a table. Yeah, send him packing."
Obviously, Bully Ray is a guy Haskins would like to face, but  who would he face in a dream match.  
"Brock Lesnar.  I think that would be fun."
When asked if he liked taking German suplexes, Haskins felt pretty confident about the match up.
"I'm pretty sure I got this one in the bag. You know. I think the agility of a cat.  (I actually don't don't think that for a second) I think I'm pretty confident I'd be able to suplex him around and you know like and dish it out."
Haskins has developed a character in which he seems never stop and is very determined.  
"Yeah, that is definitely a good thing for me but also a bad thing for me at the same time. Because sometimes I, like, just think to myself I wish I wasn't me. Cause I'm just, yeah, I'm just gonna take this and absorb it and whatever it is  So, it can be a blessing and a curse."
How did you come up with the name Overkill? What is it about that name that's unique to you? 
So I was listening to Overkill by Motorhead and I was singing along to it and my wife walked in and she just looked at me and she said you're overkill you are. I was like I know I'm like a super handful at times so I just kind of was like yeah that's it. That's what I'm going with. So I made that my moniker and it's kind of stuck with me.
What is Mark Haskins goal in Ring of Honor?
"Inevitably I'm gonna be going for the ROH title sooner or later. It's only a matter of time."
With Ring of Honor headed back to the UK for its upcoming Honor United Tour, I asked Mark about the UK Wrestling scene and what makes it special.
"I think is a combination of a lot of things… It felt like there was a generation of guys that we all came up through the UK scene and we all wanted to do well…There was kind of like a wealth of knowledge going around.  Years ago, I never thought that would have been the case. There's been a lot more promoters, nowadays, or a lot more sort of switched on to promoting their product…The main thing that it comes down to is having a fanbase there to do it in front of, you know. 

#TBT That squad now. BOLA 2016 pic.twitter.com/jFtsgNkZed

— Mark Haskins (@ThisIsHaskins) January 31, 2019

Things like social media have helped so much. Something creates a buzz. People get interested. They come and get involved. They fall in love with it and that helps the scene prosper, you know.  We couldn't do it without the fan support. So, really I think that is is a combination of things. It's having the talent that has created fans to be intrigued and be loyal and having some of the most loyal fan base in the entire world as well."  
When discussing his upcoming match with Kenny King on ROH's Honor United Tour, Haskins had the following to say:  
"Obviously, Mark Haskins vs. Kenny King is going to be fantastic."
Friend ? pic.twitter.com/pxQirMRsQh

— Mark Haskins (@ThisIsHaskins) September 10, 2019
When asked about who else he'd like to square off against, Mark had a very specific person in mind.  
"I'd love to get a chance to have a singles match with would be Alex Shelley…That's definitely one I'd be pushing for.  You know, I'm just going to end up like picketing each show and demanding that they make us wrestle. That's something you can look forward to sooner or later…He's somebody I want to get in there with and kick around for a bit."
In terms of people Haskins truly likes to kick around, he didn't have a diverse top 5 list.
Marty Scurll, Marty Scurll, Marty Scurll, Marty Scurll, and Marty Scurll.  

It's just fun to kick him as well.  
Started wrestling the same year, trained together, wrestled all over the UK, Ireland, Germany, BOLA in LA, from on camp sites to o2 Brixton Academy and now ROH & I can honestly tell you kicking Marty Scurll as hard as you can is one of the most enjoyable experiences in life pic.twitter.com/IvPrGJ0hjS

— Mark Haskins (@ThisIsHaskins) February 1, 2019
Maybe he can add Brock Lesnar as number six one day.  Mark will be on tour with Ring of Honor in England on October 25 – 27.  October 25 will be in London.  October 26 is in Newport.  The final stop is in Bolton on October 27.  
ROH is delivering some pretty intriguing matches along the way.  RUSH vs. Jeff Cobb is set for the final stop of the tour.  
You can also catch Rampage Brown, Speedball Mike Bailey, Villain Enterprises, Joe Hendry, Lana Austin, and Flamita in action on the tour.  Last year's tour led to some new signings and some great matches. If you're in the area, it's definitely going to be a show to check out.