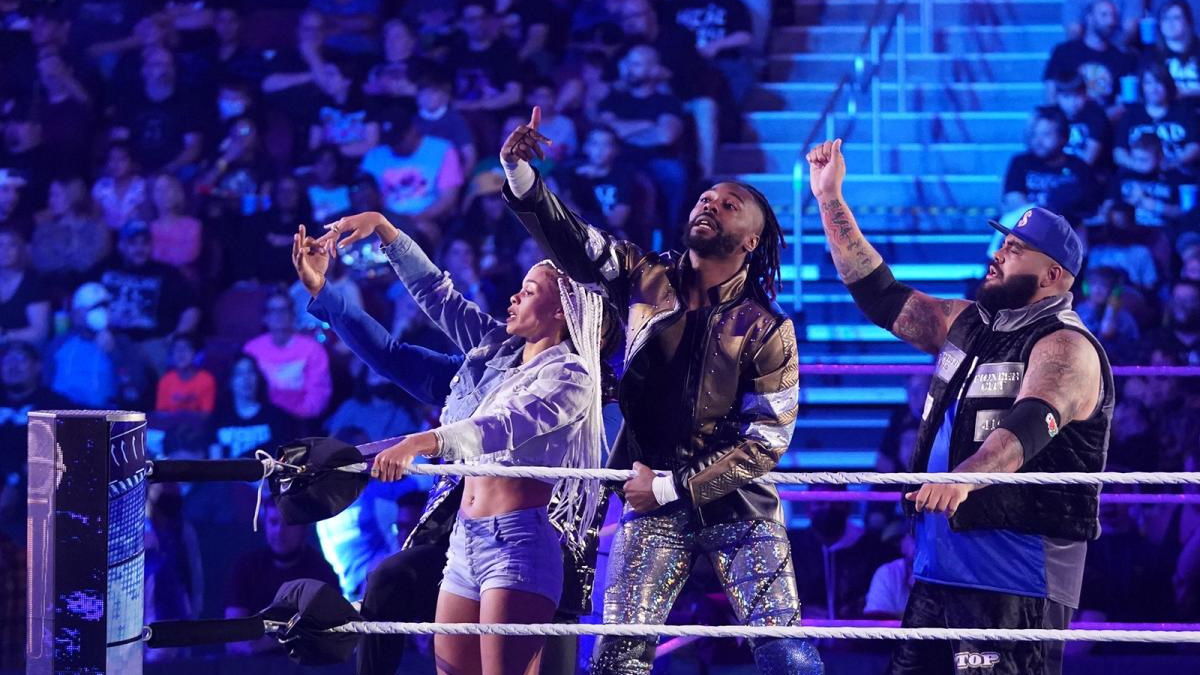 Swerve Strickland (fka WWE's Isaiah Scott) has recalled finding out that Briana Brandy (B-Fab) had been released from her WWE contract.
Brandy was let go by the company at the beginning of November. The rest of Hit Row, Strickland, Ashante Thee Adonis and Top Dolla, were released by WWE less than a month later.
Speaking with The Wrestling Classic, Swerve noted that he found out about Brandy's WWE exit online, mid-flight. Stating that he lost interest in his WWE main roster run soon after, Swerve said:
"As far as what happened with Briana (Brandy), we were on a flight and her flight got canceled. So we were like, 'Oh, okay.' So, Top Dolla ended up calling and saying, 'Hey, is everything okay?' Yada, yada, checking in with them and they're like, 'Oh no. It's just… she's not needed at the time.' We're like, 'Okay.'

"So we got on the flight. We see our Wi-Fi on the plane, we're seeing the internet just blowing up, all these releases are happening and they saw Briana's name. We're like, 'Woah, what?' So they didn't even tell us that. It just happened and then so, I guess like us asking about, inquiring about what was going on was like an issue for them in the office so we were like, 'Oh wow.' So that was one of the things. Just, I feel like they got frustrated with the group because they wanted — you had The New Day, you had Hurt Business and all that so, it was just they didn't know what to do with us and they ended up just letting us go.

"Truth be told, after Briana (Brandy) got let go, it kind of, for me, I kind of lost the interest anyway. I'm a person that's 100 percent go or not so they're not 100 percent behind me, it's like, okay, I can't be 100 percent behind this project. So it's cool. Y'all gonna do — WWE is gonna WWE.

"They're gonna do what they do, they have what they want and they're happy with what they got. I'm not necessarily happy with what I'm noticing with the product change but they're happy with it. It's their money, it's their product, it's their investors so, give them what they wanna give them and if I don't fit in that, cool. I'll go do some other s**t anyway because honestly, the schedule moved too slow for me.

"I'm on a busy schedule, I'm like flying here to here. I'm not gonna be home for like 12 days, I'm in the studio with — working on music with one of Kanye (West's) producers, so, like I said, y'all move too slow. I need to move, so, and like, it's good to be on my own with this kind of stuff too."
Strickland returned to the ring at the recent NJPW STRONG Rival taping, facing a top star in the main event. To read spoilers for the taping, click here.
Over 80 on-screen talents were released by WWE in 2021. Stay up to date with every WWE release of 2022 using our tracker at this link.
Transcription via POST Wrestling. 
To make sure you stay updated with all the latest wrestling news, add WrestleTalk.com to your Google Discover feed and follow us on Twitter!