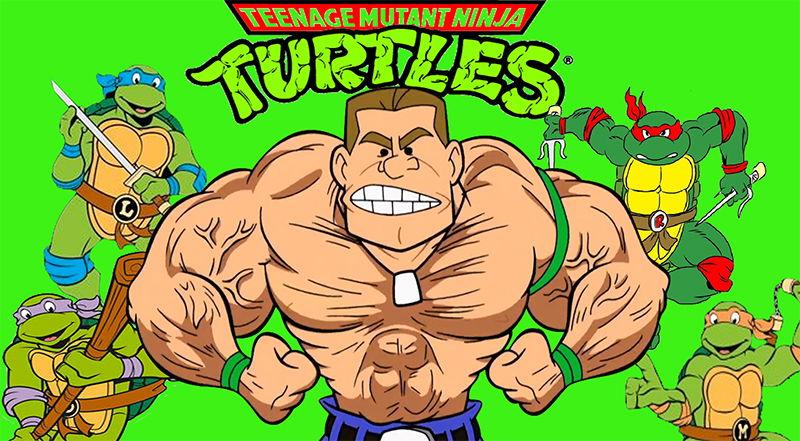 Cowabunga dudes! You've seen him as a bull in Ferdinand, John Cenastone in The Flintstones and WWE: Stone Age SmackDown!, a fitness obsessed closet homosexual in Trainwreck, and he'll shortly appear on posters everywhere as part of the Transformers spinoff franchise Bumblebee, but you've never seen John Cena like this before. The man everyone loves to hate is about to face four new adversaries in Nickelodeon's Rise of the Teenage Mutant Ninja Turtles animated series, and if you're a secret pop culture nerd like this writer, then it comes as very exciting news.
Ignoring the cries of "WHAT THE HELL HAVE YOU DONE TO THE TURTLES THIS TIME?!" from the fanboys – not that I'm bitter about the constant and dodgy re-designs – the 16-time WWE Champion will appear in the premier episode of season one as Baron Draxum. A recurring character, who, according to a Nickelodeon press release, will be, "an alchemist warrior mutant from the Hidden City" and is a "self proclaimed protector of all mutant-kind".
https://instagram.com/p/BgAJejZB-8_/?utm_source=ig_embed
Highlighting his skill-set, which presumably won't be an unrealistic recovery after being hit with the entire arsenal of Splitner's students, the channel told us that he would be "using ooze" and "plans to mutate all of humanity with his insect-like creatures called Oozesquitoes." Now that sounds more like it and raises expectations for the series whether you're 7 years old or, you know, in your 30's. However, if the character disappears with Cena's signature catchphrase of "You can't see me" then I know one wordsmith who won't be watching anymore.
Whilst this writer believes that Cena's dulcet tones would fit a re-imagining of Shredder, especially with original voice artist James Avery no longer with us, John Cena commented on his newest role, saying:
"I've always been a fan of the Teenage Mutant Ninja Turtles franchise, so getting the opportunity to voice a character, especially the villain Baron Draxum, is truly special."
Scheduled for a mammoth 26 episode run, Rise of the Teenage Mutant Ninja Turtles will be audio directed by Rob Paulsen, who provided the voice of Raphael in the original (and best) animated series (1987 – 1996) as well as Donatello in the much less enjoyable remake (2012 – 2017), and is due for transmission later in the year.
https://www.youtube.com/watch?v=qhrrkNfTQOA