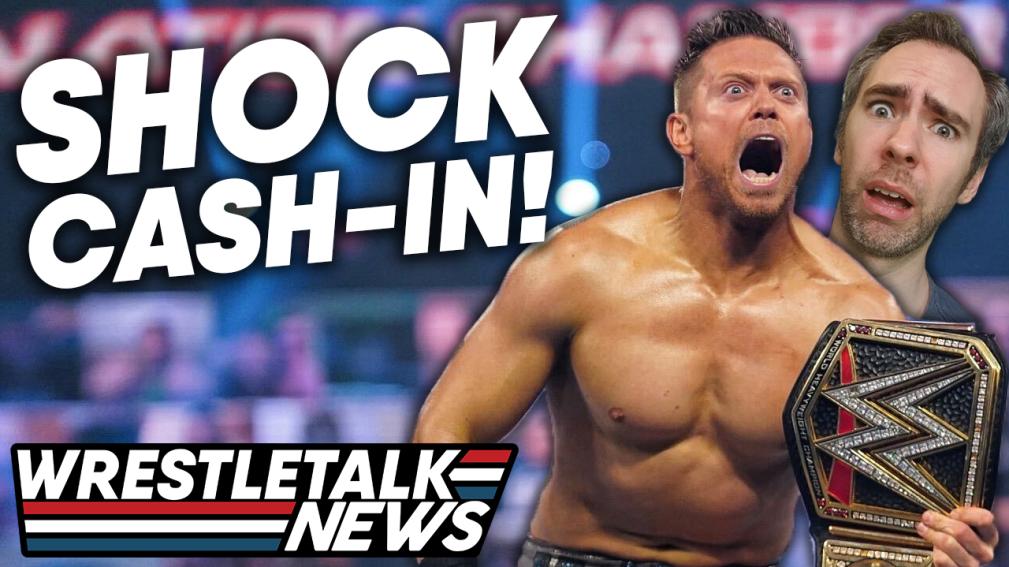 Matt Riddle is the new US of Bro Champion. WWE booked one of the best Elimination Chamber matches they've ever put on. And The Miz is your new WWE Champion in 2021. 
I'm Mr Davis, asking you to please give us a subscribe, superkick that thumbs up button and enable notifications to always on for daily WWE news and review videos. Like my review of Elimination Chamber 2021… in about 10 minutes. And thank you to this video's sponsor, Cashman Casino, please support WrestleTalk by installing the game using the link in the description below!
PWInsider reported shortly before the show began that Keith Lee has suffered an undisclosed injury and wouldn't be able to compete in the triple threat for the United States title. But rather than make it a straight up singles match between Riddle and Bobby Lashley, WWE added a fatal four way to the pre-show between Mustafa Ali, John Morrison, Elias and Ricochet to decide who's going to take the pin in the triple threat. Sorry, I mean, who's going to compete in the US title triple threat.
Ricochet vs. Mustafa Ali vs. Elias vs. John Morrison
Ricochet, unsurprisingly, is awesome – where he no sold Ali's strikes and did an amazing bridging Half Nelson suplex pin. So, naturally, Retribution rammed him into a post.
Despite it being a four way and thus no DQ, Slapjack, T-Bar, Your Mum and Mace didn't get involved until the very last sequence of the match, which led to Ali getting rolled up by Morrison for the win. Really showed the system there, boys.
So Morrison will be facing Lashley for the US title later on! I'm sure that's the only flashback to WWE's 2007 midcard we'll get on this show.
SmackDown Elimination Chamber
The main show opened with the 2021 SmackDown Elimination Chamber match. Or, should I say, 2009 Ring Of Honor. Bryan Danielson, Kevin Steen, Claudio Castignoli and… oh Sami Zayn. He wasn't in ROH. Different guy.
All four of them were amazing, with Cesaro and Bryan starting off as the first two entrants, and lasting until the final three. It gave you ample time to stare into the magic eye picture on Cesaro's trunks. Where, if you squinted hard enough, you can just about see a brass ring. 
Even Baron Corbin was great, railroading the former indie guys like the former football playing jock he is, to sweetly tap to Cesaro's Sharpshooter following a Big Swing.
Cesaro had his latest star making performance, chasing Zayn up the side of the cage wall, and then doing pull ups off the ceiling. While Sami and Kevin Owens nearly briefly reconnected, with all their feuds and friendships in their past, when Zayn said they should work together, because they'll never be the poster boys of this company. To which KO responded, by throwing him into the wall loads.
There was an awesome spell of KO, Bryan, Cesaro and Zayn just wrestling. A group of four incredible wrestlers that WWE didn't sign a decade ago because they thought they were too small. Now putting on the most exciting moment of the pay-per-view.
Owens then eliminated Sami with a Stunner, further playing into their eternal feud, which worked brilliantly into KO's own elimination. Jey Uso trapped his arm in the Chamber door, and repeatedly superkicked him in the head to eliminate.
Jey represented the poster boy Zayn warned of earlier on. He was the hoop you had to jump through before you even got a shot at the guy. Which was a fantastic use of heat when Jey superkick and splash comboed Cesaro to eliminate him too.
But then Bryan managed to eliminate Jey with a Knee. It was a fantastic Chamber match. Everyone came out looking better than when they went in. And it was so nice to root for practically every guy left, rather than what I usually feel in some closing moments of WWE matches: Just please not this guy. 
So what do you do with all that momentum? You beat him minutes later.
Daniel Bryan vs. Roman Reigns 
Even though Roman Reigns took his sweet ass time coming down to the ring, Bryan was exhausted following the Chamber match. But it was still exciting even though you could tell what was coming. Bryan would counter a spear into the knee, kickout. But isn't it great when wrestling does the thing better than you even thought it would be? Instead of the knee, Bryan caught Roman's spear into an incredibly dramatic Yes Lock. But Roman was too fresh. He powered out, and Guillotined Bryan to retain.
But to imply Bryan is nothing more than a Fastlane sized speedbump in the Road To WrestleMania, Edge speared Roman from outta nowhere, pointed to the sign, and got a load of pyro. They're WWE's real stars. Not the ones in the Chamber we just watched.
Bad Bunny then slapped the Miz backstage, to then be defended by Damien Priest. I'm sure that's the last we'll see of The Miz on this show. He hasn't even got a match booked.
Bobby Lashley vs. Matt Riddle vs. John Morrison
You can see why WWE really needed a third person for Bobby vs Riddle. Because nobody would ever believe Riddle could challenge Lashley alone.
Even with Riddle and Morrison teaming up, Bobbles still dominated them. And he looked incredible doing so. This far more aggressive and violent Lashley we've seen since the Royal Rumble is the only thing that's ever made me ask: what sisters?
Riddle eventually stole MVP's crutch, whacked it on Lashley's back, and hit the Bo Derrick on Morrison to win the US title. Hopefully this can turn around Riddle's all-but-buried character on Raw now.
It does make you wonder, though, what WWE originally had planned with Keith Lee for this match. While Lashley seems set for bigger things.
Halfway through the show, Elimination Chamber had been awesome. The first Chamber match, Bryan facing Reigns, the Edge attack, the super fun US title match and title change. Reginald, what's the best rose to accompany crushing disappointment and frustration?
Nia Jax & Shayna Baszler vs. Sasha Banks & Bianca Belair
It started with Nia Jax and Shayna Baszler defending their women's tag team titles against Sasha Banks and Bianca BelAir – a match seemingly a hastily booked replacement because Ric Flair kayfabe got Lacey Evans pregnant, ruling out her title match against Asuka.
But still, there's an opportunity here to tell a story. BelAir won the women's Royal Rumble. She could challenge for Sasha's title at WrestleMania. How will they co-exist? Perfectly fine, it turns out, because WWE are far more interested in Sasha flirting with Carmella's sommelier.
Reginald came out and slid Banks a bottle of champagne to use as a weapon. The referee took it off her in a distraction spot leading to a Nia Jax Samoan Drop and win.
Remember when Shayna Baszler became the only person ever to eliminate every other competitor in a Chamber match? Pepperidge Farm remembers.
Weirdly, Miz and The Hurt Business' MVP were then seen talking backstage while gesticulating heavily at the Money in the Bank briefcase. Now I'm getting worried.
Raw Elimination Chamber
The main event saw the Raw Elimination Chamber – with Drew McIntyre defending his WWE Championship against Randy Orton, Kofi Kingston, AJ Styles, Jeff Hardy and Sheamus. But the true challenge awaited him afterwards. 2010 is here, and it wants its title back.
Hardy and Orton started the match off, because of course they did. Then out came McIntyre, and then, shockingly, next in was Kofi – who immediately eliminated Randy. 
It was a brilliant swerve, the underdog who wasn't even in the Chamber match seven days beforehand had just gotten rid of one of the favourites, who just so happened to be his storied rival. Orton flipped, RKO'd both Kofi and Jeff. Which Styles saw as the best moment to… ultimately do absolutely nothing.
Omos ripped the back off AJ's pod so he could run round through the entrance and try to capitalize on Hardy and Kingston by eliminating them. It was an impressive visual, but both Kofi and Jeff kicked out, Adam Pearce sent Omos to the back, and it just meant AJ entered the match several minutes earlier. AJ's masterplan had no actual benefit. This would've made much more sense if Omos used the ripped open pod back to get in and help AJ, or Styles got in early, beat people up, until he was legally entered and just pinned them. So was the spot good, or was it just different?
Sheamus eliminated Kofi. Drew eliminated Hardy. AJ eliminated Sheamus. And then Drew eliminated AJ with a spectacular Phenomenal Forearm into a Claymore reversal. 
Not a bad Chamber match, but one with a figurative and literal logic hole in the pod. 
Miz Cashes In Money in the Banks
But no-one was ever going to talk about the actual match. It was all about what came after.
Lashley attacked Drew once the Chamber had lifted. He looked great, viciously manhandling McIntyre. And then out came the Miz to cash in his briefcase, and win the WWE Championship.
The Miz is the WWE Champion in 2021.
I am genuinely surprised how many people are into this. Right now in our Poll on a Pole match, a massive 59% are happy Miz successfully cashed in. The majority sentiment on Reddit and Twitter is that it's a longtime coming, and he deserves it. Even Miz Girl, who Wrestling Inc interviewed after the show, said: "I know it's a big change from my opinion 10 years ago but I love him when he's a heel champion."
Maybe, maybe, there was an argument to do this back in November, when it was the tenth anniversary to the day that Miz cashed in on Orton to win the title. But now, I hated it. While I enjoy Miz as a performer, and he's an excellent promo, I think he's had one of his worst booked runs in his career over the last half year. He's been repeatedly beaten by McIntyre even with handicap advantages. He lost the Money in the Bank briefcase he never even won in the first place, and then somehow got it back. Which opens up a separate can of worms about how bad that stipulation has been treated. Miz winning the title here does not suddenly undo its nonsense of the last nine months. 
But I can argue how titles shouldn't be based on who 'deserves' them, or how the chicken s-word heel act is overdone – the ultimate, underlying reason why I don't like this is because Miz has consistently had the worst segments on Raw and SmackDown for a year, and I don't want to see him as champion because of that. But I guess I'm just being worked, right? That's the point of heel heat, isn't it. To make viewers to not want to watch your show.
Perhaps we'll get to something good eventually. The most obvious idea is for Lashley to beat Miz pretty quickly, setting up Bobbles vs McIntyre for the title at WrestleMania. But never count out the darkest timeline: because Miz is also feuding with Bad Bunny, so why not just put the title on him instead?
What are your thoughts on the above story? Let us know in the comments on Twitter or Facebook.