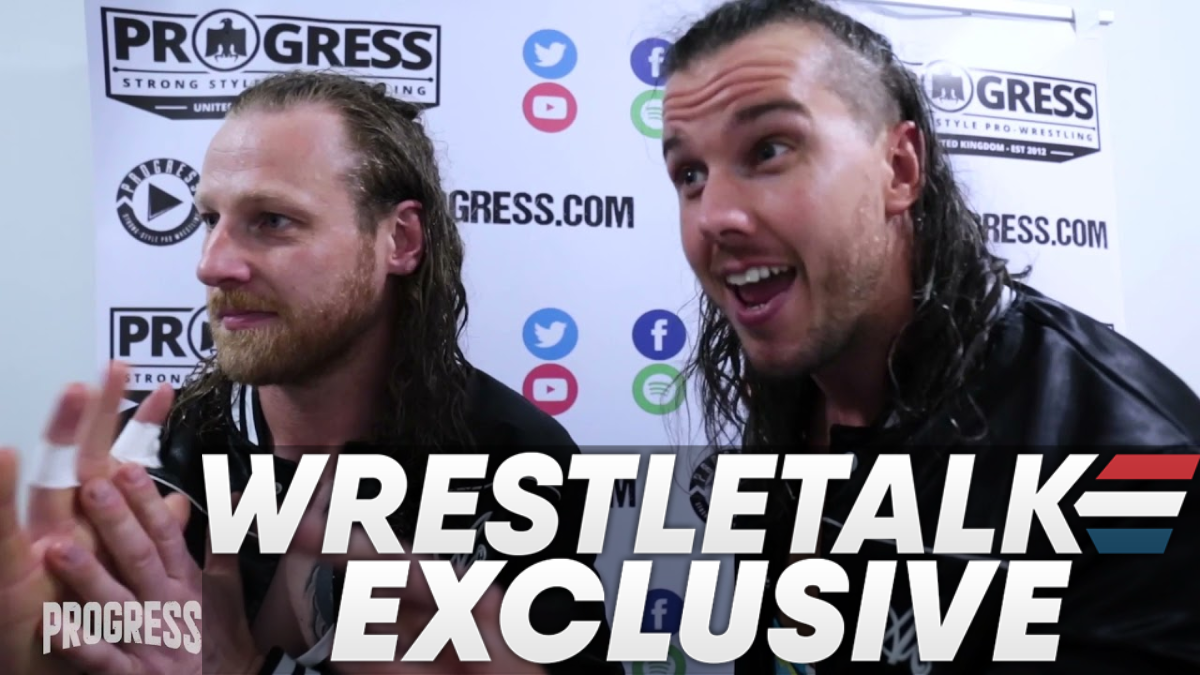 Following PROGRESS Chapter 130: Dodge, Dip, Duck, Dive, Dodge, Charlie Sterling and Nick Riley of The Smokin' Aces spoke exclusively with Sanchez Taylor for WrestleTalk.com, following their PROGRESS Tag Team Championship defence over The 0121.
The team notably won their gold during the crowdless Chapter 121 show in September 2021, and have been at the forefront of the company since fans returned in January.
Charlie and Nick believe that they're still proving themselves to fans, grateful for the opportunities they have received following the pandemic era of wrestling:
Charlie: "Are we on the other side of (the pandemic)? I think we are."

Nick: "We definitely feel like we're on the right track."

Charlie: "I'd say we definitely are, look at the crowd today."

Nick: "It's crap to say it, but the pandemic, for us, worked out great, because that gave us an opportunity. It's bad because of what happened and everything, but if that all didn't happen, would we be here? It gave us an opportunity to come in and then we proved ourselves, its strange. It's really strange."

Charlie: "I'd say we're still proving ourselves. We had a great opportunity for the tag belts, we won those, we're now at the top of the tag team division, trying to represent PROGRESS everywhere we can, going elsewhere with the belts, trying to represent at other companies.

"Obviously we're very grateful for the opportunity, and coming to wrestle at the (Electric Ballroom) especially is a great for us. We're two lads from the Southwest of England, wrestling… it's still very carny down there, in terms of 'good guy, bad guy', whereas you come to a place like this, London for example, wrestling is (a spectacle).

"For a team like us, it was great to get an opportunity to wrestle in front of these people to show that you don't necessarily have to be from the North or Birmingham, or London to have some talent, and we're proud to fly that flag as well."
The Smokin' Aces will defend their tag team title this Friday (March 25) at PROGRESS Chapter 131: 10th Anniversary Show, in a gauntlet match against Lykos Gym, The 0121, Sunshine Machine and Northwest Strong.
The duo are confident that they will walk out of The Garage with the belts, despite entering the match first:
Charlie: "We know what's next. Friday, we've got the gauntlet. We've decided to lay the challenge out, we're going in first. We're going to take the lot on, and we're going to beat the lot. Tag belts on the line."

Nick: "All the way through them."

Charlie: "For all the marbles."

Nick: "Because after that, that's it. We've proven we're the top dogs then, surely."

Charlie: "We've beaten everybody. Then they've got to bring someone else in, from AEW (laughs)."
Tag team wrestling is currently thriving, with several top promotions putting an added emphasis on tandem competition.
Believing that there's no reason why PROGRESS' tag team division cannot headline future chapters, Nick and Charlie noted:
Nick: "Especially here in PROGRESS, we want to make the tag picture the main event. There is no reason why that cant be the main. We want to elevate as much as we can, and hopefully by having great matches and getting the belts everywhere, getting everyone to see them, that were elevating them. This is our hope anyway."

Charlie: "Especially like, regardless of how many people have perhaps moved on, or left PROGRESS or whatever, there is still a lot of established talent on these shows, especially in the Ballroom. We're still brand new really, so its nice for us to keep establishing what we're doing, and again, bring the tag division to the forefront."

Nick: "We're constantly evolving. If you watch our first tag match (and compare it) to the one we had tonight, you'll see us now starting to build something really unique I think."
When asked about dream matches, the Smokin' Aces revealed the huge matches they'd love to have in the future:
Charlie: "The Smokin' Aces against the Young Bucks, Smokin' Aces against FTR, in a triple threat tag team match!"

Nick: "I'd like to wrestle them singly, and I'd love to work with the (Motor City) Machine Guns."

Charlie: "Do you know what? I'd love a rematch with the Sunshine Machine, here. A rematch to what we had the other week, because that match was great for us, for them, and I'd love a rematch with them. This business was built on rematches, and I think having a rematch with them would be a solid one here."
PROGRESS Chapter 130 will be available on the WWE Network and DemandPROGRESS very soon.
To make sure you stay updated with all the latest wrestling news, add WrestleTalk.com to your Google Discover feed and follow us on Twitter!