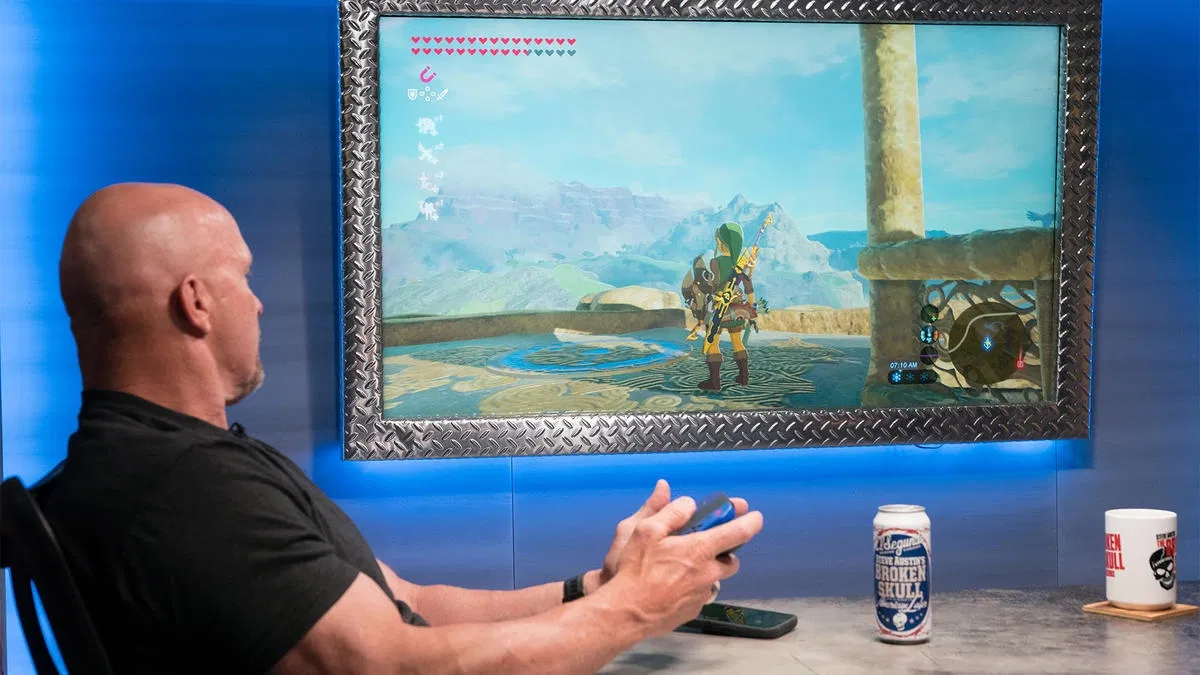 Every few weeks, a photo or video or tweet makes the rounds on wrestling Twitter, giving us a nice break from the usual tribalism and toxicity of the social media platform.
A few months ago, when Cody Rhodes was a guest on the Broken Skull Sessions podcast, he took part in a lightning Q&A with Steve Austin, where Cody claimed that Ocarina of Time was the best Zelda game (he's correct, just fyi).
Stone Cold retorted that Breath of the Wild was the best Zelda game, which Cody claimed was a bold choice. However, the idea of Austin taking trips to Hyrule in his spare time was what caught Twitter off guard.
To double down on Austin's claim, WWE shared behind the scenes pictures from Broken Skull Sessions, one of which shows Austin playing the game on Nintendo Switch.
The photo of Austin playing on the Switch very quickly became a meme on Twitter, with many people editing the game on Austin's screen, as well as providing dialogue for the imaginary scenario, including Austin's cadence.
What game is Steve Austin playing during some Broken Skull Sessions downtime? pic.twitter.com/qllCdZaPEC

— Inside The Ropes (@Inside_TheRopes) July 16, 2022
https://t.co/X80RybTumJ pic.twitter.com/QAaVWaj7Ux

— Jalen | Waystar Royco informant (@NotoriousVKM) July 17, 2022
"Infinite Stunners on this SOB." #artimitateswrestling pic.twitter.com/CkDQkAqd2L

— Akumaku (@Akumaku4) July 17, 2022
"Where in thee HELL is Reptar? I cant find the sumbitch. Chucky get back here and get off the damn duck." https://t.co/LyzX0jSvWb pic.twitter.com/5dcBdwwjQY

— ??Iandrew "Dice" Clay?? (@IANdrewTheGiant) July 16, 2022
"man i tell you hwat this onewingedangel sumbitch sephiroth almost opened a can of whoop on ol Stone cold goddamn son" https://t.co/0WgFxOR90r pic.twitter.com/A1XHFOpsCe

— ehe ? (@justehe) July 16, 2022
To make sure you stay updated with all the latest wrestling news, add WrestleTalk.com to your Google Discover feed and follow us on Twitter!