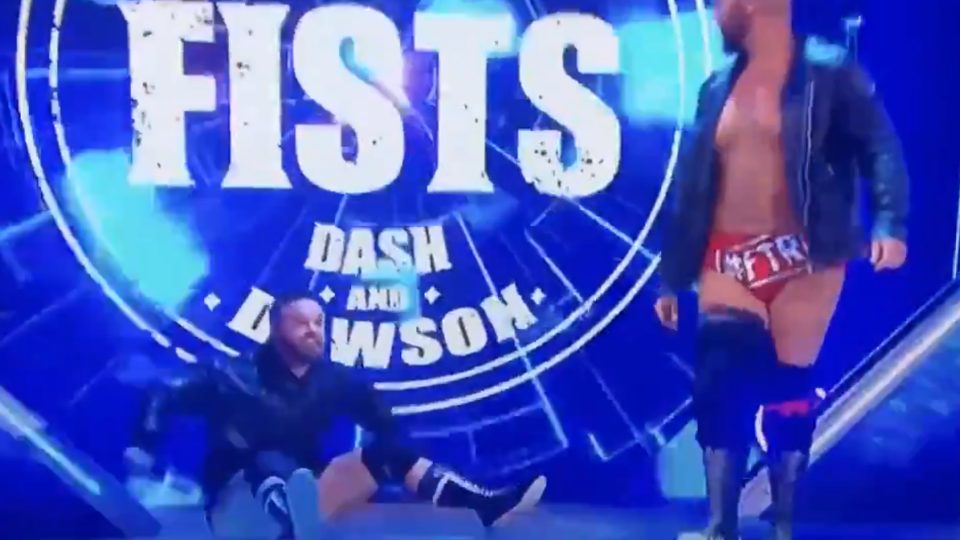 When you think of the Revival, you think of two guys who aren't about messing about or having a laugh, they just want to get to the ring and win their match.
So when something like this happens to them, it's quite enjoyable. Dash Wilder took a tumble as he and Dawson came onto the stage ahead of their match against Mustafa Ali and Shorty G last night.
Check out the video below:
https://twitter.com/ramblinsrabbit/status/1205662357327876096?ref_src=twsrc%5Etfw%7Ctwcamp%5Etweetembed%7Ctwterm%5E1205663418398781440&ref_url=https%3A%2F%2Fwww.wrestlinginc.com%2Fnews%2F2019%2F12%2Fdash-wilder-falls-during-his-wwe-smackdown-entrance-663537%2F
Now because this is WWE, I can't wait for them to start tripping over things everywhere because IT'S SO FUNNY GUYS SO WE'LL MAKE THEM DO IT OVER AND OVER AGAIN BECAUSE IT'S SO FUNNY!
Anyway, that's not the end of the story because Xavier Woods of New Day and Matt Jackson of the Young Bucks have added their input via Twitter too.
Woods simply tweeted: "HAAAAAAAAAAHAHAHAHAJAJAJAJAHA," while Jackson said: "Fall The Revival".
The Revival face New Day in a ladder match for the SmackDown Tag Titles at TLC tomorrow, and hopefully they won't be this clumsy then because falling off a ladder would probably hurt a little bit more than Wilder's trip last night.