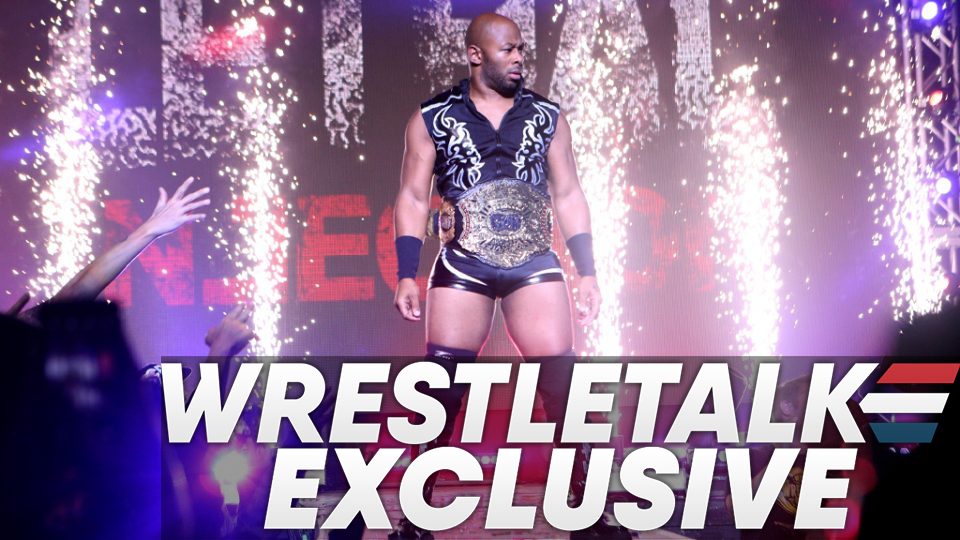 WreslteTalk.com was able to talk with Jay Lethal about ROH, this weekend's upcoming shows and much more in an exclusive interview.  Jay Lethal is a 3-time ROH Champion and 1/2 of the current ROH Tag Team Champions with Johnathan Gresham.
Lethal is also a Grand Slam and Triple Crown Champion in ROH having won the ROH Pure Title and ROH Television Title. Gresham and Lethal are currently in a program with Josh Woods and Silas Young.
Having done so much in ROH, what is Jay Lethal's focus in 2020?
"I'd like think that I'm a chameleon. I'd like to think whatever role I'm needed in I can fulfill that role to the best of my ability, but exceed the company's vision, as well….My ultimate goal is fill in or to take part in whatever the company needs me in…I'd have to pick becoming a little more involved in the tag team division. Just because it's something still new to me, as you can tell from my career."
Lethal goes on to discuss his tag team partner, Jonathan Gresham. Gresham is considered one of the best technical wrestlers in the world.
"Now being teamed with someone that I consider to be one of the greatest in-ring technicians that I've ever been in the ring with and I've been in the ring with a lot. I'm talking about Jonathan Gresham. He's so smooth and can tie you up in knots. It just fascinates me."
Jay Lethal discusses the injury he suffered on the Honor United Tour. He does state that he's fully cleared.
"It's really my first major injury where I was forced to take time off. But, luckily for me, there was a large gap between shows and I didn't really miss any in-ring time."
Who Should Wrestling Fans Be Paying Attention To
When asked about the current ROH roster, Jay Lethal talked about one wrestler in particular that fans should be paying attention to.
"If you are a wrestling fan and do not keep up with the everyday happenings of the Briscoes, especially Mark Briscoe,…then I think there might be a problem…My big recommendation is you've got to keep up with the shenanigans of Mark Briscoe.

"The cool thing about The Briscoes is in wrestling sometimes the word character comes into play…The thing about the Briscoes are they're real…What you're watching is very, very real. There's nothing tweaked. There's nothing overdone…It's both entertaining and scary at the same time. Those guys are as real as it comes."
ROH in Transition:
In 2019, ROH saw a roster overhaul. What can we expect from ROH in 2020:
"The only thing new that we could add would be a couple of new faces. Maybe some new towns or cities. As far as the work rate guys in the company on the roster, that has never changed. A couple of faces, a couple of popular faces, are gone. You hate to see them go…This gives room for other people a chance to grow."
Lethal addresses the fact that this isn't the first time ROH has faced a roster turnover:
"Could you imagine owning a wrestling company and you have guys like Samoa Joe, AJ Styles, Bryan Danielson, Austin Aries, and CM Punk? How do pick up and move on after losing any of them? It's a devastating blow to your company. But you know what, they have done it. ROH is a survivor. They've always been able to pick and carry on. This is another one of those instances where they are picking up and carrying on.
Favorite Moments:
Which matches standout to Jay Lethal over his career?
"The top of that list right now would be my 60 minute Ironman Match with Matt Taven.  That would be the first one. The second would be my 60 minute Iron Man Match with Roderick Strong."
Lethal goes on to talk a bit about his match with Ric Flair in TNA. Lethal says it was a great moment as a fan getting to work with his idol, but as far as showing the true Jay Lethal, the other matches would be a bit higher on the list.
Lethal also talks about another standout match not even being recorded. He wrestled a house match with Chris Sabin in TNA that was the first match both of their older brothers had ever seen in person. He said the two wrestlers left in all in the ring trying to prove themselves to their brothers.
Quite possibly my favorite moment of the interview was when Jay discussed himself in 4th grade:
"When I was in the 4th grade sitting at the lunch table with my other wrestling friends not eating lunch because we snuck our wrestling magazines in and we were looking, reading and sharing wrestling magazines… I should have been eating…If you had told me then flipping through a page and landing on Flair saying you were going to get to work with him and it was going to be amazing. There was no way I would have believed you in a million years."
Being Grateful
Lethal compares his wrestling career to Charlie getting the golden ticket in Charlie and the Chocolate Factory. It was great to hear someone who acted so humble and consider himself lucky to have the career he's had.
Lethal seemed very grateful and humbled to have had the experiences he's had and he is so proud to be a member of ROH. Jay Lethal is only 34 and has already had a long and storied career.
Jay expressed his desire to continue wrestling until he just can't do it anymore. Maybe we'll see him dropping elbows on jackets in 30 years with some young upstart wrestler imitating him.
Lethal will be in Gresham's corner this weekend in Atlanta at Saturday Night at Center Stage.  The following night he'll be in action at Honor Reigns Supreme in Concord, NC.  Both shows will be streaming live on ROH HonorClub.
You can listen to the full interview below: