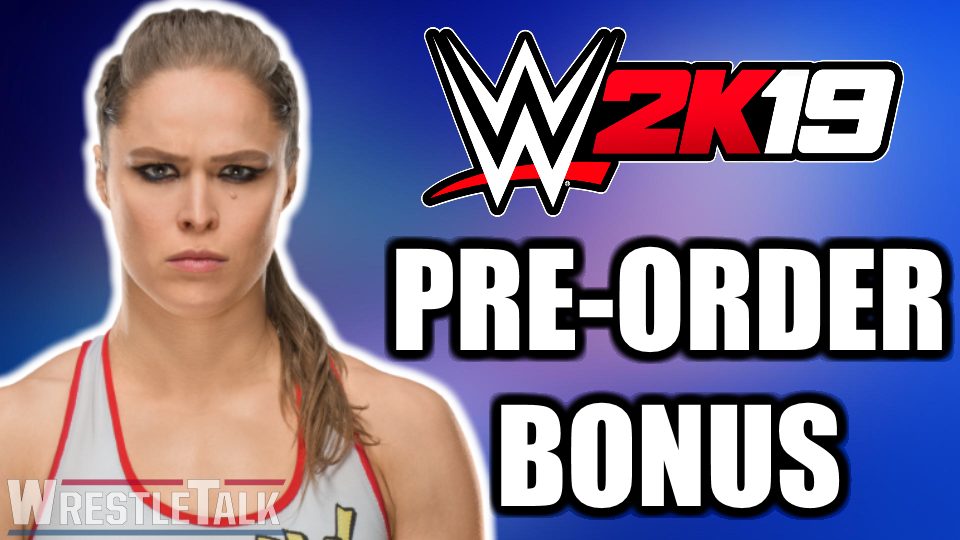 Over the weekend, it was leaked on the official Microsoft website that Ronda Rousey would join Rey Mysterio as the second pre-order bonus for the upcoming WWE 2K19 game. Nothing was released by WWE or 2K to back up the report, however, until now.
An official trailer has now been released via WWE's YouTube channel promoting the 'Rowdy One' for the game.
This was shortly followed up by the official Twitter account for WWE 2K19 who posted the announcement along with the new trailer…
It's time to get rowdy. @RondaRousey makes her debut in #WWE2K19. Pre-order and play as her and @reymysterio. #RAW https://t.co/H4xo7rJY3U pic.twitter.com/OZ3UjgdVki

— #WWE2K22 (@WWEgames) July 10, 2018
…which was then posted by the official WWE account themselves a single minute later:
#WWE2K19 will get ROWDY when you pre-order and get to play as the #BaddestWomanOnThePlanet @RondaRousey! @WWEgames pic.twitter.com/nRR1HLZJJ4

— WWE (@WWE) July 10, 2018
This is great news for the ongoing gaming franchise as the addition of the 'Baddest Woman on the Planet' will almost certainly boost sales. Having the would-be WWE Raw Women's Champion as a pre-order bonus in particular alongside Mysterio should see a huge jump in pre-orders.
Let's face it, who wouldn't want to play as one of the legitimately toughest women in the world. That goes double when you can use her to tap out people like current Champion Alexa Bliss. After all, would you buy the game without Rousey's inclusion?
What do you make of Rousey being a pre-order bonus for WWE 2K19? Let us know in the comments below or on Twitter here. You can also join us on Discord to chat with Oli, Luke, the magazine team, the website writers and each other here!