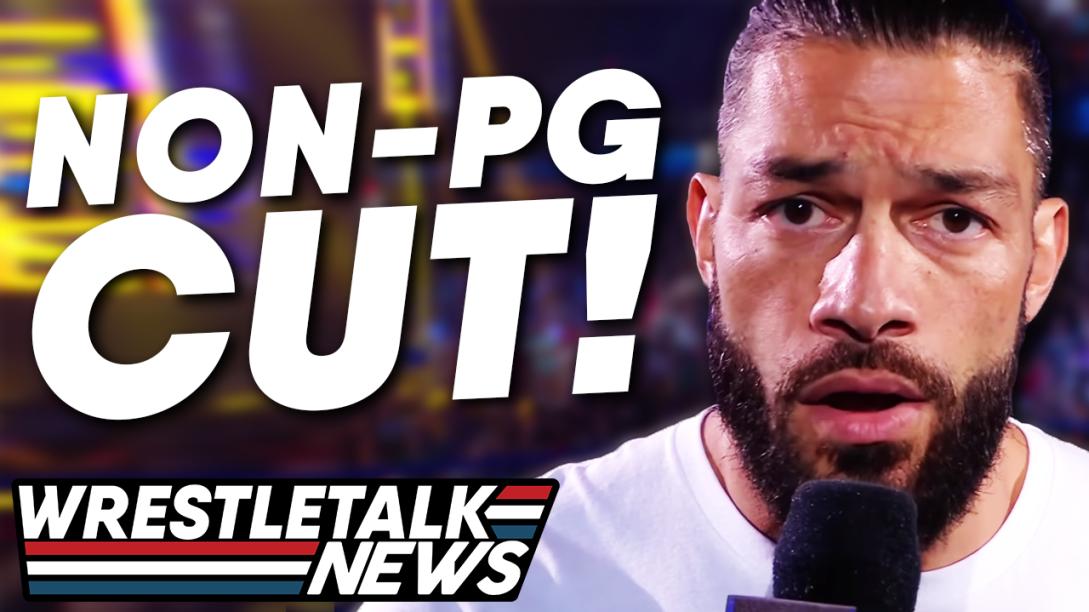 In this WrestleTalk News, WWE censors Roman Reigns, WWE returning to Saudi Arabia, my review of last night's Raw, and more. Give us a subscribe and enable notifications to always on, otherwise I'll throw a pizza cutter at you in the ring while you're celebrating.
WWE Edits Roman Reigns
Last Friday's SmackDown saw the return of John Cena to the blue brand – although I'm not entirely sure where? – where he cut a John Cena promo and challenged Roman Reigns. So what he did on last Monday's Raw, then.
Reigns responded later in the night, denying the challenge, but not before cutting the very non-PG line, saying that John Cena is always the same, time after time, that it's like the missionary position night after night. 
Sorry… I just… that's a bit triggering with how Megan broke up with me on the third time. Saying that in a public statement on MySpace.
The promo was received incredibly well by fans, with many praising Roman for how more natural he came across in comparison to the last time Cena and Reigns feuded in 2017. So WWE have cut it out!
In the YouTube version of the clip, the line is edited out entirely, and it skips ahead to the end of his promo when Finn Balor interrupts. As a bit of YouTube behind-the-scenes secrets, there's no reason Roman's line would trigger demonisation or deranking, as it is relatively tame. It's just a weird move to make, as you've already done it on TV in a presumably pre-approved script. If sponsors were going to take offence, they would've done so already.
WWE Return To Saudi Arabia Revealed
WrestleVotes reported earlier this year that WWE were looking to do at least one show in Saudi Arabia by the end of 2021, as they are contracted for two events a year there – and haven't been able to put one on since last February's Super Showdown Ricochet was buried by Brock Lesnar in a matter of seconds, The Undertaker won the Tuwaiq Mountain Trophy in a match he wasn't in, and Goldberg defeated The Fiend. And Bobby Lashley was pinned by R-Truth. Yes, that was all in one show. 
In an effort to get back on track with the deal, Andrew Zarian of the Mat Men Podcast is reporting WWE will be returning to the Kingdom for a show on October 21, as long as there are no restrictions at that time.
Keith Lee To Explain WWE Absence
Keith Lee made his onscreen return last Monday, losing to Bobby Lashley in his home state. And on last night's show, he lost to Karrion Kross. So far, so successful.
There's speculation there could be some kind of heat on Lee for whatever issue took him out of action from February to July. Fightful wrote it was because of a medical reason, whereas PWInsider claimed it was actually down to creative. In the background of all this, Lee also was in a trademark battle with WWE over ownership of his real name.
Lee has repeatedly vaguely hinted at an explanation on Twitter, and shortly before Raw began last night, Lee posted again:
"I've decided. I am just going to tell you guys the story myself. Give me a week or two."
Before we get on with my Raw review – back in January, we raised over $9,000 for the Mayo Clinic – the organisation that treated Brodie Lee before he passed away last December.
And one stipulation for whether we passed $5,000 was that Tempest would have to get a Jam that Jam tattoo. And now tattoo parlours are back open in Canada, he went and did just that.
I might hate you, Tempest – but even I can recognise courage and fine artistry when I see it. Can I get a Thank You, Tempest / Tempest sucks chant going in the comments please – while I review last night's episode of Raw, in about 5 minutes!
WWE Raw Review
Goldberg, Karrion Kross, John Cena, Keith Lee, actual fans. We've had a lot of returns and debuts over the last two weeks. And now we can add to it – Raw's new augmented reality robot mascot that introduces video clips. Why a robot? Why anything in this company?
The actual show opened with our new Raw Women's Champion Nikki A.S.H. – who cut a promo about if you believe in yourself and work hard enough… you'll fluke a victory with a Money in the Bank cash-in. 
Before I get into this, I really like Nikki Cross. I don't know her, but she's always come across as one of the more naturally affable people on the roster. This is not criticism at Nikki Cross, or her performance. It's of the booking. Her Almost a Superhero character is not for me. I'm too old for this s-word.
Not the kind of too old to not laugh at the number 69 still, but too old for this.
But that's fine. Not everything can be made for me, even though it would be better that way. It's for the children. Won't somebody please think of the children. The problem is, they haven't done that either. As usual, they're thinking about Charlotte Flair.
Nikki's 'almost a superhero' gimmick no longer works when she becomes the Raw Women's Champion. She now has to fully believe in herself and beat people. Otherwise, you're an undeserving champion that only got it because of a fluke cash-in. That is not the trait of a noble babyface.
Charlotte Flair, the heel in heels, effectively said this in her interrupting promo, and Rhea Ripley also came out to try make a triple threat for SummerSlam. Definitely not Raw General Managers Adam Pearce and Sonya Deville then booked a Championship Contenders match for the main event between Flair and Nikki.
Don't know what a Championship Contender's match is? Well strap in. Because it's about to be hammered into the ground.
A Championship Contender's match is much like the far superior Number 1 contenders match, just with the champion in it instead. This is ineffective in two ways: a) it means we'll get repeat match ups, and 2) the champion could lose.
Thankfully Sheamus losing to Damien Priest in their hard-hitting Championship Contender's match kind of made sense. Priest knocked off Sheamus' face mask, leading to Damien getting the win and a future shot at the US title. It's great to see Sheamus getting to have fantastic TV matches again, and now with fans – who made some of the near falls incredibly dramatic.
AJ Styles and Omos defended their belts in a straight up championship match against the Viking Raiders next. Erik and Ivar had a good gameplan – don't let that tall guy tag in – but Omos is inevitable, and the champions retained.
Quick, Jinder Mahal needs another heel gimmick! He debuted his personal lawyer to sue Drew for beating up Shanky last week, but Drew didn't care, and just beat up Veer in a bit of a sloppy match instead. The finish weirdly came when Jinder slid in a chair for Veer to use, but Drew hit a Claymore on it into his face – which the ref called a DQ win for McIntyre. A new inconsistency for WWE rules. 
Natalya and Tamina beat Eva Marie and DouDrop next in another Championship Contenders match – but only because Eva was distracted by a mock Lilly-lution video, where Alexa Bliss' supernatural puppet was edited into motivational images. That was the most I think I've ever enjoyed Lilly.
Nattie appeared to genuinely hurt her leg in the match, and was helped to the back afterwards.
Kind of like a Championship Contenders match, next up we got a Losers Contenders stip – where Keith Lee took on Karrion Kross, both guys who spectacularly lost on last week's episode.
This was presumably originally going to be Kross getting revenge on Jeff Hardy, but Hardy had tested positive for Covid, ruling him out of the show.
They went about five minutes, and neither guy really got to show what made them so special in NXT. Kross tapped out Lee with the Straight Jacket Choke.
It's the Retribution reunion you didn't know you wanted! Mace and T-Bar then took on their former leader Mustafa Ali with his new tag team partner Mansoor.
Mace and T-Bar are painfully cringey, but I'm finding myself really into Mansoor and Ali's budding friendship. It was Mansoor who helped Ali most, and he even got the surprise roll up win on Mace. I'm excited to see where their act goes.
Then it was time for the Hurt Business reunion you didn't want! 
Bobby Lashley and MVP pretty much turned down Goldberg's challenge – so we're getting the exact same story here as Reigns and Cena are having on SmackDown, complete with managers and part timer opponents – so Cedric Alexander and Shelton Benjamin came down to challenge Bobby instead. Lashley beat them both at the same time in a handicap match with Goldberg's trademark spear and Jackhammer. It was super easy. Barely an inconvenience.
Riddle got probably the biggest pop of the night from the crowd, showing how over he's gotten himself, so he lost to John Morrison – when AJ Styles and Omos distracted him by snapping his scooter in half. AJ continued to beat Riddle up afterwards, presumably starting a Styles and Omos vs Riddle and Orton feud for the tag titles heading into SummerSlam.
Reginald retained his 24/7 title against R-Truth via jumping.
And the main event saw another Championship Contenders match, with Charlotte taking on Nikki A.S.H. – where Jimmy Smith said Nikki isn't afraid to fail.
Good for her. Because she did. Pretty hard.
Charlotte dominated the 10 minute match, and then rolled through Nikki's lame finisher – the top rope crossbody – to win.
Seemingly like the show had accidentally run short, both women then cut needless promos setting up a rematch for next week that had already been set up. That was the whole point of the Championship Contenders match, that if Charlotte won, she'd get a title shot. 
And Nikki, the current Raw women's champion, actually said the line "I showed myself I almost could have won." Raw actively makes me dumber.
To make sure you stay updated with all the latest wrestling news, add WrestleTalk.com to your Google Discover feed and follow us on Twitter!