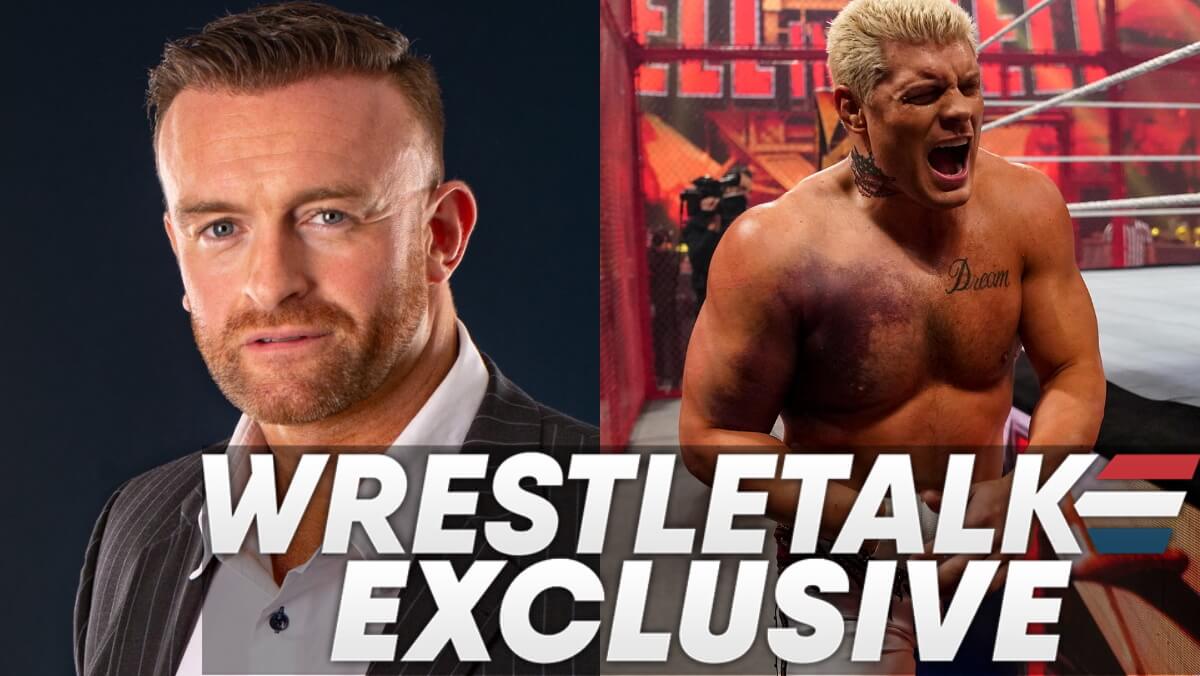 In an exclusive interview with Sanchez Taylor for WrestleTalk.com, Nick Aldis reacted to Cody Rhodes wrestling with a torn pectoral muscle, sharing his thoughts on wrestlers working injured.
Nick Aldis was originally slated to challenge for Matt Cardona's NWA Worlds Heavyweight Championship at Saturday's NWA Alwayz Ready pay-per-view, however Cardona recently confirmed that he had suffered a torn bicep ahead of the event.
In a somewhat similar situation, WWE star Cody Rhodes tore his pectoral muscle completely off the bone ahead of Hell in a Cell last week, however Rhodes still wrestled Seth Rollins for almost 25 minutes in the main event of the show.
Aldis applauded Cody for his efforts, noting:
"I think it's a personal choice. I can't speak for Cody, but I think he made the decision to (wrestle). WWE is the biggest company in the business by a long way, the undeniable number one, and they made the decision to go all in on Cody, right?

"To fully commit to Cody as a top talent so I think Cody decided 'they've made that commitment to me, I'm going to make the same level commitment to them', and I think that's what it came down to . I applaud him for it, commend him tremendously.

If you use this exclusive quote, or any portion of it, please credit WrestleTalk.com and link to this page.
Since Hell in a Cell, fans have debated whether or not the former AEW EVP should've been allowed to wrestle, with some arguing that Cody wrestling with such a serious injury could set a precedent for promotions to expect talent to work while hurt.
Aldis recalled his own experience working with a torn bicep while on a tour in Mexico. When asked if he thinks Cody's match will set a bad precedent, Aldis said:
"Nah, I don't. I think that people, especially with WWE, people online are always looking for (something) to criticise. I think it's recreational debate.

I think it's a personal choice, I certainly don't see it setting a precedent. I certainly don't see it being a situation where promotions start pressuring guys to work hurt because Cody decided to gut it out for a pay-per-view in an arena with tens of thousands of people (in attendance) and millions watching around the world. I think people can understand the context of that. It's one thing to do it when you're main eventing for the biggest promotion of the world, it's another thing to do it (when not).

"Look, I taped up my arm and finished up my tour in Mexico when I tore my bicep, because I wanted to fulfil my obligations. My doctor was furious with me for doing it, he called me an effing idiot once he found out. I went in for the surgery a few days later, he said 'I can't believe you did that, that was really dumb', but they don't understand the industry.

"I was confident in myself, confident in my fellow professionals that we'd be able to work around it and take care of eachother, and they did take care of me. I was in there with guys like Chavo Guerrero, we're talking about top level professionals here. I was totally confident that I was safe and that I'd be able to get through it, but it was a personal choice.

"Konnan was the booker for those shows, he didn't say 'you have to be there', he asked me 'can you make it?' and I said 'yeah I can make it.' It's a personal choice. We're independent contractors so it works both ways, you have to decide whether or not you're capable of fulfilling your obligations or not."

If you use this exclusive quote, or any portion of it, please credit WrestleTalk.com and link to this page.
Keep an eye on our exclusives page for more quotes from this Nick Aldis interview.
You can listen to the interview below:
To make sure you stay updated with all the latest wrestling news, add WrestleTalk.com to your Google Discover feed and follow us on Twitter!