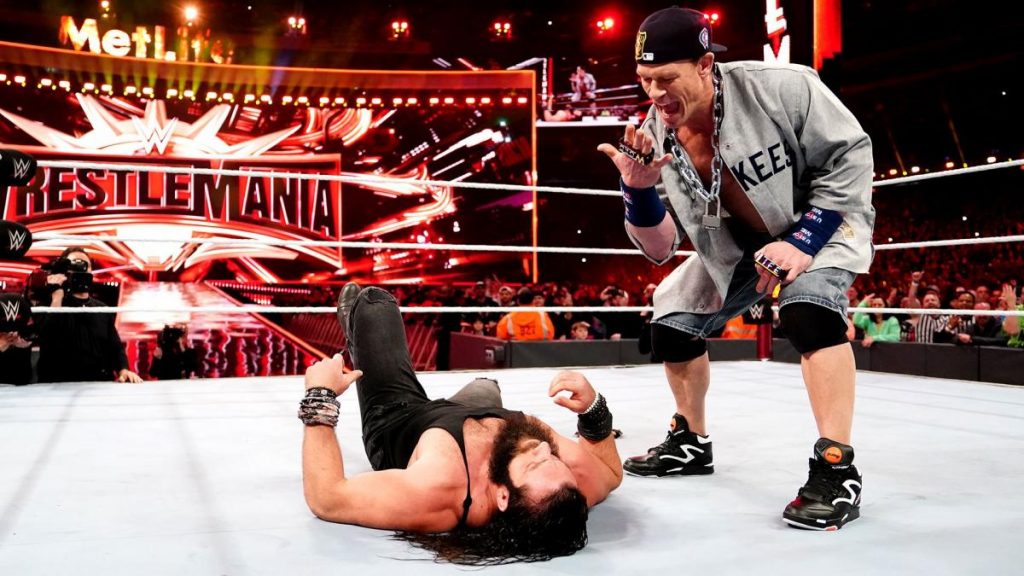 It was confirmed on WWE Backstage that John Cena will be making his first televised appearance for the company on the 02/28 episode of Friday Night SmackDown.
While some have speculated that the appearance will be a one-off as the show is taking place in Cena's hometown, others have suggested that Cena may be turning up to set up something substantial for WrestleMania.
It has been reported that John Cena wants to do something meaningful at WrestleMania after several years of either have impromptu matches or making cameo appearances.
With that in mind, here are ten potential matches we think 'Big Match John" could have at WrestleMania 36.
---
10. King Corbin
While fans may not like Baron Corbin, there is no denying that the former NXT star is one of WWE's biggest heels at the moment. Not only that, but Corbin is actually a fairly solid hand in the ring, with his signature moves being some of the most unique in WWE.
After defeating Kurt Angle at last year's WrestleMania, King Corbin could turn his attentions to the man who made his debut way back in 2002 against Angle, John Cena.
The pair have unfinished business too. Cena cost Corbin his Money in the Bank cash-in match against Jinder Mahal way back in 2017. The pair then went one-on-one at SummerSlam, which Cena won inside ten minutes.
This is not only a match that should happen but one I could really see WWE booking. Like Cena, fans don't appreciate just how much WWE values King Corbin right now, making this match quite likely.
---
9. Elias
While he may be a babyface on SmackDown right now, former NXT star Elias works considerably better as a heel. Perhaps turning on a returning John Cena could be a good way to elevate Elias up the card.
Besides from The Fiend and King Corbin, SmackDown is really lacking in top heels right now. WWE should consider having John Cena put over Elias at WrestleMania to position him as a true upper-midcarder to go up against the babyfaces.
Like Cena and King Corbin, Elias and "Big Match John" also have some unfinished business. Last year at WrestleMania, John Cena appeared with his old 'Doctor of Thuganomics' gimmick to interrupt an Elias musical performance.
While the pair did not have a match at the show, perhaps Elias could attack Cena on the 02/28 episode of SmackDown, promising to get some revenge for last year's attack on the "grandest stage of them all".
---
8. Aleister Black
Aleister Black is currently looking for someone to fight him, and there is no one bigger to pick a fight with than 16-time World Champion John Cena.
Aleister Black has the potential to be one of WWE's biggest stars but needs a high-profile feud to be taken seriously. A WrestleMania programme with John Cena could do wonders for him.
The promo work between Black and Cena would be great, as would the match if WWE lets them have a fair bit of time. Aleister Black is obviously one of the best workers WWE has and people often forget just how good Cena can be inside the ring.
However, I'd actually have this match be a squash. Bell rings and then Aleister Black just blasts Cena with the Black Mass. Squashing one of the company's biggest ever wrestlers would certainly send a statement to fans that Aleister Black is someone to take seriously.