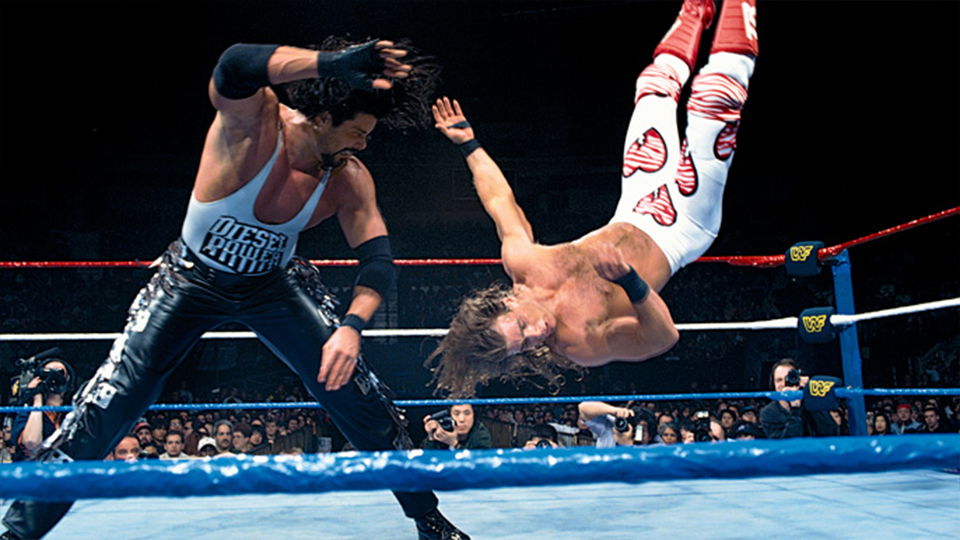 When it comes to the WWF/E Championship, there have been many spectacular bouts people still talk about these days. Beautiful matches over the belt such as Steve Austin vs. Dude Love or The Rock vs. Steve Austin quickly come to mind.
However, today we will be looking at five classic title bouts that have been somehow forgotten over the years and aren't talked about as much nowadays.
These are five classic matches for the WWF Championship you NEED to see!
---
5. Bret Hart (c) vs. Diesel – King of the Ring 1994
Kicking off our list is a World Champion vs. Intercontinental Champion match from the second edition of the King of the Ring pay-per-view. After he dethroned Yokozuna to win the belt at WrestleMania X, Bret Hart was still in the midst of his epic feud with brother, Owen – more on that later!
At King of the Ring in June, Bret defended the gold against the IC Champion, Diesel. The match was nothing more than your typical "filler match" before the 'Hitman' could end his feud with Owen at SummerSlam.
The company, however, used this to smartly continue the build for the SummerSlam match and to put Diesel over as a credible title holder – a title he'd have around his 'Big Sexy' waist by November.
Bret was accompanied by a mystery manager (former partner, Jim Neidhart) to prevent Shawn Michaels, who was in the challenger's corner, from interfering.
After getting into a brawl with HBK, Jim eventually got Bret disqualified immediately after he was hit with a Jackknife Powerbomb, saving the title. The funny part is he wasn't really saving Bret.
The only reason Jim was in the champion's corner was to make sure he was still the champion so that Owen Hart could be the one to humiliate his brother and take title from him. The 'Anvil' would show his true colors later that night, helping Owen to win the tournament and become the 'King of Harts'.
This would build to their SummerSlam encounter, which we will definitely be talking about later!
---
4. Ric Flair (c) vs. Randy Savage – WrestleMania VIII
When people people talk about some of the greatest World Championship matches in the history of WrestleMania, this one is very rarely mentioned. Which is a shame, because it's really good!
After capturing his first WWF Championship at the Royal Rumble in January, the 'Nature Boy' decided to mess with Randy Savage and his wife Miss Elizabeth, claiming "Elizabeth was mine before she was yours"!
'Macho Man', who had refused interviews until the day of the big event, walked into the title bout with the purpose of murdering Flair. The champion used some awesome cowardly heel moves, as well as Mr. Perfect (who was brilliant in this match, by the way), to stay in control.
In the end, Elizabeth ran down to the ring as Savage managed to win the contest and the title with a small package. Flair planted a kiss on Elizabeth after the match, who slapped him in return as everyone continued to fight.
It's an epic bout that deserves more recognition.
---
3. Shawn Michaels (c) vs. Mankind – Mind Games 1996
When this title match took place at 'In Your House: Mind Games' in September 1996, Mankind was managed by Paul Bearer (of course during their feud with The Undertaker) and Shawn Michaels was still living his "boyhood dream", still managed by José Lothario.
The two incredible workers managed to pull out an incredible match. A match that, in my opinion, is not only a five-star bout because of its DQ finish.
Watch and enjoy Mankind doing some terrific character work during this match, while Shawn tries to use his speed and agility in order to retain the gold.
This was – much like Bret vs. Diesel – a filler match before Survivor Series, where Mankind would fight the 'Deadman', and HBK would drop the belt to Vader.
The company even named the December pay-per-view 'It's Time', but Shawn would eventually lose it to Sycho Sid instead, because… you know, Shawn Michaels in the 90s!
---
2. Shawn Michaels (c) vs. Diesel – Good Friends, Better Enemies 1996

A few months before the clash with Mankind at Mind Games, Shawn Michaels defended his newly-won WWF Championship against Diesel at April's In Your House event – Diesel's last televised match before leaving for WCW.
In what was Kevin Nash's best match ever, the two had a fantastic and brutal No Holds Barred match over the gold that saw Shawn bump for his Kliq buddy like crazy!
After being in control for most of the bout, Diesel stole Maurice Vachon's artificial leg for some MAJOR heat. Shawn low-blowed him, stole the leg and knocked him out with a shot to the face with it, before hitting Sweet Chin Music to put the big man down and end the storyline with his departing friend.
If you've never watched this match, I'd really recommend it. It's brutal, it's fun and it's also relatively short – 18 minutes. You won't be disappointed!
---
1. Bret Hart (c) vs. Owen  Hart – SummerSlam 1994

We are going to end this list with the same storyline we started it with. It just goes to show you we pay attention to the details and that we're great storytellers here at WrestleTalk!
Who were even better storytellers than we are (which isn't easy!), were the two brothers involved in this brilliant Steel Cage match for the WWF Championship at SummerSlam.
In a program that lasted from November to August, they had TWO matches. Two – that was it! The one at WrestleMania, which Owen won just before Bret won the title – and this Steel Cage match.
Just in case you don't know, the only way to win a Steel Cage match back in the day was by escaping the cage. So, what did two of the smartest in-ring performers of all time do? They spent the entire time trying to escape the cage. That was literally it!
If you watch this match back, you can see the crowd on its feet screaming at every attempt, while the participants tried EVERYTHING (from grabbing by the hair to grabbing by the tights) to prevent the other from winning and escaping with the championship.
The two eventually tried to escape at the same time while fighting, but Bret *just* managed to retain the belt as Owen got caught in the cage. Brilliant match + great psychology + epic crowd = five-star classic!
This is without a doubt one of the greatest WWF/E Championship matches of all time. It's also one that doesn't get enough love – probably since it took place 25 years ago.