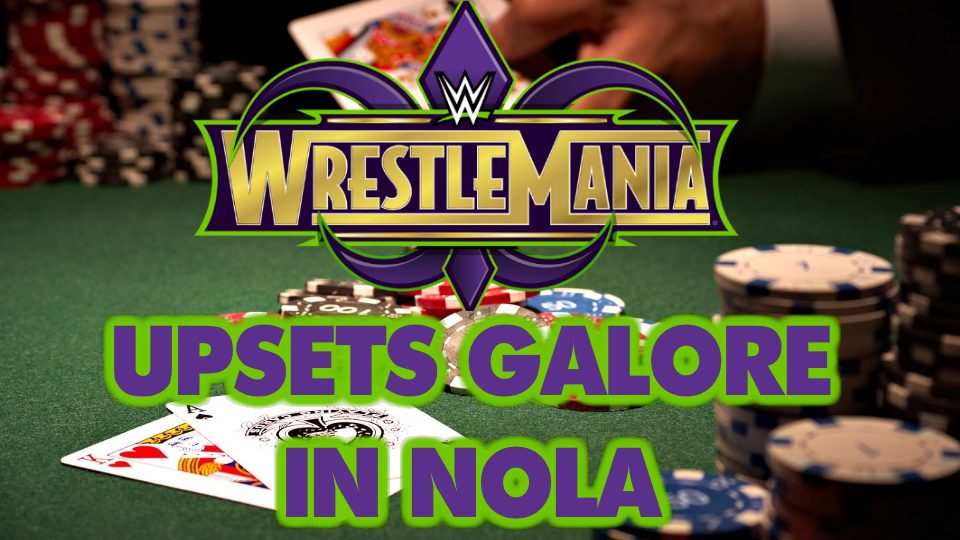 WrestleMania 34 was not what I expected if my articles on WrestleTalk have given away anything. I did not anticipate Asuka to lose to Charlotte Flair. I did not expect Roman Reigns to lose to Brock Lesnar. Jinder Mahal would have been my 4th guess to win the United States Championship.
You name the match, I probably got it wrong. However, so did the Vegas odds.
Now, betting on WWE matches is sort of crazy when you think about it. It's scripted television. Trying to pick a winner in the WWE is essentially just casting a bet that you know what Vince McMahon and the creative team are thinking at any given time. However, in today's day and age where information is constantly leaked, this usually isn't as hard as it sounds. Almost daily we are treated to WrestleTalk YouTube videos that tell us what's going on backstage.
That is what makes what happened on Sunday in New Orleans so shocking.
6 matches that closed as favorites before WrestleMania 34 ended up being losers. Before we get into the shocking results, a reminder of how betting odds work:
A "favorite" is given a negative number. This is the amount of money that needs to be placed on that competitor to win $100. For example, if someone is a -300 favorite, you need to bet $300 to potentially win $100. If you win the bet, you get $400 back (your original $300 and your $100 profit). If you lose the bet, you lose your $300.
An "underdog" is given a positive number. This is the amount of money you will WIN so long as you bet $100. For example, if someone is a +450 underdog, you need to bet $100 to potentially win $450. If you win the bet, you get $550 back (your original $100 and your $450 profit). If you lose the bet, you lose your $100.
Let's look at what transpired at WrestleMania 34:
(1) Brock Lesnar (+600) def Roman Reigns (-1200)
(2) AJ Styles (+295) def Shinsuke Nakamura (-495)
(3) Charlotte Flair (+550) def Asuka (-1050)
(4) Seth Rollins (+360) def Finn Balor (-145) and The Miz (+300)
(5) Jinder Mahal (+1100) def Rusev (-110), Randy Orton (+140), and Bobby Roode (+1000)
(6) Naomi (+900) wins Women's Battle Royal (Sasha Banks +125, Bayley +300, Becky Lynch +450)
For what it's worth, another technique used in sports betting is called a parlay. Essentially, it means placing one bet on multiple matches/events and ALL need to win in order to claim the ticket a winner. If you had the foresight to place a $100 parlay on all 6 of the results above, you'd have $9,920,720 today. Yes, almost $10 million dollars.
Granted, some of these lines moved throughout the week. That happens all the time in major sporting events. If Vegas takes in too much money on one side of the ticket, Vegas adjusts the odds to take in money on the other side. This way, for Vegas, they win no matter who wins.
What's different about the WWE is that lines in the WWE move when information is known. Last Friday, Elias was favorited to win the Andre the Giant Memorial Battle Royal (-120) and Matt Hardy was nowhere to be seen (+1200). However, 24 hours before the event Matt Hardy was -200 and Elias was +550. You don't see huge swings like this in "real" sports. If the Cleveland Cavaliers are -300 favorites over the New York Knicks and LeBron James catches a cold and is ruled out, you'll see a line move to -180 or something. Massive swings like the ones we see in WWE betting means some information got out. In the example above, some massive amount of money went in on Matt Hardy during the week, causing the line to shift drastically.
Roman Reigns and Brock Lesnar was the line that had me scratching my head all week. At one point during the week, Roman Reigns was as high as -2000. 24 hours before the event, he was as low as -550. He settled on -650 right before the event started. It was a shocking move that had me questioning the result of the main event we've known the outcome since before WrestleMania 33. Why so much money on Brock Lesnar 24 hours before the match but then so much money on Reigns right before the event went live?
When it comes to the WWE, it just means one of two things: (1) Vince McMahon changed his mind or (2) Vince McMahon kept a secret no one but him and a few select others knew about. That's all it takes.
Regardless of what it was at WrestleMania 34, Vegas won.
Authors Note: If you are interested in these types of articles, please let me know in the comments section below or on Twitter and I will happily do a 'Vegas' review at the end of every PPV event going forward here at WrestleTalk.