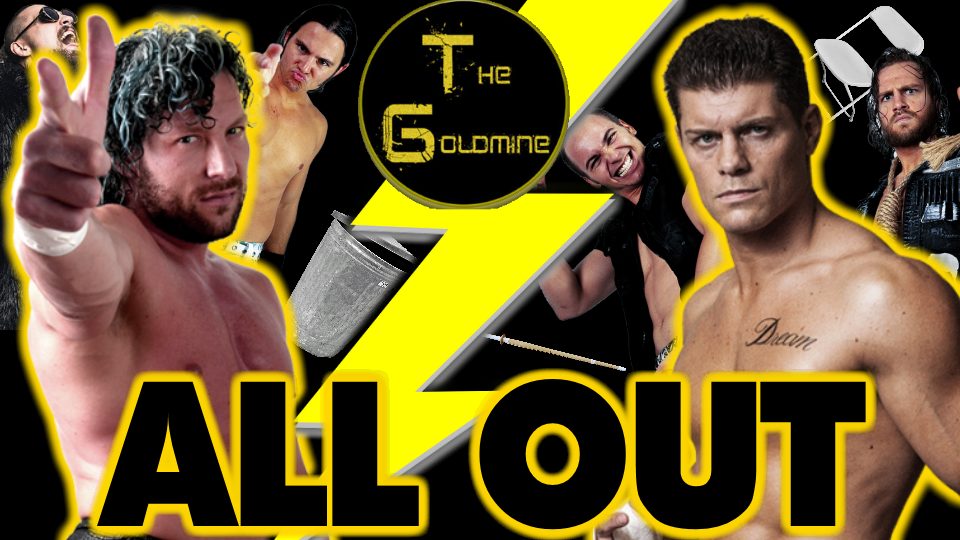 Could The Bullet Club have shot themselves in the foot? That's the question I'm asking myself considering their actions as of late and possible break-up looming on the horizon.
It all started when Cody Rhodes, the egomaniacal, entitled spoiled rich kid that likes to bleach his hair to look like his family members who are "actual" legends, turned his back on the greatest wrestling entertainer in the world today, Kenny "The Cleaner" Omega.
https://youtu.be/Mmj0j4T7HFI
(Aside: Cody Rhodes, I used to be a fan of yours but more recently your attitude and disbanding of Bullet Club has caught my ire. Perhaps it's your desperate attempt to capture "Stardust" like your other family members. But, let's face it Cody, you are no Dustin Rhodes and you are sure as hell nowhere near your father, the late great Dusty Rhodes. You are the only family member to not ever truly capture that brass ring, Cody, and I am afraid that in your insane attempt to do so that you will ruin the best thing to happen to wrestling in years.)
To call this incident the spark that began a chain reaction of Bullet Club dissension — one that has lead to group firing a massive creative "backfire" — is a massive understatement. considering all their recent success, why on God's green earth would Bullet Club decide to break up, instigate rumors that several of its members want to be at WrestleMania 34, change their logo and ditch their leader and greatest member (Kenny Omega), all during the buildup to their inaugural PPV All In this coming September?
There are several theories, the most obvious being that this is all a work to serve the aforementioned show in Chicago. Basing my judgements upon the creative genius that is Bullet Club, I tend to lean towards this theory. However, that could just be wishful thinking.
Then there's theory number two: a wrestling "higher up" (one more than likely within WWE) got to several Bullet Club members and informed them to "tone it down". Think of it like a Mafia. When a smaller guy seems to be coming up the ranks a little too quickly, the head of a family implements scare tactics to put the lesser individual in their place. The lesser being Bullet Club, the head of the family being the WWE – in case you didn't understand the metaphor.
It is quite possible that someone in WWE has gotten to Bullet Club. After all, they along with New Japan Pro Wrestling was becoming a bonafide contender to WWE'S popularity at the beginning of 2018. Chris Jericho, for example, was seemingly "all in" at the beginning of the year, competing with Omega in NJPW only to go "all out" with a return at the Raw 25th Anniversary weeks later — and ultimately point to his contractual freedom in order cover up his hopscotching.
https://youtu.be/LdmMYGnM1qo
The same can be said for that other turncoat Rey Mysterio. He was heard praising NJPW, was advertised and supposed to wrestle for NJPW, but then was coincidentally sidelined due to injury right before the event? Recently, there have been rumors that Mysterio will be at WrestleMania 34? So, if the guy is injured and claims NJPW is the place to be, why would he tease being at WrestleMania 34?
https://youtu.be/rYpO6NFX1ys
So, let's say The Bullet Club have submitted to Vince McMahon's will and that they are all on their way to WWE. What would actually happen?
For as long as I can remember, there have been rumors that Kenny Omega would join WWE. If he does, will Kenny go straight to the top and become world champion? Would it mean Bullet Club would all eventually show up and dominate WWE? It would be great if that did happen, but The Goldmine thinks that if ever Kenny and The Club show up in WWE, that they will be punished with extreme relegation for having attempted to compete with them.
The Young Bucks will probably be saddled in a series of matches with the likes of The Fashion Police or The Ascension (and I say those two teams as though they are less than praiseworthy because they are) while getting squashed by the "forever" tag team champions The Usos. And we all know why the Usos are always SmackDown Live Tag Team Champions, right? Because The Usos are Dwayne "The Rock" Johnson's cousins and Vince wants to keep The Rock happy so he'll come back one day once Hollywood stops signing his checks.
Nevertheless, if Bullet Club's dissension is all a work (which I hope it is), they need to get on with the storyline and quickly. Because whether it is politics or simply a poor dramatic twist in the making, Bullet Club, you need to pull yourselves together if you want your PPV to have any hope of happening as scheduled.
(And no, I don't feel that changing the logo has any bearing on them staying or getting back together. In The Goldmine's one and only opinion, the new logo was created in an effort to conform with stricter gun rules across America, and rightfully so. After all, you can't have little kids or young adults running around wearing t-shirts advertising guns. And I'm pretty sure that Kenny Omega will have to change his closing match speech ceremony too. No more "Goodbye and goodnight, bang" with the trigger finger gesture.)
If you don't turn things around soon you may just find yourselves ALL OUT of luck with no juice, no hope, no bullets… and most importantly, no fans.