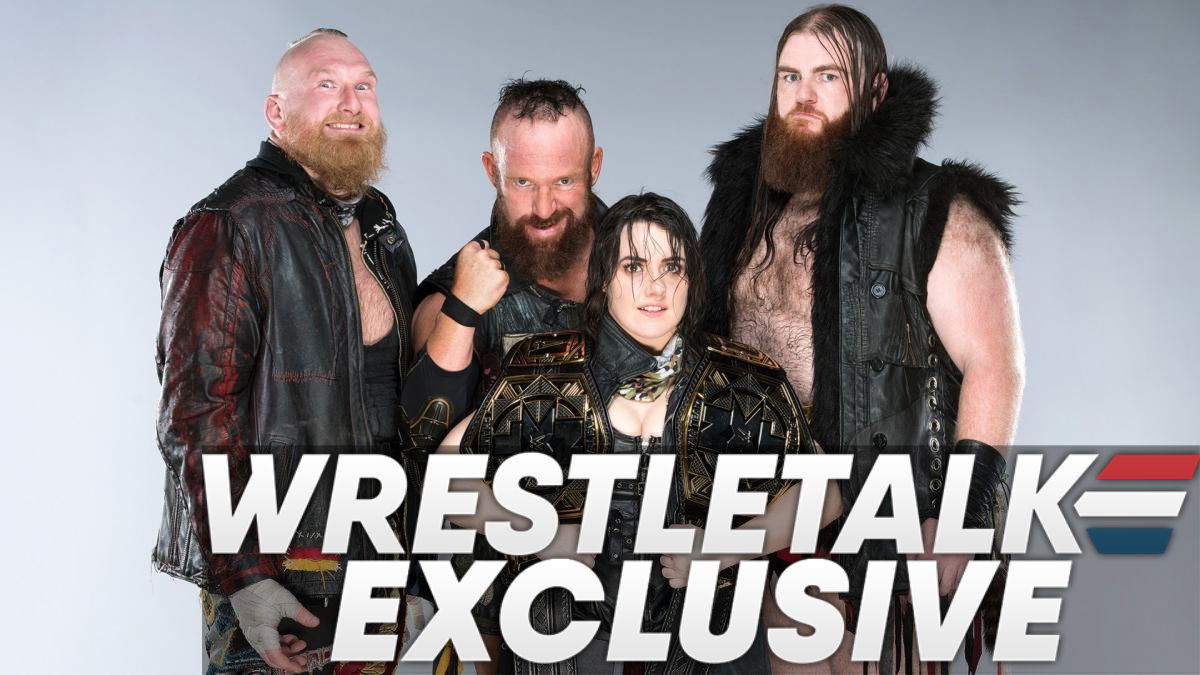 Ahead of PROGRESS Chapter 134: No Mountain High Enough, Axel Tischer (fka Alexander Wolfe) spoke exclusively with Sanchez Taylor for WrestleTalk.com about his time in WWE, and goals for the future.
Tischer notably wrestled on NXT and SmackDown as part of SAnitY, a faction that also included Eric Young, Big Damo (Killian Dain), and Nikki ASH (Cross) during their NXT days.
The group was ultimately disbanded in 2019, with Young drafted to Raw in the Superstar Shake-Up, Damo moved to NXT that May, and Tischer debuting for NXT UK in June, and ultimately forming Imperium.
Tischer revealed that he found out about the split through the WWE scheduling app. Recalling his conversation with Triple H about the move, Axel said:
"I remember WrestleMania 35 in 2019, after not being a part of that show, even in the Andre the Giant Battle Royal that everyone's a part of, we knew 'yeah, we're dead in the water now for sure, so let's see what they do.'

"We did not expect WWE to let us go because AEW was running wild, so they did not want to lose any talent to the other side.

"Everybody in WWE has this app, this talent relations app, which is like a calendar, where you have dots on days where you have an appearance. A wrestling show, and interview, whatever.

"So when I saw on my app, 'NXT UK', I thought okay. They're not doing s**t with us on the main roster, but we pitched a lot 'hey let us go back to NXT, or even better, let us do NXT UK. Two of the guys (in SAnitY) are European so let us do stuff with NXT UK, because there's a lot of talent there.' We thought we could probably elevate the product a little bit with our little brand we created through NXT and SmackDown.

"But then I talked with the other guys and they said 'no, we do not have the appearance'. I was like 'oh but I have Glasgow', which was kind of a bummer for Damo because that was his second home. He spent a lot of years there, wrestling for ICW.

"Then I asked Triple H and he said 'yeah, it would be a waste for you guys to sit in catering and do nothing, then get sacked because there's no use for you guys, so Eric Young will go to Raw, Damo will go back to NXT in the States, and you can (Join NXT UK and Imperium).'

"The name (Imperium) wasn't decided there but (Triple H said) '…with your boys Ringkamf. Let's see how this works out, but this is the plan for now, what do you think?' I said 'yeah, awesome, cannot wait', because I was sick and tired of just waiting in catering.

"We did a lot of dark matches and worked around, stayed in the loop, but didn't work any house shows because we weren't on TV, and because we weren't doing house shows, we weren't on TV. It was a (catch 22), you get lost in the shuffle, (the split) was the best decision."

If you use this exclusive quote, or any portion of it, please credit WrestleTalk.com and link to this page.
At PROGRESS Chapter 134 this Sunday (May 15), Tischer will face off against wXw stars Maggot, Jurn Simmons and Bobby Gunns in a four-way Super Strong Style 16 qualifier, with the winner earning a spot in next month's tournament.
We'll also be posting more quotes and stories from the interview soon, so keep an eye on our exclusives page for those.
You can listen to the full interview here:
To make sure you stay updated with all the latest wrestling news, add WrestleTalk.com to your Google Discover feed and follow us on Twitter!