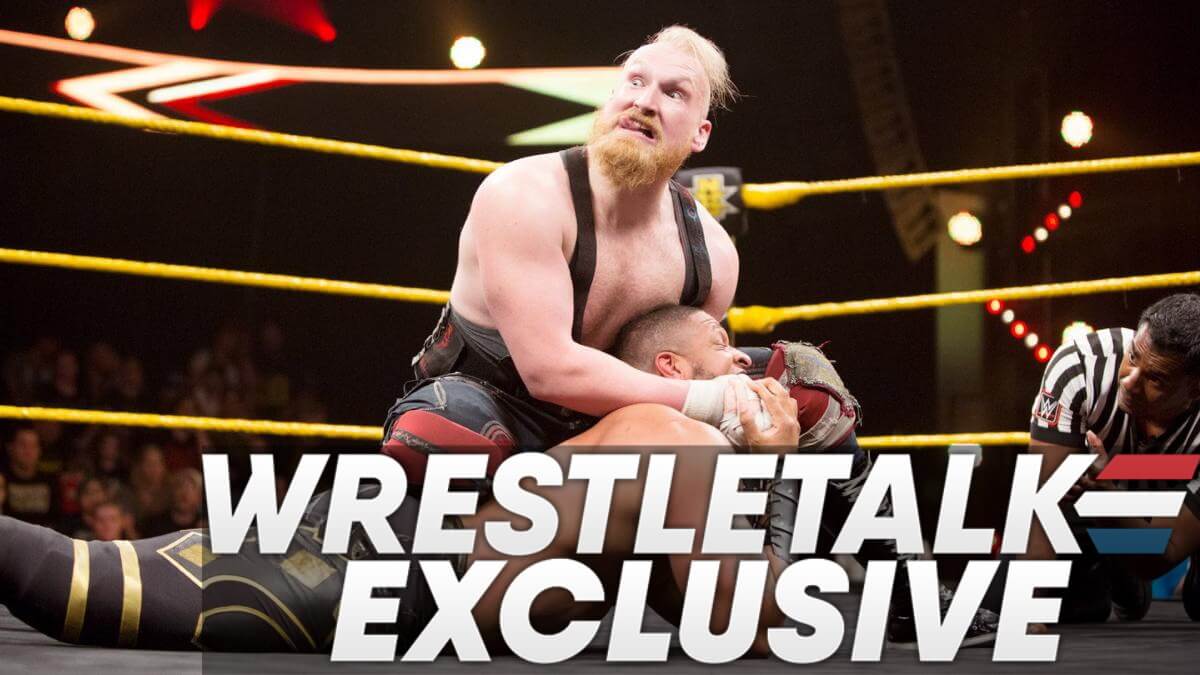 Ahead of PROGRESS Chapter 134: No Mountain High Enough, Axel Tischer (fka Alexander Wolfe) spoke exclusively with Sanchez Taylor for WrestleTalk.com about his time in WWE.
Tischer was notably part of two separate factions that dominated NXT, SAnitY from 2016 t0 2019, and Imperium from 2019 to 2021.
While discussing the differences between the two factions, Tischer recalled being told to 'stop doing wrestling' when in SAnitY, noting:
"The good thing about the Alexander Wolfe SAnitY character was that I had the chance to get out of my shell. So when I started in WWE, I am who I am, that's a German wrestler. And again, we Germans are not very famous for being over-charismatic. And also in America, as a German guy, you're automatically a villain. So for me, I've always been very serious, or just in that time I was very serious. In training, I do not speak, I give 100%, I wanna be the best in the group, I wanna improve, I wanna show that my progress is going great so you can do something with me, you can book me for cards, like for shows and everything, and that's my mentality. Still to this day I'm very competitive about that.

"But I learned to let it go a little bit, just to loosen up a little bit, and just to get out of my shell a bit with that character. Because they told me, 'Hey, with that character, stop doing wrestling. Your wrestling is too beautiful, you're too smooth, you're too crisp, become a little bit more rugged. Instead of just having those nice smooth techniques, just be more edgy and more explosive and just unpredictable.

"I tried to think about characters, and we got a layout for, 'Hey, Triple H has this idea, this group of psychos, kind of the guys from Smokin' Aces, the Tremor brothers, great movie by the way – if you haven't watched it, watch it, and watch the Tremor brothers and think about SAnitY. So we had this picture and they gave us the creative freedom of, 'Portray this character as you see it'.

"And the beginning was okay, and then we kind of got put a little bit more into the direction where they said, 'Hey guys, you need to understand the whole character, that you're kind of not allowed to wrestle'. So, just instead of grabbing a headlock, try to, you know, pull his nose out, or try to chip his teeth with your fist or whatever. Instead of just going for a lockup, try to goozle him, or something like this. But kind of be more creative and don't be this cookie-cutter wrestler type of guy."

If you use this exclusive quote, or any portion of it, please credit WrestleTalk.com and link to this page.
"That brought me back to the drawing board, because, 'Okay, you know how to wrestle, you know how to apply all those holds and you know how to do the smooth transitions and technical wrestling stuff, but now, do you know how to portray a character? Do you know how to play a character with a little bit of you, and to know how to get in this role and know exactly how you would react in different scenarios'. Real acting stuff. And I remember we had a lot of acting classes at the Performance Center and they helped us a lot with just finding the right emotion for your character at a certain time.

"For example, when I was always throwing fists in the air and just punching the air and kicking the air. That's violent dancing – I like to listen to hardcore music, I like going to hardcore concerts, and this is how you dance, right? So you go into the mosh pit, and you're throwing punches and you do spin kicks and whatever, and, best case scenario you do not hit anybody, but sometimes you get hit. But people do not know this, they kind of think I'm possessed, so mission accomplished at that.

"And now switching over to the Imperium character, which is more kind of like 'me'. I believe the mat is sacred, and I believe that you should protect the sanctity of our business. You need to have the respect for it, you need to follow the ladder of success. If somebody's more experienced you have to respect that. So, you know, it's like the ABC of our business – the fundamentals of it, and that's basically what Imperium was, or Ringkampf if you see the connection there.

"So the whole idea about that stable was just being a serious competitor and just honour the sport, and don't do dancing stuff, don't do flippy floppy high-flying stuff, just keep it basic, black and white, as Imperium. For me it was kind of like, 'Yeah I have to tone down a lot of the Alexander Wolfe SAnitY character, but I kind of leave it a little bit, a little bit of salt and pepper, and just turn back to the old Axel Tischer with the new Imperium overlay', if that makes sense."

If you use this exclusive quote, or any portion of it, please credit WrestleTalk.com and link to this page.
We'll also be posting more quotes and stories from the interview soon, so keep an eye on our exclusives page for those.
You can listen to the full interview here:
To make sure you stay updated with all the latest wrestling news, add WrestleTalk.com to your Google Discover feed and follow us on Twitter!