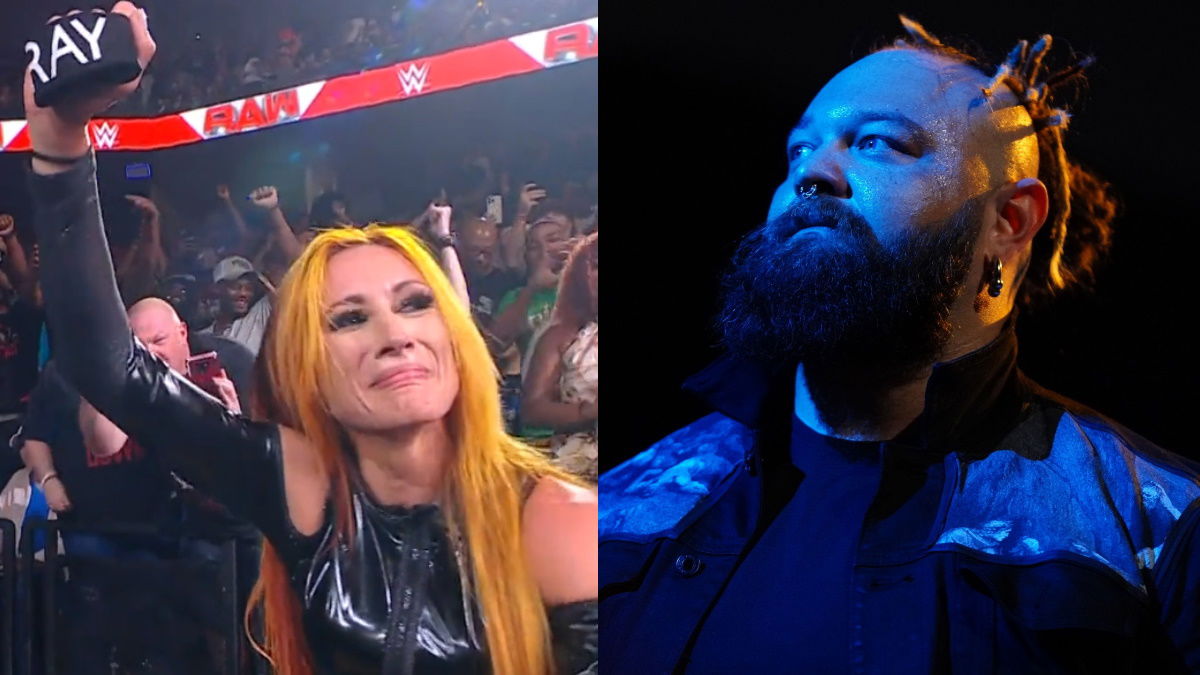 After last night's August 28 episode of WWE Raw went off the air, Becky Lynch shared a heartwarming story about Bray Wyatt.
Wyatt, real name Windham Rotunda, passed away aged 36 on Thursday, August 24.
Raw went off the air with Lynch, having just beaten Zoey Stark in a falls count anywhere match, holding a "Bray" armband in the air while crying.
After the televised portion of the show ended, Lynch shared a story about Wyatt with the live fans in attendance in Memphis.
She said:
"I wanna tell you a little story. When I first came up here, it was my first tables match, it was my first title defense on a pay-per-view, and it was a tables match. I had just won the SmackDown Women's Championship, and I had no idea how to pull out a table. I had no idea how to set a table up.
"We may make it look like it's easy, but it's not easy. And when you're a 125-pound woman, it's pretty heavy.
"And so I had no idea how to do this, but nobody even thought about it. Except Windham, except Bray Wyatt.
"And he came up to me and he said, 'Do you have any idea how to set up a table?', I said, 'No man, I've got no clue, I don't know how to do a tables match, I don't know what I'm doing', and he said, 'Come with me'.
"And he took me under his arm, and he brought me out to the ring and he showed me everything I needed to do. And this was on a live event, and then, at the pay-per-view, at TLC, even though he had a match, he was busy, he spent the whole afternoon helping me and showing me, and that is the kind of person that Windham was.
"And that night I went crashing through the table, but tonight I sent two dopes (Trish Stratus and Zoey Stark) crashing through the table. So this one is for Windham, thank you guys so much, thank you, you've been awesome. We love you Windham. Get home safe, hug the ones that you love. I love you guys, thank you."
The Friday, August 25 episode of SmackDown featured multiple tributes to Wyatt, and after the show, several WWE stars got matching tattoos of Wyatt's logo.
Last night's Raw followed suit, as many of the WWE stars in action wore armbands with either "Bray" or "Windham" written on them.
The video package that was played on SmackDown was shown on Raw too, with Wyatt's entrance music being played in the arena and a spotlight being shone on a rocking chair on the stage.
Seth Rollins, who emotionally paid tribute to Wyatt at a house show over the weekend, also went the extra mile on Raw.
He started his in-ring promo by saying Yowie-Wowie, a catchphrase of Wyatt during The Fiend era, and there was another reference as well.
Rollins' WWE World Heavyweight Championship belt was modified to have a Rollins logo on one sideplate, and a Fiend mask logo on the other.
WWE has added the following note to the item descriptions for Wyatt merch on the WWE Shop website:
In the wake of Bray Wyatt's death, WWE will donate all net proceeds to support JoJo Offerman and his children.
You can find said merch at this link.
On Thursday, August 24, Sean Ross Sapp of Fightful reported:
I was given permission to reveal that earlier this year Windham Rotunda (Bray Wyatt) got COVID that exacerbated a heart issues.
There was a lot of positive progress towards a return and his recovery. Unfortunately today he suffered a heart attack and passed away.
Our thoughts and condolences continue to be with the family, friends, and everyone affected by the passing of Windham Rotunda.
Becky Lynch Shares Bray Wyatt Story Off Air After Raw Memphis 😢#RIPBrayWyatt @BeckyLynchWWE pic.twitter.com/wyQEZpzTaB

— Time_Nerd (@Time_Nerd123) August 29, 2023