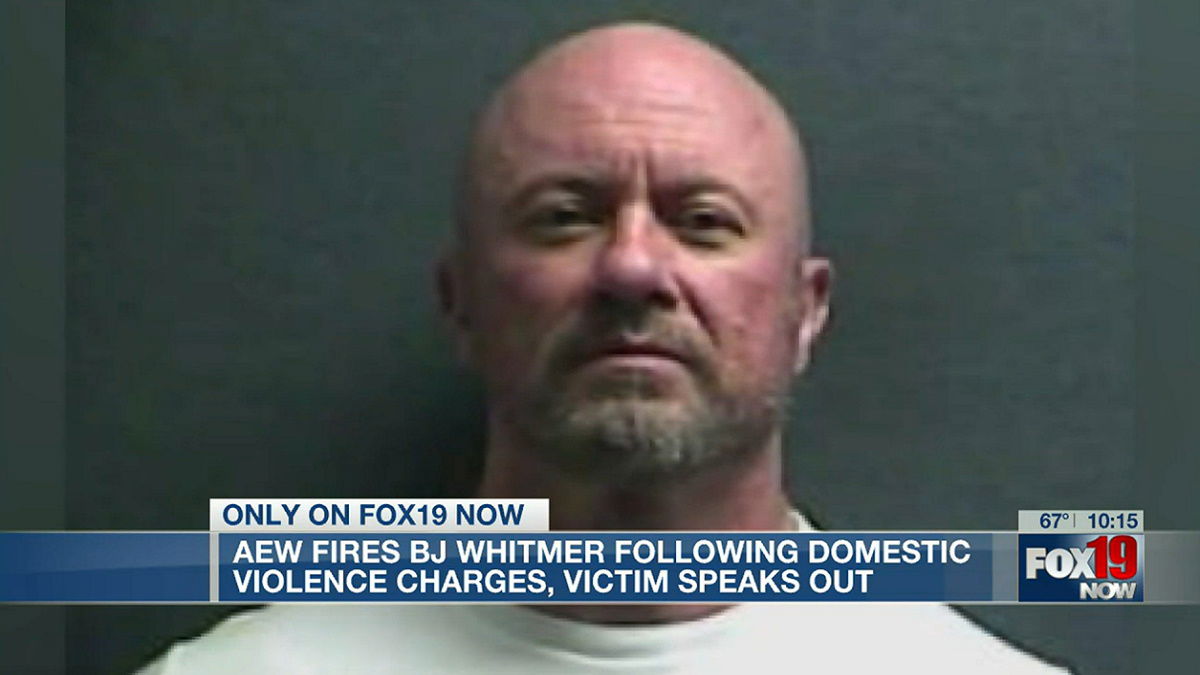 Some new details on the arrest of BJ Whitmer (Benjamin Whitmer) have been revealed in a police report on the case.
Whitmer, 45, was fired by AEW earlier this month after it emerged that he'd been arrested on domestic violence charges including burglary and strangulation. He'd been with the company as a producer/coach/creative advisor since 2019.
The alleged victim, who said Whitmer was her ex-boyfriend, has since spoken with FOX19 to give her position on what happened. Please be advised her comments may be distressing to read.
She said:
"I came into my house and he was standing at the top of my steps waiting for me.
"To him attacking me and strangling me through two different rooms of my home and holding me down.
"And he squeezed tighter and said, 'I'm going to f**king kill you. Do you hear me? I'm going to kill you'.
"And once we got to the point of where we stopped moving and he continued choking me, I absolutely knew.
"Instead of coughing, I lied and said I already called the cops. And the second I said that, he let go."
FOX19 reported that the alleged victim wanted to remain anonymous, was in therapy, has installed security cameras, and has had extra patrols from the sheriff's office.
When asked if she feels safe, she replied no because Whitmer was released "a week and one day after his arrest on a $25,000 cash bond".
She added:
"None of this is okay. No female, no child, should ever have to go through what I went through."
PWInsider has obtained details from the police report on what is believed to have happened.
PWInsider wrote:
The Boone County, Kentucky Sheriff Department's report for the arrest of Benjamin "BJ" Whitmer on 6/4 alleges that Whitmer entered the residence of his former girlfriend without consent through an open door at 6:14 PM that evening, "requesting that she delete messages from her phone that were from Mr. Whitmer."  
When she refused, "Mr. Whitmer became irate" and "approached her, grabbed her by the throat and threw her down on the couch where he began strangling her."  She "advised that Mr.  Whitmer impeded her ability to breathe to the point where she thought she was going to lose consciousness."
The report states that the victim had bruising on her neck and visible red marks when Kentucky Deputies arrived at her home.
Prior to the incident, the victim stated that he had been receiving texts from Whitmer all day, including one that he would "see her soon."  She witnessed him enter her home while returning from her neighborhood pool.
Whitmer had left the scene by the time Deputies arrived.  The victim advised them that Whitmer had likely gone to a relative's house.  Whitmer was found there and detained by Alexandria, Kentucky Police until he could be questioned.  Whitmer declined to comment to the police at that time.
The victim was treated and evaluated by Walton Fire/EMS and stated her "throat was very sore" but declined to be hospitalized or taken to an emergency room.
Court records indicate that Whitmer has been charged with strangulation, 1st degree, a Class C felony in Kentucky, carries a potential penalty of 5 to 10 years in prison. Whitmer has also been charged with burglary, second degree. In Kentucky, that charge is described as knowingly entering or remaining in a dwelling with the intent to commit a crime. It is also classified as a Class C felony in Kentucky, potentially punishable by 5-10 years in prison.  Whitmer was released on $25,000 bond the afternoon of Monday 6/12.
We'll continue to provide any updates on the case as they emerge.