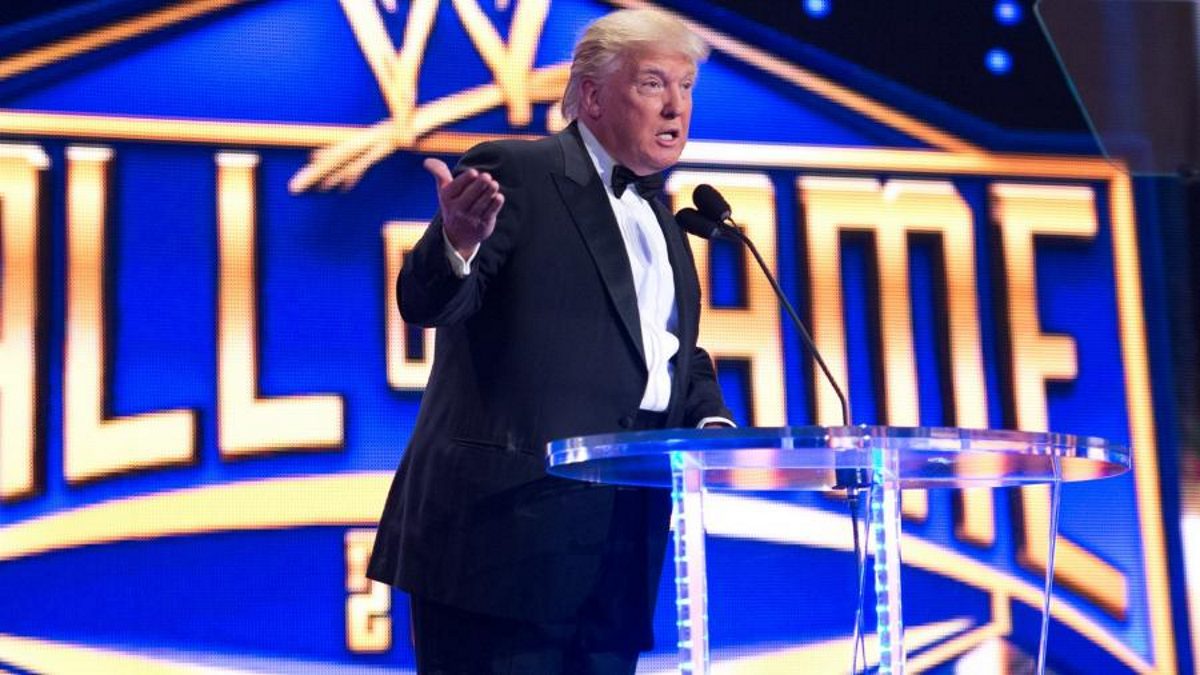 As many legends as there are in WWE's Hall of Fame, there are also a few notable names that are rather head scratching, with pretty much all of them coming from the 'celebrity' wing.
While there are celebrity names that undoubtedly belong such as the recently inducted Andy Kaufman and Mr T, there are many others that most certainly do not belong.
And perhaps the most notable of these is the 45th President of the United States Donald Trump.
While Trump's induction came three years prior to his presidency, his induction at the time was still a controversial one with his most notable WWE contribution coming at WrestleMania 23 when he took part in the Battle of the Billionaires with Vince McMahon.
So when WWE decided to induct Trump ahead of WrestleMania 29, he was placed in a star studded class alongside Booker T, Trish Stratus, Bob Backlund, Bruno Sammartino and Mick Foley.
However, a controversial decision from the Hall of Fame's broadcaster the USA Network would see Trump's speech get given preferential treatment over one much more deserving inductee, that being the hardcore legend Mick Foley.
On Foley's podcast Foley is Pod he would recently discuss his induction and how Donald Trump's speech would end up impacting how he felt about his induction.
"There was a little bit of a controversy in 2013 that almost derailed or at least greatly affected my attitude in what I was going to say. What brought me back from that brink was remembering when I was in Impact. I got a (203) text message. It's WWE asking if I would mind if they promote my book, which was an Impact Wrestling book, on their show. You want to promote my book on your show? They said, 'Yea, Mr. McMahon thinks it's the right thing to do.'"
"So at that time, for one year, we had this beautiful condo in Florida and they actually had like a movie room, so we reserved it for that night. I sat there with my family, and the moment I heard Michael Cole say, 'Hey, our good friend, Mick Foley has a new book out', and they really put it over. I made a little promise to myself. I don't think I said it out loud, but a promise is still a promise. The promise was, if I'm ever asked to be in the WWE Hall of Fame, I'm going to say absolutely yes with no conditions placed on it. I'm not going to say I need to go last. I'm not going to say I need X amount of time."
"Then I found myself feeling left out. USA I guess made the decision, or at least I'd heard they made the decision that they were going to edit the show. In order to show Donald Trump's speech, they ixnay the Foley speech, and I let it get to me. It really hurt my feelings to the point where I remember calling up my wife and saying. 'I don't want anyone from my family coming to the Hall of Fame. I don't want it to be important enough to bother me.'"
Then I would visualize my speech just being, 'Hey, thank you' and throwing my ring out to the crowd and walking away with the worst Hall of Fame speech ever. Then I remembered that promise I made to myself. I'd gone on Twitter, I think and kabetched, I guess probably be a good term, a kind term for it. But I remembered that promise and that changed things for me."
"I went into Mr. McMahon's office and Hunter was in there, Stephanie was in there, and Kevin Dunn, and I just said, 'Look, I'm sorry, It's a great honor to be in here. I'm going to enjoy every moment of it.' Kevin said, 'Mick, why didn't you just come to us' and that's what I should have done instead of complaining and taking my case to social media."
Foley's relationship with WWE would continue to improve in the year's that followed with him taking a role as the on-screen Raw GM in 2016.
Transcript courtesy of Wrestlingnews.co
If you want to stay fully updated on all the latest wrestling news, click the red bell in the bottom right of your screen to receive notifications from WrestleTalk.com straight to your device!