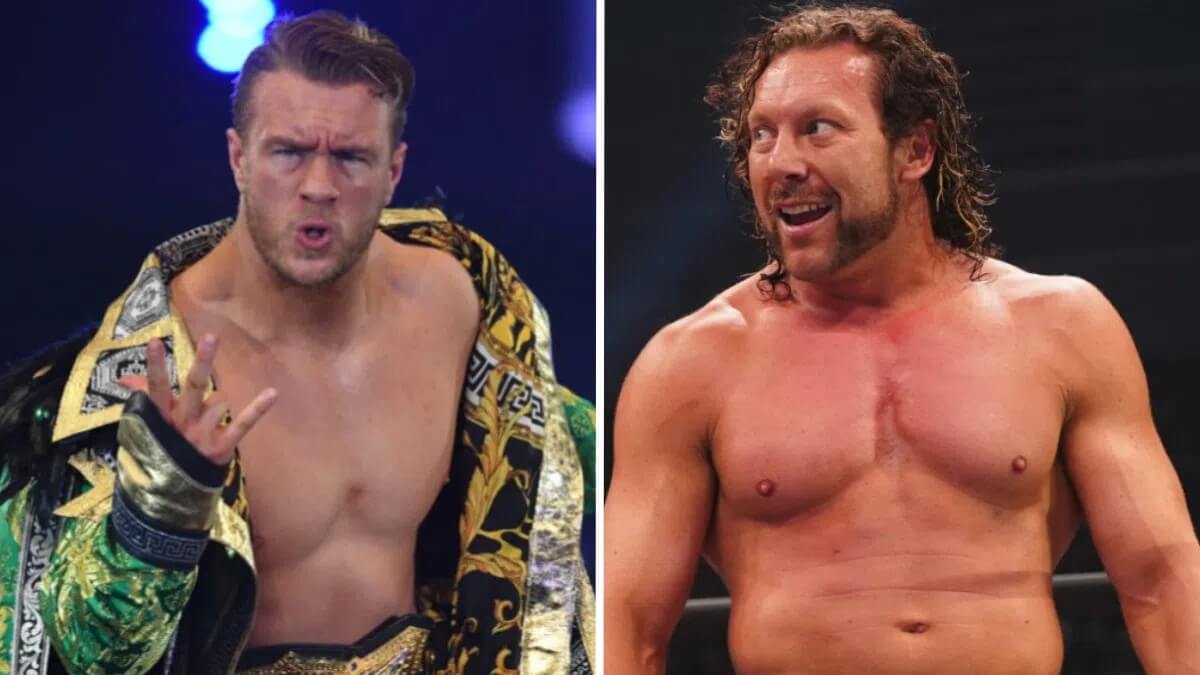 Kenny Omega may not be in a match at AEW x NJPW's pay-per-view, Forbidden Door, but he still has thoughts on the interloping NJPW talent.
Kenny Omega has been out of the spotlight for some time, recovering after a series of surgeries to address longstanding injuries including scary experiences of vertigo, but has emerged for a new interview with Fightful ahead of AEW x NJPW's inaugural pay-per-view event, Forbidden Door.
Addressing the New Japan Pro Wrestling presence in AEW at the minute, Omega first discussed Jay White before pivoting to Will Ospreay, saying:
"In sort of a different kind of vein, you have a Will Ospreay, who he can do anything: he's strong, he's fast, he's agile, he is a great representative of New Japan for all of the dudes that are hitting the pavement and making those indie dates, he's kind of their spokesperson to give everyone the current day five star match that we all know and love. Some of us.

Different strokes for different folks, I mean Ospreay's doing great in his role, not my thing so much, but Jay White like I said, he's kind of become the star that they've needed. And I can't say you need one over the other, but I do think they work quite, well, harmoniously, so with a guy like Will who is great at moves and he has a list of about 20 very forgettable five star matches. I mean come on. I'm going a little too hard on Will, Will is great."
When Sapp joked with Omega that he was essentially saying, "good job little bro," Omega went on to elaborate in an attempt to clarify, saying:
"You could be right, I don't wanna say anything bad about Will. But no, OK, here's the thing, if we're being completely honest with each other, I do believe that with the current rating system, and how things are viewed, I believe that Will has earned every last one of those five star performances that he has had.

Now do I think that if you go back into the works of some of the legends, I'm even going to throw my name in the hat, even if you go back to when I was having five star matches and I was sort of 'that sort of guy', I just think that the matches from back then were a little more memorable and as hard as Will was working, Will just isn't quite… Will is there. [Big Sigh.] See I'm digging myself into a hole here.

Will is there and Will is great and I'm glad to see him in a marquee match against Orange Cassidy, I'm just saying that I think New Japan made the right choice by going with Jay White. Jay White was the star of the two, is all I'm saying."
But as the conversation regarding Jay White continued, Omega had more thoughts to share on Ospreay, noting comparatively speaking that while Jay White has to put a different level of strategy into becoming marketable, younger talent such as Ospreay can fall into a different trap.
Omega saying:
"But for Will, and for guys like Will, where things come real easy, he just hast to do the moves he knows and he kind of gets that sort of, that's sort of false sense of, 'I am at the very top and pinnacle of the wrestling world' because I get these high ratings from this one guy. And it's a tough trap to fall into, and I remember when I first got my first five star match, I thought 'wow did I really become one of these guys?' But then it's just like you know, I grew up after about five or six of them you know what I mean?

And I just feel that Will is still, the first thing he does still is goes online and brags about his next five star match, which it's five to one guy, it's maybe 3 1/2 to me, you know what I mean, but it doesn't matter, if you're proud of it that's great but I am just, now we've gone into a completely different topic, I just feel that Jay White became the company man that New Japan needed, that's it.

And I don't want to say anything poor about the efforts of Will because he, it's tough to do what he does, he does it easily for him, but still it's backbreaking labor and he still putting in the work that you know would kill any other person…. Okay here's a way to sum it up: Will is working harder than anyone but Jay was the guy who worked smarter than everyone that's it that's the best way, I can sum it up."

If you use this transcription or any portion of it please credit WrestleTalk.com and link to this page.
Elsewhere in the interview, Omega discussed his feelings on missing out on the inaugural AEW x NJPW pay-per-view, Forbidden Door.
You can find out all of the match card details for AEW x NJPW Forbidden Door by clicking here. 
To make sure you stay updated with all the latest wrestling news, add WrestleTalk.com to your Google Discover feed and follow us on Twitter!