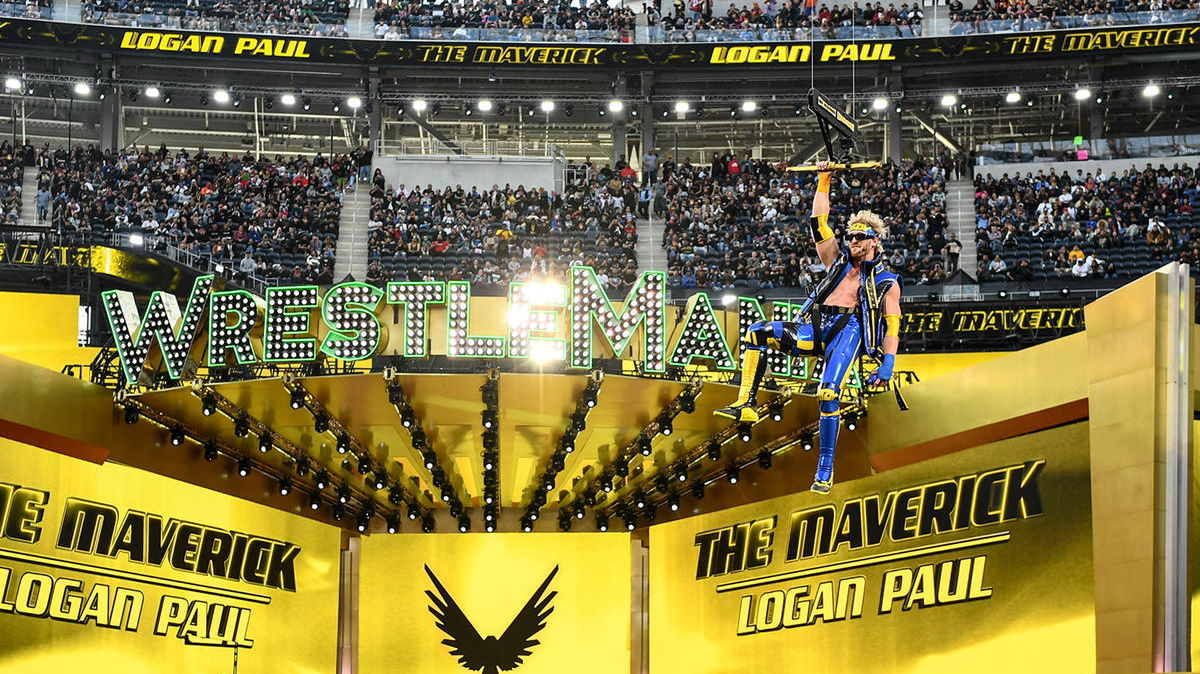 Logan Paul has reflected on his match against Seth Rollins and zipline entrance at WrestleMania 39.
At WrestleMania 39, Seth Rollins defeated Logan Paul following a 16-minute match. Ahead of the bout, Paul came down to the ring with a zipline for an entrance worthy of the "Showcase of the Immortals."
On the latest edition of IMPAULSIVE podcast, Paul reflected on his WrestleMania 39 bout and his zipline entrance. Looking back on the match with Seth Rollins, Logan said:
"I thought beforehand, for sure, it (match versus Seth Rollins at WrestleMania 39) was gonna be my best match and then afterwards, I just didn't feel like that. I felt it was good. It was on par, it wasn't a level down. But I noticed it's getting harder and harder every time to make these matches better."
"When I'm picking an opponent and I'm at the bottom of this mountain trying to build what I want I want to be an amazing, entertaining match, man, these mountains are getting higher and higher and it's terrifying and incredibly complicated."
"I don't know how I'm going to keep doing this and upping the bar every time. That's like my challenge in this but it's so much fun because I'm gonna have to get more creative, I'ma have to go a little harder."
Admitting that WWE initially denied his zipline idea for this year's WrestleMania and expressing his love for the company making it happen, Paul said:
"Get me as high as I can possibly go (in a ring). I love flying which is why I requested the zipline. I requested this zipline (for) last year's WrestleMania, my first-ever WrestleMania ever. I said, 'WWE, can I get a zipline in?'"
"They're like, 'Why don't you get a match in first, kid?' I was like, 'I get that, I get that.' But this year, I requested the zipline again, it got denied and I was like, 'Hey, it is like a liability thing? Can I convince them to do it? Is it an insurance thing? I'll cover it' and the WWE got me a zipline into SoFi Stadium for my birthday. Like four different companies (were contacted to get that zipline setup squared away)."
"Very expensive stunt and I love the WWE so much for doing this because when I was flying in the air on that zipline, I'm looking around at all these eyeballs and phones just pointed at me and ever since I moved out to Hollywood which was where WrestleMania took place this year, my goal was to be the biggest entertainer in the world and God damn, in that moment I felt like the biggest entertainer in the world."
As previously mentioned, Logan Paul revealed that he received a concussion test that he did pass following his WrestleMania 39 match against Seth Rollins.
Ahead of the Show of Shows, Paul revealed that his WWE contract was set to expire following the event.
You can read Paul's recent comments on the possibility of re-signing with WWE right here.
Transcription via POST Wrestling
Think you're a wrestling mastermind? Well you can prove it by taking quizzes in our brand new quiz section! Don't forget to tweet us your results!