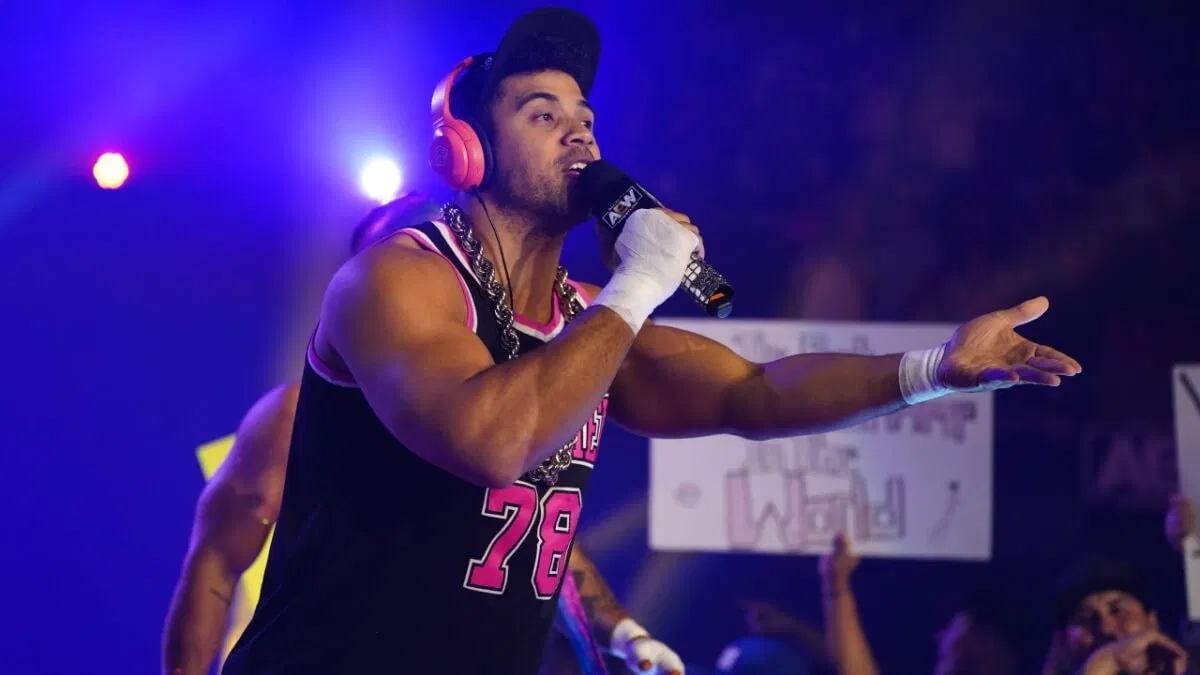 Max Caster is reflecting on a major moment both in his career and life: the Dumpster Match on AEW Dynamite.
Max Caster and Anthony Bowens, The Acclaimed, continue to work over teams in the AEW tag team division and now Caster is reflecting on their recent star making match.
Mirroring the elements of Billy Gunn's own classic WWE match with Road Dogg Jesse James which launched the tag team career of the New Age Outlaws, the Acclaimed took on the Gunn Club, Austin and Colten Gunn.
Describing the match as "life changing," Caster said:
"I'll tell you, that was a life changing moment for me jumping off the top of that tunnel. I watch it back periodically and you see the fear in my eyes and when I got back to the locker room a lot of the guys were saying, 'Man, that was great, but the camera caught your face and you said f**k just as you're about to jump.' And they all kind of related to me in that moment because they've all been there. And maybe they don't verbalize it and they don't get caught on camera. But you know, it was that fear and overcoming it in that moment and doing that elbow drop, doing what we needed to do to win that match and I watched that back and I'm like, Man, I am invincible. I'm borderline indestructible. Because I walked away from that match, and I'm still banged up, but I walked away from that match the winner. I walked away having done something that I was petrified of – to climb up there alone is scary but to jump off?
"It's crazy…a real life changing moment that dumpster match and I know that the fans love us even more after it and I love the fans even more because they were with me at the top of that tunnel. I'm like come on guys give me something and they gave me all they had and I felt okay, here we go and I jumped, and that was like you know, just like trust building, some bonding between me and the crowd right there, and Anthony's down there cheering me on. He's like, 'go do it, do it.' I'm like, 'yeah, I'm going to do it' and I did it…. a real, real pivotal moment in my life. I really love that match. I love that moment for me. Not just in my career, but in my life. Crazy, crazy moment."
On tonight's edition of AEW Dynamite (August 17) there was a major development in the storyline of the Acclaimed and The Gunn Club.
Quotes via PWInsider 
If you're in the UK but didn't manage to get tickets to Clash at the Castle on September 3, WrestleTalk is hosting a watch party at The Joiner on Worship in Shoreditch, London, and we'd love for you to join us! Click here for more details.