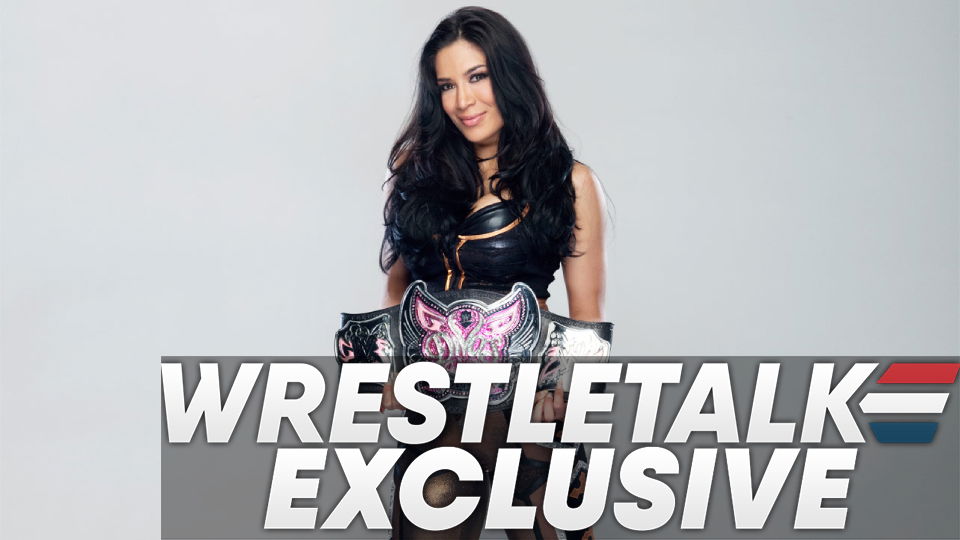 Fans are often critical of WWE's treatment of the women's division during the 'Divas Era', but one former WWE Women's Champion has explained that she's actually proud of being called a Diva.
In an exclusive interview with WrestleTalk, former WWE Superstar Melina explained that she's actually proud to have been called a Diva during her time with WWE, particularly because it suited her character at the time:
"I love being called a diva because it's attitude, which is what my character was. Melina had attitude and yeah I'm a diva. It's something special. But to go crazy… it's not like they're calling us 'cupcake' or something like that. You know what I mean? It's not a put-down. If you wanna be a singer, like a professional singer on top, you wanna be called a diva. And I told people, 'Why is everybody griping on that?'. It doesn't change the work.

"No matter what you call me, I still will perform, that character will still perform to the best of her ability, or the best of my ability. I will still give it my all no matter what you call me. That wasn't even an issue, I don't feel like people lost respect because of the name, but I think for me what happened was when people lost the Trish and Lita, and their favorite people left, that means no matter what, they're so angry. There was a backlash because no-one's gonna compare to them, and that's why it's like, 'Whoever's on the roster, we're so anti it'.

"Because if you think about it, there were so many great women who can wrestle who were a part of the Divas era, but why is it that everybody wants to pretend they never existed?

"I've seen some stuff today, I'm like, 'All you guys still get the same time limit as us', nothing's changed really."
Melina also revealed that she's proud of the work that she and the other women involved with WWE during the Divas Era put on, having the following to say on the matter:
"In a way yes, but at the same time, I'm not a person who does the woulda, coulda, shoulda, you know what I mean? Spending my life thinking, 'I should've gotten this, it should've gone like that', no, no, no. I'm more like, 'Okay, this is what it is, well my mind's gonna create something else'. Where there's a will there's a way.

"And I'm proud to be a person who was part of… I guess to be a pioneer. Because, I guess, it tested me, and I'm proud of being tested. These limitations just made me get more creative, and the funny thing is, I think it's in the Wikipedia, I think WWE said that I had one of the best arsenals and all this stuff, it was somebody who mentioned I had creative moves and stuff, well that's what happens when you have limitations, it makes you think, and you have to work with what you have. That's what made things different was because of these limitations. I'd rather be tested and know what I'm capable of. It takes a certain kind of personality and heart to have enough passion that when you're told you can't do something, you still continue to do it because you love it.

"Sometimes I think, can you imagine people of the past, if they were able to have opportunities and times and people supporting them the way people have now, would they still have that passion the way they did then? Or would it go away because it's just there and, 'Why do I have to work, I'm gonna get my chance because I'm awesome'. But at the same time, they had to show the world, they had to prove to themselves, no matter how much they got knocked down, when women weren't able to be a part of wrestling because women shouldn't have a right in the ring.

"Like I think about that, and I think, from the beginning of wrestling history when women had no place in the ring, women back then were like, 'You know what, I love this so much I'm gonna show you'. They had it harder than we did, they went through so much crazy, and their love for this, their belief that they could do it, got them through so much."
During the same interview, Melina also spoke about the reports that she was going to be returning to WWE last year, and revealed whether or not she'd even be interested in coming back to the company.
She also broke down into tears when asked about her relationship with fellow former Women's Champion and WWE Hall of Famer Trish Stratus, which you can read more about by clicking here.
What are your thoughts on the above story? Let us know in the comments on Twitter or Facebook.