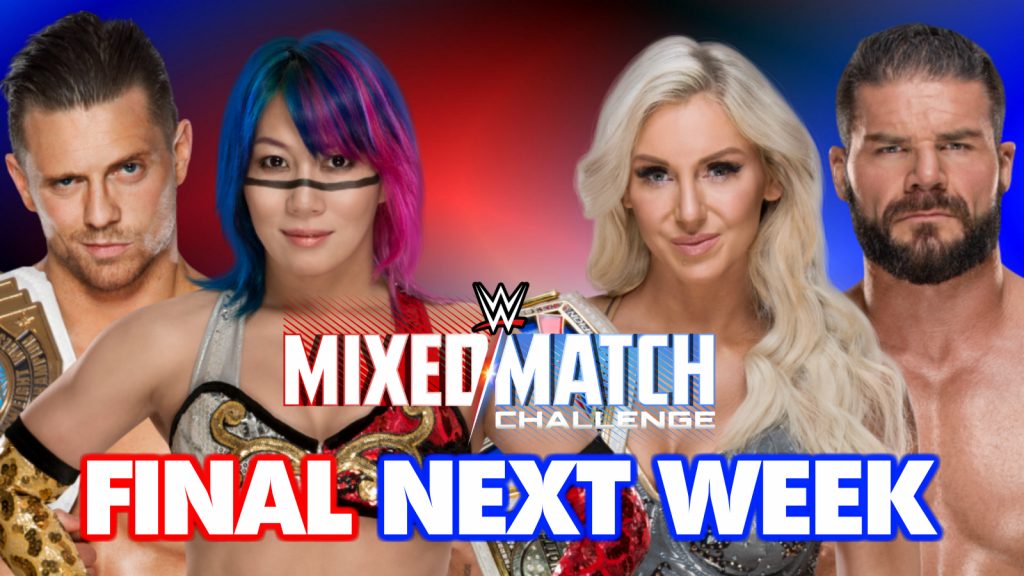 On last night's edition of WWE Mixed Matched Challenge, the second team that will compete in next week's final was decided.
In last week's semi-finals, 'Team Awe-ska', the Miz and Asuka, picked up a victory over 'Team Little Big', consisting of Braun Strowman and Alexa Bliss, in predictably hilarious fashion.
The win for 'Team Awe-ska' ensured Asuka's undefeated streak in WWE continues, which has unfortunately slightly hindered the Mixed Match Challenge in terms of match predictability. Nonetheless, for the most part, the performers have ensured the competition remains entertaining and engaging.
'Team Awe-ska' overcame Big E and Carmella in the first round, and Finn Bálor and Sasha Banks of 'Boss Club' in the quarter-finals.
Speaking of Bálor and Banks (segue!), they were involved in last night's semi-final as a result of a fan vote to reinstate one of the previously eliminated teams.
They were set to take on the 'Robe Warriors', Bobby Roode and Charlotte Flair, last night, but due to an apparent injury, Flair was unable to compete, leading to a second fan vote, this time deciding who would partner Roode; either Becky Lynch, Lana or Carmella.
Becky Lynch won the vote, having previously teamed with Sami Zayn earlier in the tournament, and stood in for Flair against 'Boss Club'.
Despite picking up the pinfall victory, Michael Cole reminded us throughout the match that Lynch was only a temporary replacement, meaning Roode will be paired back up with Charlotte Flair in next week's final.
So, the final is set, the 'Robe Warriors' will take on 'Team Awe-ska' in next week's edition of the Mixed Match Challenge, airing on Facebook Watch, straight after SmackDown Live next Tuesday. It should be noted that Flair will be defending her WWE SmackDown Women's Championship at WrestleMania 34 against Asuka so this could provide an interesting preview of sorts for that historic bout, especially if Asuka picks up the pinfall as predicted to protect her undefeated streak.
The winning team will receive $100,000 to donate to the charity they are representing in the tournament. Flair and Roode are representing Girl Up, whereas Asuka and The Miz are looking to donate to Rescue Dogs Rock. All losing charities get an automatic $10,000.
Here is the full, up-to-date tournament bracket, taken from Wikipedia:
Who are you backing to win the WWE Mixed Match Challenge? Let us know in the comments below or on Twitter here, and as always, have a spiffing Rusev Day.