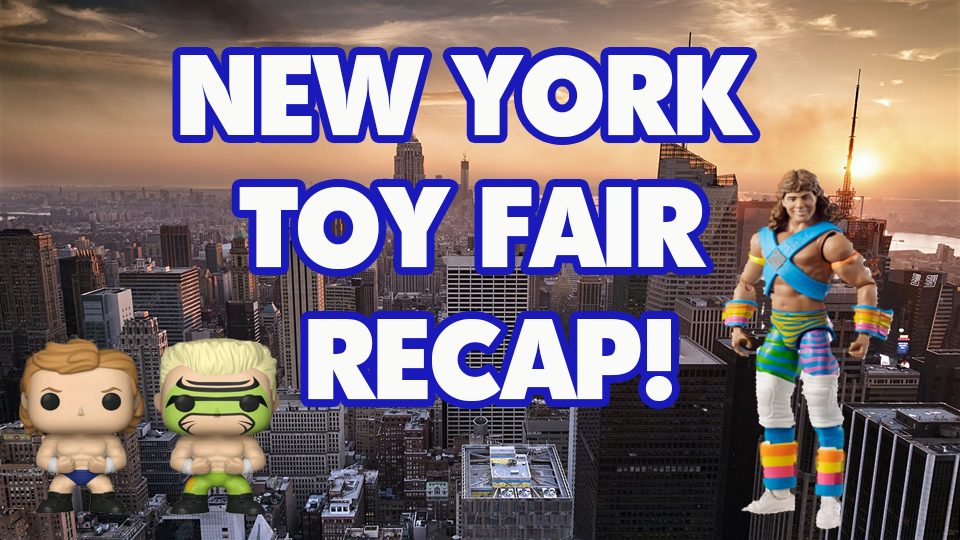 Last month's New York Toy Fair 2018 saw WWE and Mattel bring out the big guns and display a majority of the action figures set for release in 2018. The new products announced were promised to be better than the previous lines, with Mattel's citing their new direct ink-jet technology will better render facial and 3D scans of the superstars modeling their figures.
Here's a list of what's to come and their updated release dates:
Basic Series 84
If you're in the U.S., you can now buy Basic Series 84 figures from Ringside Collectibles. The line will be available in U.K. on WrestlingShop.com and Smyths Superstores by May 2018.
Rusev
Naomi
Dean Ambrose
Finn Balor
Kevin Owens
https://www.instagram.com/p/BfY2unzFNCV/?taken-by=ringsidec
Basic Series 85
Figures are available for pre-order on Ringside Collectibles for US customers (April 2018 US release) and will be available on WrestlingShop.com for UK customers by June 2018.
Bobby Roode
Alexa Bliss
Seth Rollins
John Cena
AJ Styles
https://www.instagram.com/p/BfV-ntBFBfU/?taken-by=ringsidec
Series 86
Basic Series 86 has no confirmed release date yet.
Akira Toxawa
Charlotte Flair
Dolph Ziggler
Roman Reigns
The Rock
https://www.instagram.com/p/BfWDiLGFiyy/?taken-by=ringsidec
Elite Series 58
Elite Series 58 figures are available now on Ringside Collectibles, and will be released in the U.K. on WrestlingShop.com and Smyths Superstores by June 2018.
https://www.instagram.com/p/BgRp8PvFo18/?taken-by=ringsidec
Dean Ambrose
The figure is based on Dean Ambrose's attire when he was defending the Intercontinental Championship against Miz at Extreme Rules 2017. It comes with a removable 'No Good Deeds Unhinged' t-shirt, and the Intercontinental Championship title.
Braun Strowman
The figure is based on Braun Strowman's attire in his match with Roman Reigns at Great Balls of Fire in 2017. It comes with the ambulance door he ripped off during the show.
Mickie James
Mickie James' attire is derived from her match with Asuka at NXT Takeover: Toronto in 2016. It comes with the 90s WWE Women's Championship title.
Sheamus and Cesaro
These figures are based on their attire in the WrestleMania 33 Tag Team Title Ladder Match. The kilt and tuxedo on the figures are removable.
Matt Hardy
Based on Hardy's Raw Tag Team Title defense at Payback 2017, the figure comes with the Raw Tag Team Championship title.
Elite Series 59
The figures in this series are available for pre-order Ringside Collectibles for U.S. customers now (with a May 2018 release scheduled) and will be available WrestlingShop.com and Smyths Superstores in U.K. by August 2018.
https://www.instagram.com/p/BftBfIBlOqY/?taken-by=ringsidec
Kurt Angle
This figure is based on the Kurt Angle vs. Brock Lesnar match at WrestleMania 19. It comes with Angle's Gold Medals, and a red 'Team Angle' Entrance Hoodie
Chad Gable and Jason Jordan
The figures are from the Four Corners Elimination SmackDown Tag Team Title Match: SmackDown LIVE Wild Card Finals. It comes with the WWE SmackDown Tag Team Champioship title belts.
The Miz
The Miz's attire is from the Mixed Match between The Miz and Maryse vs. John Cena and Nicki Bella at WrestleMania 33. The black entrance jacket is removable.
Zack Ryder
This figure was based on Ryder's attire in the Team U.S.A. vs. The Multinational Alliance– 16-Man Elimination Tag Team Match on Raw's July 4 2016 episode, and comes with a Stars and Stripes jacket and matching patriotic sunglasses.
Finn Balor
This attire was from the Demon King Finn Balor's onscreen August 15, 2016 debut on Raw. It comes with removable tassels and Demon King headgear.
Elite Series 60
Ringside Collectibles does not have any stocking information posted on their website. However, WrestlingShop.com has advertised a October 2018 release date. Descriptions for the figures require further confirmation.
Elias
Triple H
Xavier Woods
Kofi Kingston
Andre The Giant
John Cena
Elite Flashback Series #2
The new Flashback Series is a Wal-Mart exclusive and should be on store shelves this spring. U.K customers can purchase figures in the series on WrestlingShop.com after August 2018. This Elite Flashback Series contains four figures, with each one containing a piece of the Heartbreak Hotel set.
Shawn Michaels
Razor Ramon
Doink
Alundra Blayze (First in the LINE!)
https://www.instagram.com/p/Bfl8L0HFluq/?taken-by=ringsidec
Smack Down Live Authentic Scale Ring
They also featured a Smackdown Live authentic scale ring, which includes an announce table and an exclusive Jinder Mahal figure. Release date pending.
Epic Moments – Milk O'Mania
The new Epic Moment set is Kurt Angle spraying Milk on the Alliance. We don't have much detail on what the figures include, but based on the pictures released from New York Toy Fair 2018, it should come with Kurt Angle holding a milk hose, Steve Austin and Stephanie McMahon. Release date is pending.
Entrance Greats – Bobby Roode
Bobby Roode is also getting an Entrance Greats figure, including a base that plays his entrance music. The figure will be complete with removable 'Glorious' robe, ring trunks and black boots. U.S. customers can pre-order this figure on Ringside Collectibles now and can expect it to reach their doorstep by April 2018. U.K. customers can visit WrestlingShop.com to purchase it and expected delivery by July 2018.
https://www.instagram.com/p/BfdzsIJF5qS/?taken-by=ringsidec
Non-Mattel Collectible Figures
Funko!
Sting and Lex Luger Pack 2-Pack FYE exclusive should be hitting their shelves soon.
Jake The Snake with Python (no release date yet)
Shawn Michaels with WrestleMania XII attire (no release date yet)
Loyal Subjects
Loyal subjects feature 3.5 inch vynil figures of WWE Superstars. They also featured a ring and a referee. Here are a list of the superstars featured:
Finn Balor
AJ Styles
Shinsuke Nakamura
Roddy Rowdy Piper
Undertkaer
Sting
Ultimate Warrior
Macho Man
Roman Reigns
Brock Lesnar