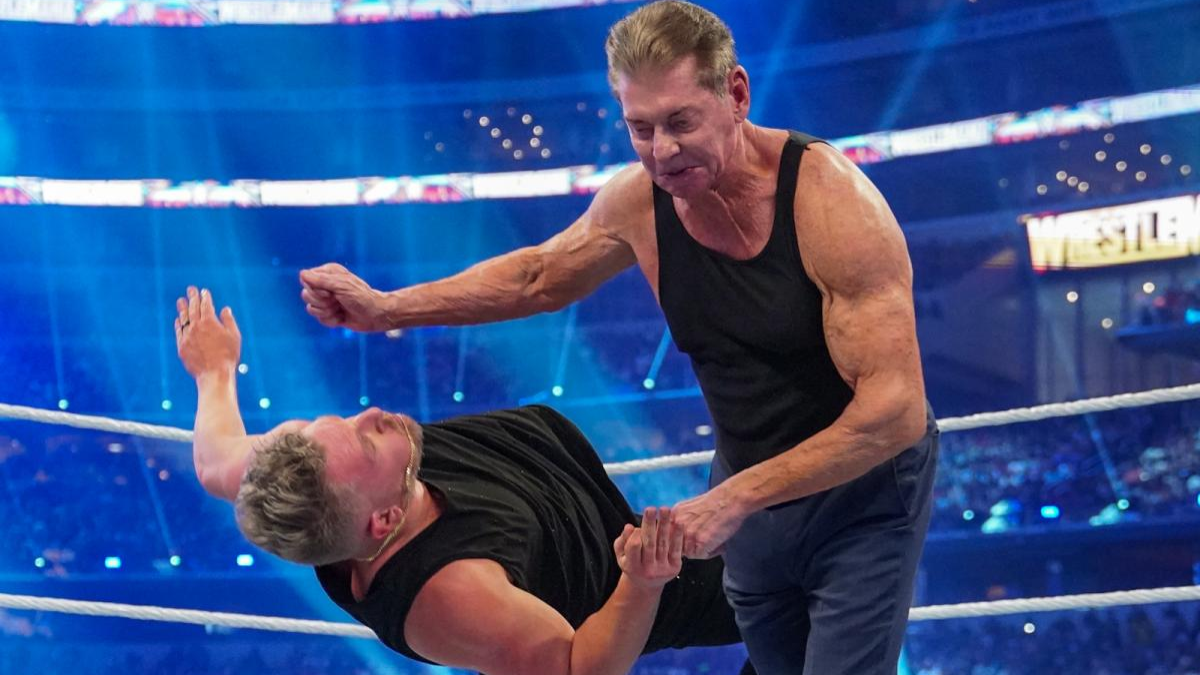 On today's Pat McAfee show, Pat discussed his amazing WrestleMania Sunday match with Austin Theory including having no idea how the angle was about to go.
Pat describes the goings-on after his match with Theory, saying:
"You should have heard the stadium whenever he was thinking about it, whenever he had that jacket on and he started tempting taking it off, man there was like a [makes buzzing sound] like a buzz raising in there, so I was like is this… is this…? So people need to know, like the wrestling business. People understand what the wrestling business is, but there's things that happen out there on a very regular occasion that are not like, you know, hey like this is not how this was supposed to go, and you just are, like there's people that are around that are like 'oh hey yeah, this is happening now' basically, you know and I'm just like, what the? Alright. So I sat up on the ropes, you know, I sat there for a second and I looked around and I saw a 76-year old Vince McMahon taking his shirt off, I'm like 'is this a movie right now?' like this has to be a simulation and then obviously Austin Theory attacks me from behind, Vince abuses his power, and that ref, what the f**k was he doing?"

If you use this transcription or any portion of it please credit WrestleTalk.com and link to this page.
Pat McAfee went on to talk about interacting with Stone Cold Steve Austin and taking a stunner, saying:
"I did not know that was happening, that whole thing I had no idea that was happening. Us chugging a couple of beers together? [In Stone Cold voice]  'Hey kid, I'ma go this way, you go that way' it was awesome."
Elsewhere in the show, McAfee talked about having bumped into staff backstage on Saturday pushing an enormous cooler filled with 3 cases of beers for Stone Cold.
To make sure you stay updated with all the latest wrestling news, add WrestleTalk.com to your Google Discover feed and follow us on Twitter!