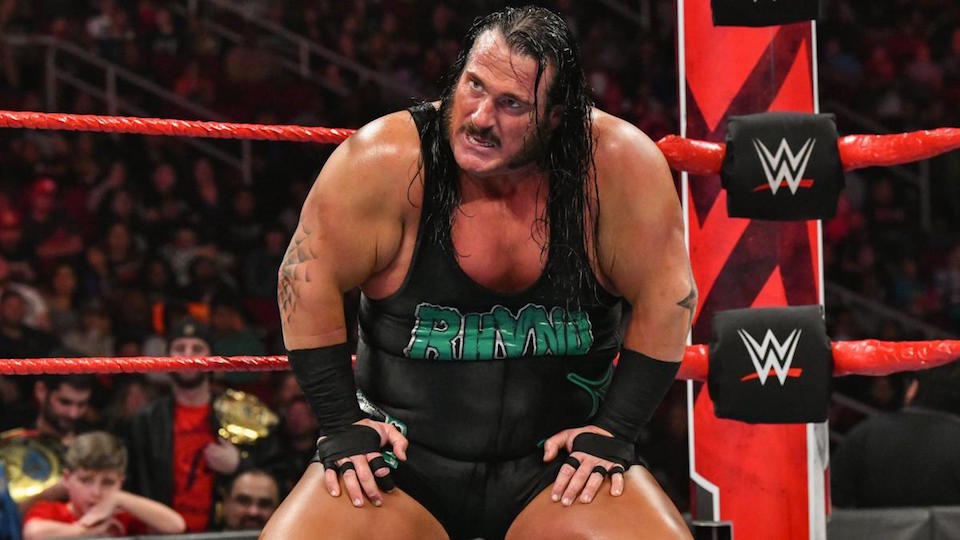 Last week on Raw, General Manager Elect Baron Corbin forced tag team partners Rhyno and Heath Slater to face off against each other where the loser would be fired. After a 60-second match, Slater pinned his veteran partner following a Neckbreaker and secured his place in the company – as a referee.
Following the match, reports made the rounds that Rhyno had cut a promo to the live crowd during the ad break, announcing his retirement from in-ring competition which was picked up by several major news sites including Fox Sports.
Apparently, that is not quite the case, however, as Rhyno himself has addressed these rumors in a Raw-exclusive video on WWE.com where he plainly states that they are just that; rumors. You can watch the video below:
In the video above, Rhyno addresses the recent rumors, stating:
"I am not retiring, I have no plans on retiring," Rhyno said. "I am fulfilling my contractual obligation with WWE with my December and January live events. I'm going to continue, and after that, I don't know. Whether I compete in WWE or somewhere else, your guess is as good as mine."
According to WrestlingInc.com, current plans for the 'Man-Beast' are that he will be heading back to SmackDown Live – the brand he returned to in 2016 where he and Slater became the inaugural SmackDown Tag Team Champions. What he will do on the blue brand is still unknown but no major plans seem to be in place. As Rhyno focused more heavily on the Live Events aspect of the job in the video as well as specifically saying "WWE or somewhere else," he could be hinting at a quiet departure from the company when his contract expires.
What do you make of Rhyno's response to his retirement rumors? Let us know in the comments.