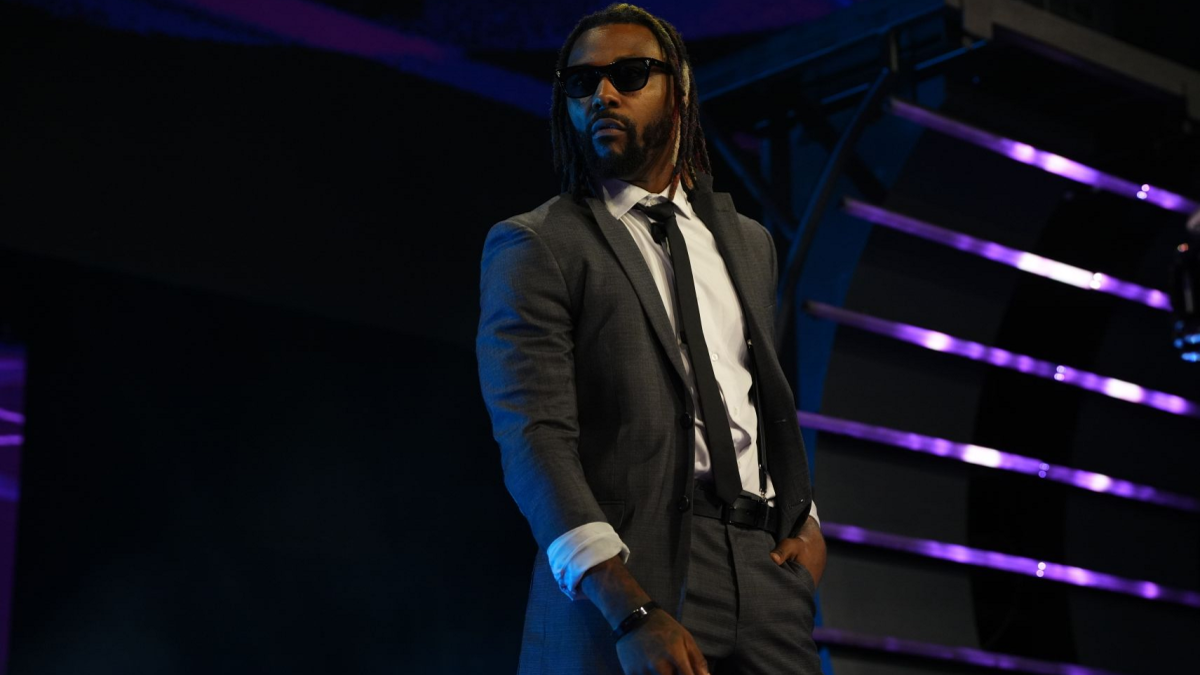 Tony Khan is now the owner of Ring of Honor, with the first ROH show under his leadership set to be the Supercard of Honor show tomorrow night (April 1).
Fans have speculated about how ROH will function under Khan, and what ties it will have to All Elite Wrestling. Several AEW stars are booked for the show, including Swerve Strickland. Swerve recently spoke to the Battleground podcast about the show, and how he hopes to see the company work under Khan.
He said:
"I was worried/concerned for a second because I was like, 'Man, I just spoke with ROH about getting on the Supercard of Honor a couple of months back,' and then I signed with AEW and I was like, 'Oh man, I hope I'm still able to do that show,' and then all of the sudden, the announcement happens in the middle of the ring and I'm like, 'Oh, okay. I guess that's why I didn't hear any fuss about it.' So that's pretty cool. I've always been a fan of Ring of Honor for a long time. I have a lot of friends that came up through there and that currently still work there, like Shane Taylor Promotions, Kenny King, and guys like that that I've been friends with for years. I'm glad to see that we're not losing another promotion out there, we're keeping it alive and keeping it going for — another place for people to hone their craft. I think that's going to be a great breeding ground for the guys that are young and need that — I feel like there are times where jumping into live TV on a big promotion like AEW and stuff like that, is a lot for someone young and new that hasn't necessarily adapted to live TV like that yet. Going out there and just performing is one thing but really adapting to that new setting, it takes years to actually really become faceted with it and really become comfortable with it."
Swerve continued on, naming the young AEW stars he believes could be the 'cornerstones' of the new ROH if they get a chance to grow.
He said:
"Lee Johnson would be great to be like a star-studded acquisition for Ring of Honor. Lee Moriarty, Dante Martin, I think they should be doing AEW Dynamite, Rampage, Dark, and Ring of Honor, because they need that seasoning. They need all the wraps they can get. So I'm glad to see that Ring of Honor, and under Tony Khan's control oh, he's not going to forget about those guys. I think those guys need to just be on the road constantly, all the time. You're going to get tired and burned out but that's what make screen brightness, you know? I'm glad to see those — and bring those old Ring of Honor veterans back as well to work with those guys, produce, build stories with those guys, build these rivalries not just having match after match, but actually build something with these guys so they can learn and really grow. [Young stars need to] know what it's like to have an arch-nemesis how to go from town to town, telling these stories to these different audiences in different cities. Get building like how I had to build my name through it for many years having these rivalries with a Darby Allin, or Riddle, or Fenix and Penta. All these different cities, these guys got to do the same thing rather than to have matches, and matches, and matches, but actually build arrival Reeser the cities understand that when Dynamite comes to town, they have a fresh history with what these guys have done together."
Swerve is set to take on Alex Zayne on the Supercard of Honor show. For the full card announced so far, click here.
transcription via Fightful
To make sure you stay updated with all the latest wrestling news, add WrestleTalk.com to your Google Discover feed and follow us on Twitter!