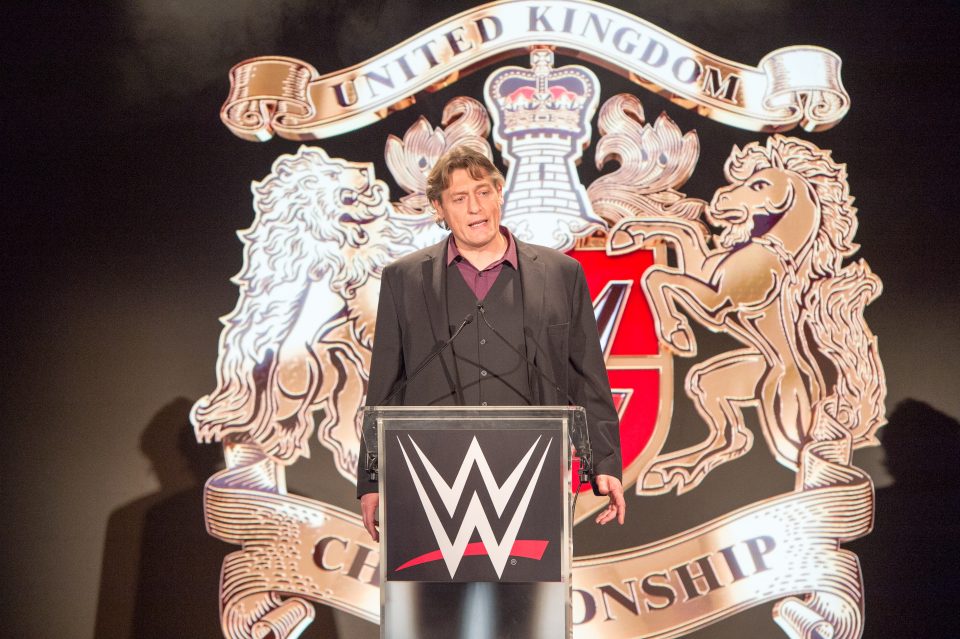 This isn't me bashing WWE, but if the many reports are to be believed, the company isn't afraid to do things at the last minute.
Astonishingly, it turns out one of the things that was brought together in a matter of days was the WWE United Kingdom Championship Tournament back in 2017, which saw 16 UK wrestlers compete to become the first ever WWE United Kingdom Champion.
Speaking on the Talk is Jericho podcast, former NXT general manager William Regal revealed he was asked to find all 16 competitors for the tournament just two days before the tournament was announced.
Amazingly, he accomplished the feat, despite being in Australia when he got the call to find all these wrestlers. It's fair to say he did a very good job.
Speaking on the podcast, Regal told the whole story:
"I was in Australia, I get a call, 'Can you fly back – you cut the tour short, fly back, we're announcing it in two days, we're announcing the tournament' – this is December in Australia – 'We're announcing the tournament in two days at the O2, can you get 16 British wrestlers, in two days, we're gonna announce this tournament, and it's gonna happen in January in Blackpool'. And I'm like, 'Okay'.

"Because I'd just been over there in the summer and went and actually went around for two weeks and saw everybody and watched everybody up close. I was on the phone in car park after the show in Australia, I don't know what time it was – 13 hours or so different to England – I was in the car park.

"I was there on the phone going, 'Fellas, can you meet – I don't know really what's… we're doing this thing and can you keep it quiet'. And I turned up two days later, or a day later, whatever it was, somehow I managed to get to England, I turned up at the O2, I turn up and there's 16 fellas, well actually no there was 20 because there were some extras as well, all suited and booted looking like real professionals. And there's a picture of them. Couldn't have been any prouder (audibly tears up), I was just like, 'Thanks fellas' (starts crying). Couldn't have been any prouder of being a British wrestler. These fellas have all turned up, and all turned up looking the business. It looked like Peaky Blinders, the lot of them. We're all stood there, and I'm like, 'How have I pulled this off?'."

If you use this transcription or any portion of it please credit WrestleTalk.com and link to this page.
Regal then explained how other tournaments were put together, and who helped him arrange them. He said:
"And then a month later doing that tournament, and that led to whatever. There's just these things that happen that were incredible things that we seem to pull off with a very few amount people. There was Canyon and Kristin Altman, who is a wonderwoman, a wonderwoman, the things that she does.

"At different times, Paul Fair and Camille Levin, people who helped Canyon, and me doing the wrestlers, that was it. That was talent relations. The most underfunded thing in the company doing so much stuff, and doing everything for everybody, and trying to get all these things and create all this content. Because it was about selling the Network, that was it.

"Cruiserweight tournament, whatever time I had to do that. 'Right, yep', got that done. Mae Young, 'Yep', got that done. Second one, I handed a lot of that over to Sara Del Ray and Serena (Deeb). I said, 'Bring me in if you need me, but you take the role on this because it's your thing. I don't need any thanks for anything, you take that over."

If you use this transcription or any portion of it please credit WrestleTalk.com and link to this page.
When it came time for the UK tournament itself however, Regal watched that from hospital alongside Dave Taylor. He explained:
"I watched the UK tournament on the bed – it was the first time I'd let Dave Taylor come to see me. Because he kept calling, and I thought, 'I can't have him come, I'm in so much pain', and you know how much he makes you laugh. Even not meaning to, just his moaning. He just makes me laugh. He's either making you laugh on purpose or he's making me laugh because he's moaning. I couldn't have him come because I was in so much pain with my chest and all these things going on, I didn't want him around.

"But I felt good enough to say, 'Why don't you come over, and we can watch this tournament'. I somehow managed to, off my iPad, put it on the screen, and we watched the UK tournament, and I'm texting with (Triple H) as this UK tournament's going on, I'm sat in the hospital in Atlanta, doing this show, and we're texting backwards and forwards, and Dave's there.

"And I got out a couple of weeks later, and I started straight away, trying to walk down to the end of the path. Within a very quick time, I was walking three miles a day, and within two months, I was doing 500 squats again."

If you use this transcription or any portion of it please credit WrestleTalk.com and link to this page.
Tyler Bate faced Pete Dunne…sorry, I mean BUTCH, in the final of the tournament, and they've done pretty well for themselves, I think we can agree.
Speaking of BUTCH, you can check out every WWE name change of 2022 right here.
To make sure you stay updated with all the latest wrestling news, add WrestleTalk.com to your Google Discover feed and follow us on Twitter!