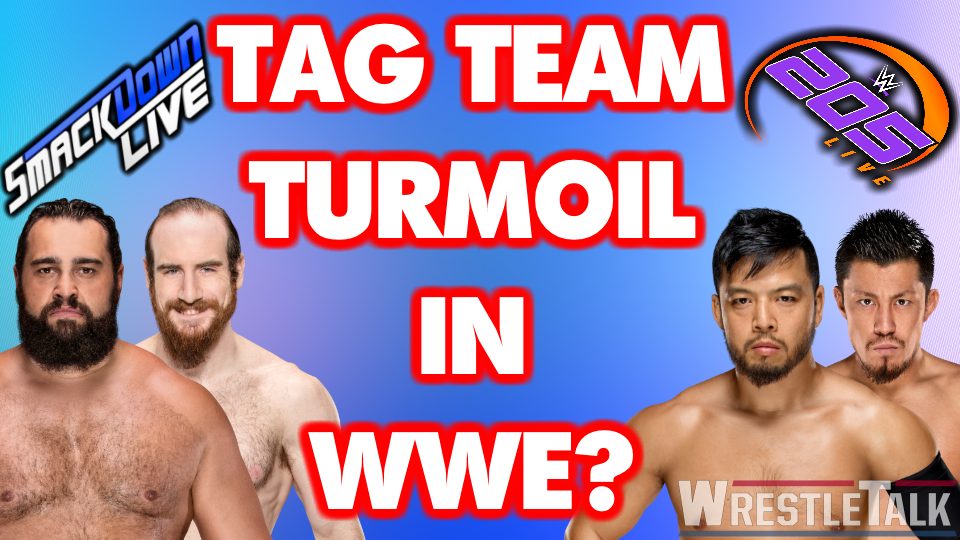 Last night in the world of WWE was not a good one for the tag team connoisseurs out there, if such people exist. Not one, not two, but three tag teams look to be on the verge of going their separate ways.
The first of these teams is one that every single human being on this earth adores – Rusev and Aiden English.
Rusev and English were chatting backstage when Rusev's real-life (and storyline?) wife Lana came into picture wearing a Rusev Day shirt. She kindly waited for the 'Drama King' to leave before telling the Bulgarian that "something" is holding him down.
What is that "something"? Judging by Lana's body language, it is indeed the 'Debonair of Devastation' Aiden English himself.
While I'm sure a lot of us would love to see the real-life couple reunited in the realms of the squared circle, it will certainly not be a happy Rusev Day if these two gentlemen go their separate ways. Unless Rusev goes on to become an 18-time WWE Champion or something.
Two more names on SmackDown Live that could potentially be splitting up soon are Mandy Rose and Sonya Deville of Absolution.
The two encountered their former leader and current SmackDown Live General Manager Paige last night and were expecting to be the recipients of preferential treatment now they are a part of the 'Land of Opportunity'.
What they got, however, was a potential premonition from the 'Anti-Diva' that Absolution is "dead". Paige made a match for next week's episode of SmackDown Live, pitting Mandy Rose against Becky Lynch.
It could be that Rose achieving success on her own isn't going to sit well with Deville, and the two will split, be it in a civilized manner or not, in search of separate singles careers.
The final potential tag team breakup that was teased last night occurred on 205 Live and concerns the Japanese duo of Akira Tozawa and Hideo Itami.
A slight miscommunication in their match against The Brian Kendrick and Gentleman Jack Gallagher led to Itami taking out Tozawa, as the former attempted to rebound off the ropes with Tozawa perched on the top turnbuckle.
This led to Gallagher taking advantage with a devastating headbutt to the former Titus Worldwide member and scoring the victory.
Interestingly, it was Itami who seemed more irritated with Tozawa than the other way around, and the 'Don from Nihon' shoved his partner to the floor, leaving him in a state of shock in the ring.
What do you think of these potential tag team breakups? Let us know in the comments below or on Twitter here, and as always, have a spiffing Rusev Day.