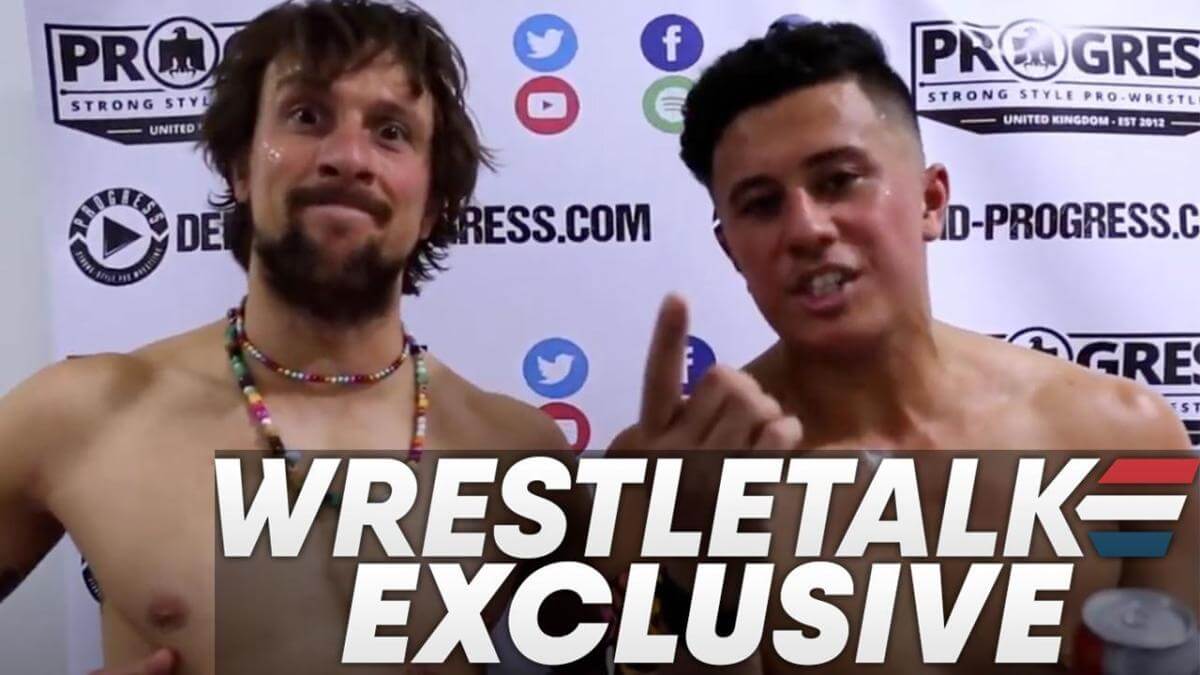 Following PROGRESS Chapter 134: No Mountain High Enough, Chuck Mambo & TK Cooper of Sunshine Machine spoke with with Sanchez Taylor for WrestleTalk.com about their title aspirations, and upcoming ladder match.
During the show, Sunshine Machine and the Smoking Aces (Charlie Sterling & Nick Riley) wrestled to a draw in their PROGRESS Tag Team Championship #1 contender's bout. Following the match, the champions 0121 (Dan Moloney & Man Like Dereiss) confronted the two teams, and a three-way tag title ladder match challenge was issued for Super Strong Style 16 weekend.
Chuck Mambo & TK Cooper shared their honest thoughts on their bout ending with a draw, noting:
Mambo: "It was a blast. It sucks that we didn't get the win but I'm highly looking forward to the ladder match."

Cooper: "I think we were not sure if a draw was the right thing to do today, or if it would leave the crowd disappointed. I think what we gave the people what they wanted today, and it was real satisfying, considering the reactions that both teams were getting. I think it came off really well."

Mambo: "I'm just blown away by the support really. I feel like we have grown up here in a lot of ways. To really feel like people are behind you, it's a really humbling feeling."

Cooper: "I'm sure everybody has their own 'rags to riches' story of how they got to PROGRESS, but no-one has grown up in PROGRESS like we have, so to finally feel we are somewhere in PROGRESS that the fans actually care about, it's very gratifying."

Mambo: "The feeling of destiny."
Mambo & Cooper played a huge role in the PROGRESS Tag Team Championship changing hands at the March 25 Chapter 131: 10th Anniversary show, pinning former champions Smokin' Aces in the gauntlet match, but falling short against 0121, to see the latter team go home with the gold.
Sunshine Machine unsuccessfully challenged for 0121's title at Chapter 132 in April. Before the bout, the crowd duelled with chants for almost eight minutes uninterrupted, before Simon Miller formally introduced the competitors.
Recalling the moment, Cooper and Mambo exclaimed:
Cooper: "In wrestling, they always talk about making moments, and that was objectively a moment. I don't know if we'll ever get that again. I feel like the crowd tonight at the (Electric Ballroom) tried to do it again, but got shut down by Simon Miller.

"I think he too wanted to enjoy it, but he also maybe had it in his ear, 'we need to (move along), we still have one more match to go, so we gotta go', which is fine. It feels good that the people want to show that much support. I feel like at the Dome it was crazy.

"Whether you were an 0121 supporter or a Sunshine Machine supporter, you could feel that nobody wanted to be the lesser chant. Not so much they wanted to be the louder chant, they just didn't want to be the chant that loses."

Mambo: "More like sports teams or something, it was cool."
In a previous exclusive interview, the Smokin' Aces told Sanchez Taylor and WrestleTalk that they wanted to make tag team wrestling in PROGRESS hot enough so that the teams could regularly headline shows.
Discussing their similar goal for the division, Sunshine Machine said:
Cooper: That's what we're trying to do. I feel like it's an unspoken thing between tag teams. We've never sat down and had a tag team summit or anything. Me and Mambo especially are trying to put tag wrestling (on the map).

"Everyone wants to be the World Heavyweight Champion, which is fair. We've now, rightly so, had a women's revolution, or whatever it was labeled as, giving (women in wrestling) the stage they deserve. Cruiserweight wrestling had 205 Live, there was a resurgence there, but it feels like tag team wrestling has never really been acknowledged or given the time it really deserves since back in the day, when tag team wrestling was hot.

"I think between Sunshine Machine and all the other teams, beit Smokin Aces, 0121, etc, everyone is working towards an unspoken common goal. We want tag team wrestling to be number one and I think just based on the reactions,  Sunshine Machine vs 0121 vs Smokin' Aces is the hottest thing, maybe bar Cara Noir vs Spike Trivet. We're the hottest story in PROGRESS.

"We're just all guys trying to put on the best matches we can, and the crowd is getting sucked in by the caliber of matches we're putting on."

Mambo: "It's because tag team wrestling is better really. (laughs) There's something too in, maybe sometimes there are teams with two people who maybe rather be World Champion than Tag Team Champion, but all the teams that are in these matches, I don't think the World Championship would mean as much to us as being Tag Team Champion.

"We're teams that are genuinely best friends, like Nick was Charlie's best man, or the other way around. We literally live together. 0121 grew up together in wrestling. There's a different level of drive when you have that organic bond."
During Super Strong Style 16 weekend on June 3-5, Sunshine Machine, Smokin' Aces and 0121 will all meet in a ladder match with the gold on the line.
Feeling they have a lot to prove heading into the anticipated clash, Mambo and Cooper said:
Mambo: "I think it will be pretty nutty. In some ways, it feels like it will be our last chance to justify having a stake (at the tag titles)."

Cooper: "I feel like we've had so many title shots now, and every single time we've had a great match, but we never win. We've never beaten the Smokin Aces two-on-two. We beat them in the gauntlet, but they had already been through like three matches prior. I think they say we're one apiece, but we feel they're at 1, we're at 0.5.

"We lost to 0121 at the closed door Peckham tapings. We lost to them challenging for the belts."

Mambo: "They've really got our number actually. "Even when we were basically 2-1 up on Dereiss (in the Tag Team Championship match) they managed to pull (a win) out of the bag."

Cooper: "To bring all of the components together and go for a triple threat, I feel like this is our Hail Mary. We've got a ladder match, we're going balls to the wall."

Mambo: "There's really nothing we can lose."

Cooper: "We've got nothing to lose because we've got everything to gain… Ah that's so cliche, but it's true."

Mambo: The other fact is, you know, I can't remember the last team that held two of the most prestigious tag titles in British wrestling.

Cooper: If you know, you know. Let it be known we want to be the undisputed British tag team champions. We want both of the top titles, and we're close to getting these PROGRESS ones and making it a reality.
PROGRESS Chapter 134 is now available to watch on Demand PROGRESS.
Edited for length & clarity. 
To make sure you stay updated with all the latest wrestling news, add WrestleTalk.com to your Google Discover feed and follow us on Twitter!