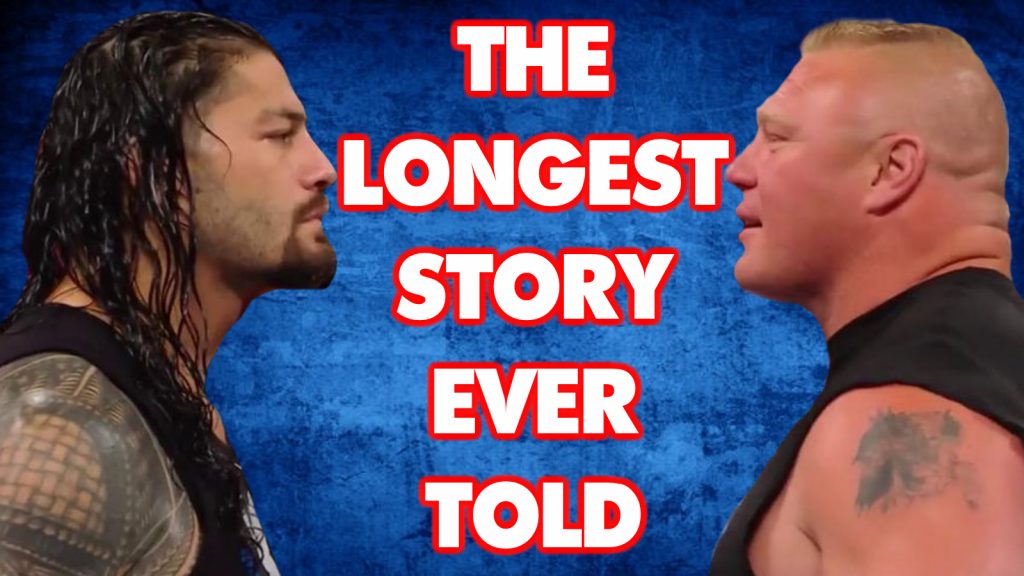 Three short years ago, it was not uncommon to wonder if the build to WrestleMania 31 was the worst ever. 
Roman Reigns and Brock Lesnar only went 'face-to-face' two times prior to WrestleMania 31. Paul Heyman did what Paul Heyman does; he kept things somewhat interesting. However, Reigns experienced almost no challenges or adversity on his journey to face Lesnar that year. Compare that to some famous WrestleMania builds:
WrestleMania XIV: "Stone Cold" Steve Austin vs. Shawn Michaels and D-Generation X
WrestleMania XV: "Stone Cold" Seve Austin vs. The Rock and The Corporation
WrestleMania 21: John Cena vs. JBL and The Cabinet
WrestleMania XXX: Daniel Bryan vs. Randy Orton and The Authority
Now, it may be that the WrestleMania 31 build was always doomed after what we experienced leading up to WrestleMania XXX. In what is likely best described as an 8-month build, SummerSlam in August to WrestleMania XXX in April, we were treated to countless iconic moments. Triple H's SummerSlam turn. Scott Armstrong's fast count. Daniel Bryans' Occupy Raw. However, the build to WrestleMania 31 just felt shallow. Relive the 'build' in 2015 below:
Fast-forward to the main event of WrestleMania 31, Brock Lesnar and Roman Reigns actually treated us to an incredibly physical main event match that exceeded all the expectations we had for it. Right from the opening minute, Brock Lesnar set the tone when he hit Roman Reigns with both a German suplex and an F-5. Lesnar dominated over the next 15 minutes. Knee strikes. Fisherman Suplex. German Suplex. Belly-to-Belly Suplex. Vertical Suplex. You name it, Lesnar did it. After all, "Suplex City, bitch!" Lesnar performed two more F-5's before going what looked to be a lopsided WrestleMania 31 main event victory.
However, Reigns kicked out.
It took three F-5's to down The Undertaker at WrestleMania XXX. It would take at least 4 to topple Reigns. Reigns was able to gain some momentum when he shoved Lesnar into the ring post, causing Lesnar to bleed profusely. Reigns then performed three Superman punches and two consecutive spears. Reigns then went for the cover – maybe it was time for David to beat Goliath after all. Or maybe not. Lesnar kicked out at two. Lesnar then hit a fourth F-5, all but signaling the end of the match, but failed to cover Reigns.
And then, the unthinkable happened…
Seth Rollins' music hit. 1 minute and 27 seconds later, he was the new WWE World Heavyweight Champion.
It was the perfect ending to a build that didn't have enough mustard on it. Ryan Dilbert of bleacherreport.com summarized it best in his WrestleMania 31 review:
"WWE solved a puzzle that didn't seem solvable.
How do you get the title off Lesnar and manage to protect him? How do you respond to the questions surrounding Reigns' readiness to be a headliner? The answer: Rollins.
The viciousness of the match was enthralling. The bloodshed was unexpected, adding to the story in a big way. It was the chaotic, surprise ending, though, that made this the winner that it is."
But here is the thing that makes the build so much better this go around: it's the same story… just told with a 3-year pause. It's as if WWE took a snapshot in time at WrestleMania 31 to acknowledge "Hey, we can do this better." And then they did.
At WrestleMania 32, Roman Reigns defeated Triple H for the WWE World Heavyweight Championship. At least by the writers who cover WWE, Reigns was no longer considered the 'kid' who wasn't ready. Brock Lesnar defeated Goldberg at WrestleMania 33 for the WWE Universal Championship and moments later Roman Reigns then defeated The Undertaker at WrestleMania 33. From that moment, we knew it was on. The match that didn't get its finale at WrestleMania 31 was ready for its final build. First, operation make Brock Lesnar unbeatable again. Success. He has downed Samoa Joe, Braun Strowman, AJ Styles, Kane, and owns a pinfall victory over Roman Reigns at SummerSlam, which is the one part of the current build that doesn't seem to be mentioned enough. However, WWE is not telling a revenge story. They're not telling an underdog story. The WWE is telling the longest story ever told. And we are days away from its conclusion.
I am excited about this match, plain and simple. I like when stories come full circle and this one finally will. There is no briefcase. There are just three years of built up emotion that comes to an end on Sunday. I truly believe that we will never see anything quite like this story in the WWE ever again. Because of that, I'm going to appreciate the main event for what it is going to be Sunday: a physical, painful brawl that makes the next night on Raw unmissable.
Where do you go once you travel the longest road?
For another perspective of Brock Lesnar vs. Roman Reigns, please check out my colleague Gavin Griffiths article from last week here.