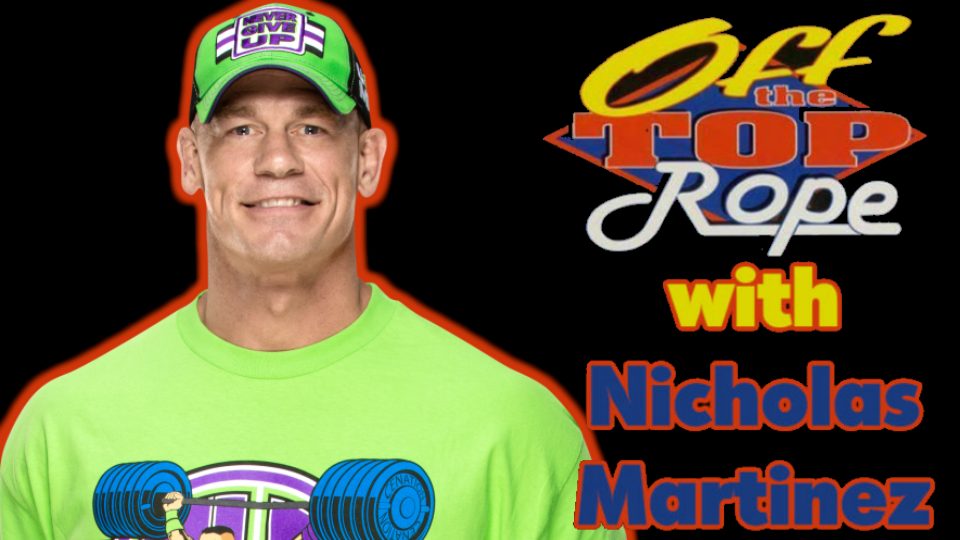 In literature, there are seven types of conflict often used by writers to tell the story of their protagonist/hero. And when engaging in their various quests, literary heroes often face extraordinary circumstances while attempting to combat and ultimately overcome those conflicts.
So too is the case with John Cena.
Often called "Super Cena," WWE's 'Face That Runs The Place' took on all comers during his illustrious career and he, despite overwhelming odds and seemingly insurmountable circumstances, would win the day — often to the sound of the loud cheers (and equally powerful boos) of the WWE Universe.
As the Road to WrestleMania 34 commenced at the beginning of the year, fans and pundits wondered where Cena would appear (and in what capacity) on the final card. He was a free agent, so he could hopscotch between RAW and SmackDown Live without any real issue, potentially picking fights with members of either roster.
But once the WrestleMania landscape began to form, it became evident that there was no real place for him amongst the ongoing storylines. And his attempts at inserting himself within them all failed. SmackDown's Shinsuke Nakamura won the 2018 Royal Rumble, negating Cena's possibility of getting a title shot at a champion of his choosing; Roman Reigns won the opportunity to face Brock Lesnar for the WWE Universal Title at Elimination Chamber; and A.J. Styles retained his WWE World Title against Cena and four other SmackDown superstars at Fastlane.
So then, John Cena became desperate — and he did the only thing that would guarantee a potential main event match for him at Superdome: he called out The Undertaker…
Twice…
And once more…
And when he didn't answer, something peculiar, unprecedented, and unexpected happened: Cena admitted defeat. The man who preached the sermon of how to "Never Give Up" surrendered to the possibility that he would not participate in a match at WrestleMania 34.
This narrative choice the WWE took with Cena — using the events of the past three months to tell the story of how the once unbeatable dynamo morphed into a somewhat mediocre failure — was an angle they never dared to use with him in the past. After all, his image was untouchable, incorruptible, and universal. He was the WWE's answer to what a real-life Superman or Captain America would look like. And within the minds of those who mattered in Stamford, Cena was the modern day Hulk Hogan, Steve Austin, or The Rock — and the merchandise sales agreed with that sentiment.
But, here stood their superhero, defeated and destroyed, without hope and without purpose…and most of all without a match. And the superb way Cena has crafted and presented this version of his character to the WWE Universe has helped make the anticipation for this match feverish and is ultimately, damn near Oscar worthy.
Sufficed to say, Cena will face The Undertaker at WrestleMania 34, but in what capacity is still very much up in the air. Many websites are reporting the match as unadvertised, some feel that the match is a lock and some sources are just completely confused as what to expect from the bout.
But, of course we all know the WWE wouldn't have invested all of this time and attention for a match that wasn't going to occur. Yet, the numerous doubts (or overwhelming confidence) found in hearts and minds of the wrestling journalists and YouTube content creators alike is a complete and unwavering testament to how wonderfully Cena has portrayed his character since January.
The fact that Cena drove the narrative of this story through his failures (and without any direct response, physical confrontation or push back from "The Deadman") and that the world is still interested in seeing how it all ends harkens back to the wrestling days of old. The feud is reminiscent of a bygone time when baby-faces and heels would dress in the separate locker rooms to keep kayfabe alive. It signals back to an era where fans of the sport truly didn't know an outcome of a match (let alone if one was going to take place at all between to feuding superstars).
It recalls the days of the WWF when the anticipation of a face-to-face encounter between larger than life entities like John Cena and The Undertaker meant something — and would lead to a nuclear explosion at a massive event like WrestleMania. And while we wait and see if it's a dead man walking down the aisle or a motorcycle-riding badass who answers the challenge, let us recognize the hustle of the man who got us excited for this blockbuster match in New Orleans and respect the efforts he made to enhance everyone's Road to WrestleMania.
Because it if wasn't for John Cena, the WWE Universe would have more than likely missed out on this once in a lifetime WrestleMania moment.
And I, for one, can't wait to see that.
What are your thoughts regarding the build-up to John Cena vs. The Undertaker at WrestleMania 34? As always, let us know in the comments below or via our official Twitter page!