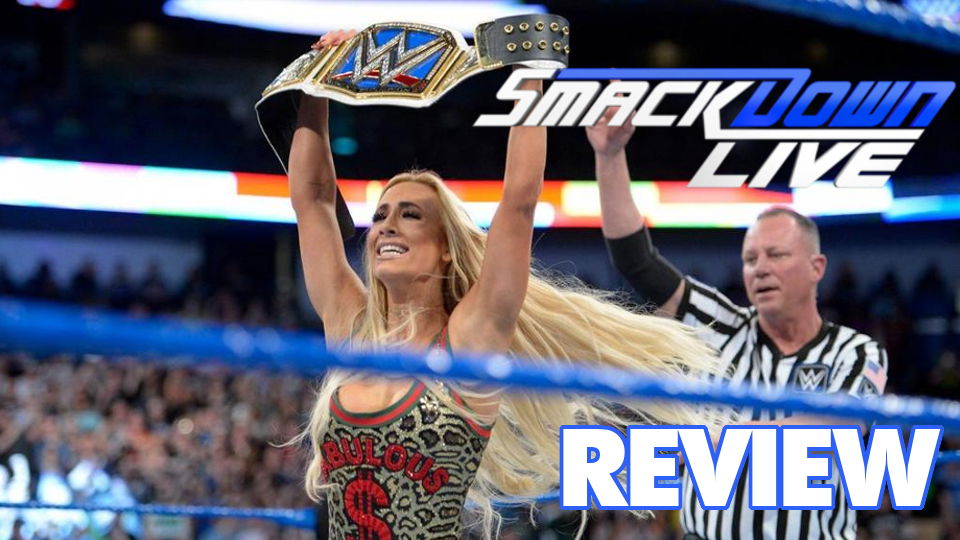 Raw and SmackDown completely outshone WrestleMania in my opinion, and they did so in two fewer hours than WWE's biggest show of the year.
Although SmackDown wasn't subject to quite as many call-ups and debuts as Raw, the debut that was there made a huge impact, which is exactly what debuts should do.
There was plenty on this show to get excited about; including a title change, a new general manager, and Rusev losing another match – on of those wasn't exciting, but I'll let you guess that for yourselves.
Let's start with the beginning and the biggest announcement made on SmackDown for a long time. After Paige was forced into an early retirement, something she announced on the Raw after WrestleMania, many wondered what her next step would be.
Carry on managing Absolution? Commentary? A move away from WWE? Teaming with Nicholas?
Very few people guess the right answer though, as it turns out she is the new Smackdown Live General Manager, replacing Daniel Bryan who stepped down to become a full-time in-ring performer once again. Unusually, I think this is the best role they could have given her, and I think she could do very well in the position.
You could sense she was still a bit uncomfortable with her role last night, but she knows how to "work" a crowd, and is something completely different to what we've seen before.
As SmackDown is the 'Land of Opportunity', they gave her the opportunity to announce something pretty big for the main event too. Daniel Bryan vs. AJ Styles. That's a pretty sweet first match announcement.
There's something weirdly poetic about this, as she's replacing Daniel Bryan who many thought would never wrestle again after being forced into an early retirement, so maybe this isn't the last we'll see of Paige in the ring. As much as I wouldn't want her to get back into the squared-circle before she was ready, 25 is way too young for someone of her talent to retire, so I wish her all the best in her new role, and hope to see her back in the ring one day.
From an interesting announcement to something no-one cares about.
Naomi beat Natalya. Okay.
Sorry if I talked too much about that match – I got a bit carried away.
And to add to my excitement, Randy Orton beat Bobby Roode and Rusev, by pinning the former in a US title number one contender's match. I really don't care.
The Orton vs. Mahal feud last year was terrible, and I have no reason to suspect this will be any different. Boring.
The Usos faced The New Day in a SmackDown Tag number one contender match because they've realized that SmackDown literally doesn't have any other tag teams at the moment. At least two tag teams need to be added in the 'shake-up' because otherwise, we'll be seeing variations of this feud for the next year.
The Usos won, setting up a match with the newly crowned Bludgeon Brothers at the Greatest Royal Rumble in Saudi Arabia. I was waiting for SAnitY to debut in this match, as it seemed like the perfect opportunity to introduce a new tag team/stable, but there's still time, and I can still dream.
After Shinsuke Nakamura's shock heel-turn on Sunday, many wondered how his new character would be portrayed. My hope was that they'd give him almost no dialogue, and plenty more knees to the face, because that's what he's good at.
Renee Young attempted to ask him why he had turned on AJ, which led to his best line ever.
"Sorry, no speak English."
Absolute gold. I'm so tired of seeing foreign heels just endlessly saying they hate America, so it was wonderfully refreshing to see a unique new way of doing it.
It allows Shinsuke to avoid giving reasons, while also allowing him to retain his whacky side. This was great.
I don't think anyone was surprised to see him later in the show, interfering with the Styles vs. Bryan main event, but the intensity he showed when he did it was what everyone wanted from the new, more evil Shinsuke.
The match itself was surprisingly underwhelming, and I can't put my finger on why that was. Maybe because we saw Bryan's return on Sunday, his SmackDown in-ring return was less exciting. It might just have been because I knew Nakamura was going to interfere so I wasn't worried about the winner. Neither could afford to lose so it was the right outcome, but it was just a bit obvious.
That said – Bryan is back and that means I'm happy and everyone else should be too.
The one debut of the night came when Charlotte strutted out to celebrate her victory over Asuka. She was on the verge of speculating over who she would face next, when out came Billie Kay and Peyton Royce, better known as the iconic duo – now rebranded as the Iconics.
I didn't realise how happy I would be to see them until I saw them. Brilliant sentence there, but I can't think of another way to describe it because I'm incredibly simple.
Now, Australian readers, don't take offence because I love you all, but there's just something in their Australian accents that makes them sound more annoying than normal heels. They're both great mic workers, and instead of a classic "we're so cute, look at us, we're best friends" gimmick, they have created something far more interesting by being best friends, and people you love to hate at the same time.
I just rewatched their segment, and man they are amazing on the mic. Love it.
The pair beat down Charlotte pretty brutally, a powerbomb outside the ring and plenty of lovely kicks left Charlotte down in the ring, which lead to…
F-A-B-U-L-O-U-S
Carmella cashes in her Money in the Bank contract, and one weak looking super kick later, she's the new SmackDown Women's Champion. I like this because Carmella is a natural self-absorbed heel, and it will give all babyfaces on SmackDown an extra push to dethrone her.
However, what I didn't like, and this is something I genuinely hate about cash-ins, is the fact that referees seem completely oblivious to what being handed a Money in the Bank briefcase means.
"Huh? What? What do you want me to do with this? I have never seen a briefcase before, what's going on here?"
Give me a break! These refs, especially Mike Chioda, one of WWE's longest standing refs, know exactly what being handed a briefcase means, and standing there like a plum acting as if he doesn't just makes the whole thing so unnecessarily awkward.
Anyway, despite a lack of debuts, plenty of drama for us in what I thought was a decent SmackDown show. Hopefully, the Superstar Shake-up will be fair to the blue brand, and they'll get plenty of new faces. I want SAnitY.
What did you think of the SmackDown after WrestleMania? Would you have wanted more debuts? Let us know in the comments below or on Twitter here.