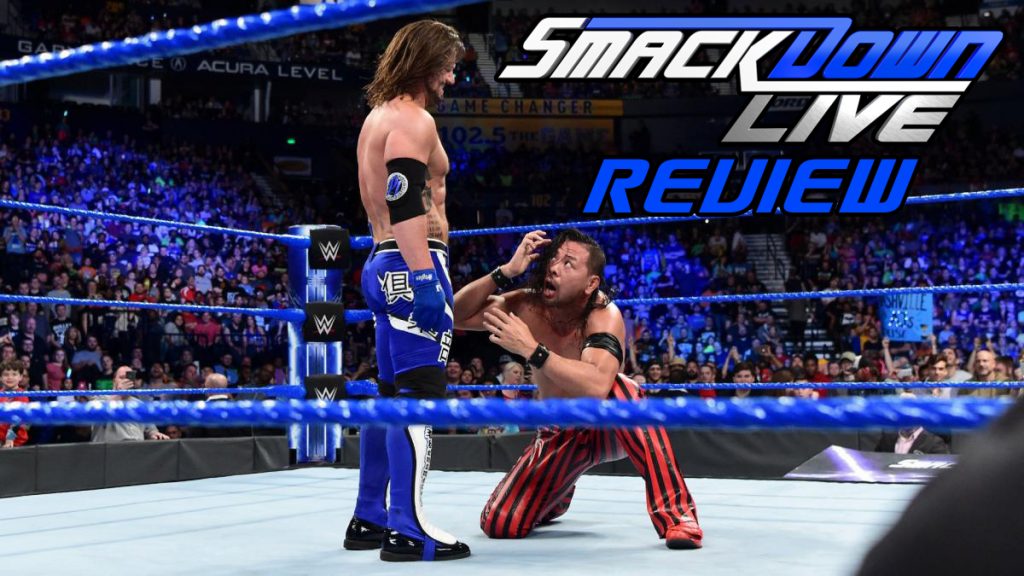 It's all over, and we can finally focus all of our eyes, spirits, and souls on Sunday, April 8, and Wrestlemania 34.
Given its past record with "go-home" shows, I wasn't expecting much from this week's SmackDown Live, especially given that there was very little to decide on tonight's show, but I didn't finish watching the show feeling negative about anything.
We'll start with what was possibly the main announcement of the night, and that was Shane McMahon being medically cleared to team with Daniel Bryan to face Sami Zayn and Kevin Owens at 'Mania.
This, for me at least, is a relief. It would have seemed a bit odd to throw a random member of the roster into the match, given the basis of the match being Shane's issues with Zayn and Owens. It will be interesting to see if Shane falls of anything tall on Sunday, given his recent health issues – but knowing him (I don't actually know him personally), he most certainly will.
Later in the show, Zayn and Owens put SmackDown Live under siege (that's a great tagline, they should use it sometime), apologizing to Bryan's wife, Brie, for what they are planning on doing to him on Sunday.
Bryan and Shane retaliated by claiming it would be the last time anyone would ever see Sami and Kevin on the blue brand and led a chant of the crowd favorite "na na na na, na na na na, way hey hey, goodbye," to see them out of the building.
Given the people involved, this match will be full of emotion and packed with action, and although I think it's likely Sami and Kevin will lose and head to Raw, this could be a very fitting end to their time on SmackDown Live.
Charlotte Flair faced Natalya in a rematch of their other 12 rematches this year, and it was a perfectly acceptable match. I'm sure it will be nothing on what the 'Queen' and the 'Empress' will dish up on Sunday, but it carries on Charlotte's reasonable momentum.
Poor Carmella is definitely heading for a failed cash-in isn't she? If all rumors are to be believed, Asuka will remain undefeated until Wrestlemania 35, meaning if Carmella is to cash in, it's not going to end well for her.
There is, of course, the possibility she could transfer over to Raw, but honestly, I don't really think Carmella suits the belt, at least not yet. She hasn't done anything since winning the briefcase, so giving her the title would just seem a bit pointless.
Asuka once again appeared to scream at Charlotte after the Natalya match concluded, and finally, we saw some real emotion from Charlotte. For the past couple of weeks, she has been a sickeningly smiley babyface, so it was incredibly refreshing for her to break out of that.
Hopefully, the WWE bookers will give this a good time slot on Sunday, because if the crowd isn't exhausted, this is a match that we could really get into and enjoy.
Hey everyone, who else forgot that Primo Colón was a thing? Yeah, me too.
In one of WWE's classic "all these people have a match on Sunday so lets remind everyone they still exist" matches, Primo teamed up with Baron Corbin, Mojo Rawley and Dolph Ziggler to face Tye Dillinger, Zack Ryder, Fandango and Tyler Breeze in an uninteresting but fun preview to the André the Giant Memorial Battle Royal.
I don't care who wins the match on Sunday, I really don't, but it's nice to see that these people are at least getting some TV time.
Rusev beat Jinder Mahal in a decent match, meaning Rusev won't win on Sunday, which is a crying shame because he's the only person who can currently make the WWE United States Championship look like something worth having.
I'm so bored of Randy Orton that I can barely say his name without falling asleep, and the other two guys, Roode and Mahal, just don't do it for me at the moment – unless Roode turns heel in which case I'm happy.
Although the insertion of Rusev has increased my interest in this match no end, I still think it's one of, if not the most, uninteresting matches on the main card.
The Bludgeon Brothers need to be stopped. Not only did they hurt The Usos and The New Day, but now they're destroying company property, and that's just not on.
A typically wonderful backstage promo segment with The Usos and The New Day was interrupted by the Hammer Bros in an understated prelude to their 'Mania match.
But it didn't need anything else really. If this is given any time at all on Sunday, it has the chance to be the match of the show, and that's not something I thought I would be saying this time last year.
The show ended much as it did last week, and now I'm even more excited.
Nakamura and Styles teamed up to face Shelton Benjamin and Chad Gable who, by the way, are really good, in a top notch tag match.
The former pairing of course won, which led to one of the best five seconds of SmackDown Live for weeks.
Cast your minds back to last week when Nakamura threatened to hit AJ with a Kinshasa knee, and then patted Styles patronizingly on the head.
Well, this week, Styles went to hit Nakamura with a Phenomenal Forearm before ducking out last minute and patting Nakamura on the head in identical fashion.
This was very basic, but incredibly effective storytelling. The two men are so evenly matched, and although I think Nakamura will come away as the winner on Sunday, I just can't wait to see them finally go at it!
Let us know your thoughts in the comments.